Bucks County, we are wealthy, well-educated and have beautiful homes and good schools. Bucks County is one of the most desirable counties for people who commute not just to Philadelphia, but to work in New Jersey, even New York. And of course it is ideal for those Gen Z telecommuters who refuse to go back to the office. Let's not forget retirees.
But just how smart are we?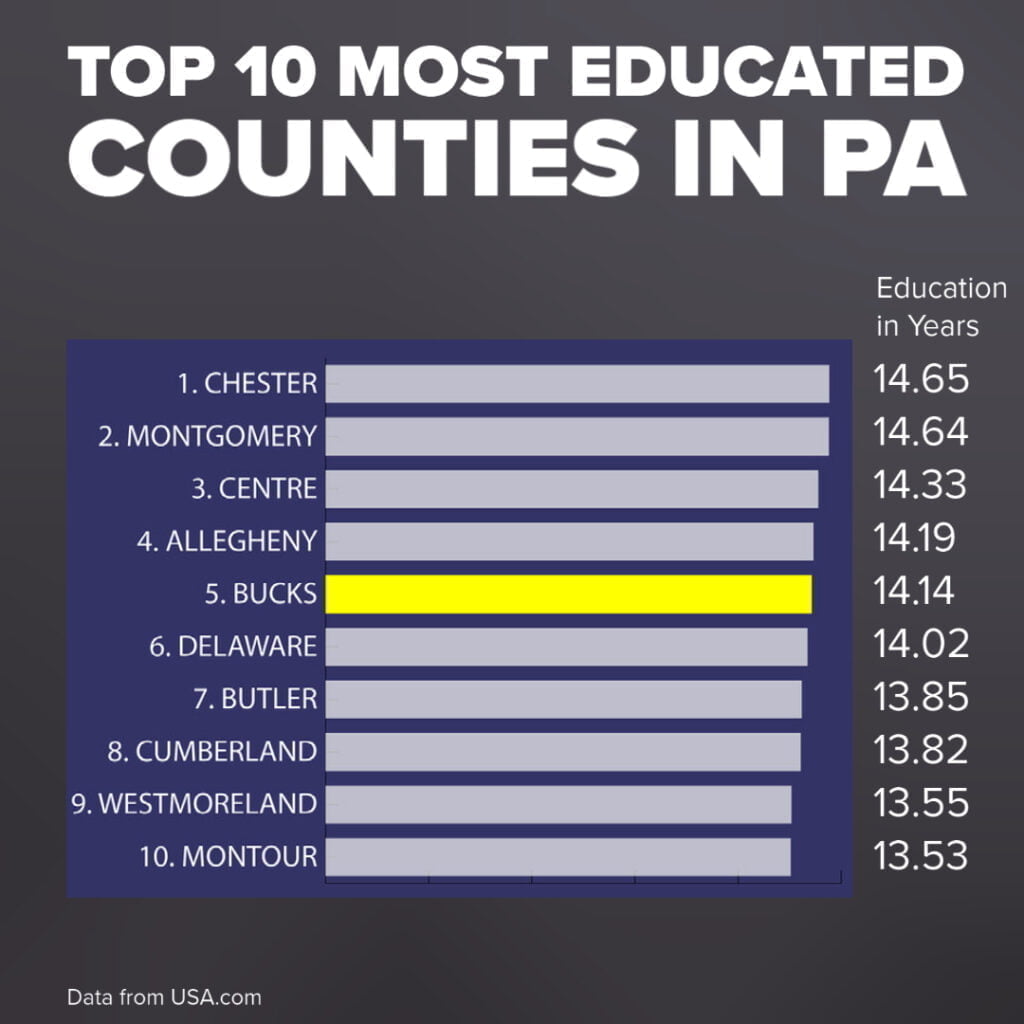 A ranking showing the highest grades completed, on average, for citizens over the age of 25 for the 67 counties in Pennsylvania found Bucks County in 5th place. * Of course that is a great showing.
But Chester and Montgomery Counties beat us by a mile. So did Centre and Allegheny Counties. The only nearby, let's say rival, county we topped was Delaware. What might explain the difference?
Colleges and universities.
"From cultural and sporting events to affordable eats to offbeat shopping options, college towns tend to appeal to more than just college students," said a story in New England Today, touting the number of elite college towns in Massachusetts.
Bucks County had the geographic misfortune of not being on the Main Line, as are Montgomery (Bryn Mawr, Villanova) and Delaware (Swarthmore, Bryn Mawr and Villanova).
Chester is home to West Chester University, with 40,000 students, the largest in the state system. It also has Lincoln University, an HBCU with 2,000 students, and Penn State Great Valley School of Graduate Professional Studies, near Malvern, and Penn State Brandywine. Also Widener, Immaculata, and the University of Valley Forge (Christian)
Poor Bucks County
We have three community college campuses – Perkasie, Bristol and Newtown, plus online. Doylestown has Delaware Valley University, an ag school whose farm campus is seen above. There is a Newtown campus of the Catholic Holy Family University, which offers courses in business, nursing and criminology. Gwynedd Mercy University of Montgomery County offers an accelerated nursing degree in Bensalem.
And there is Pennco Tech, a trade school in Bristol that offers courses in automotive, electrical work and healthcare. Those are necessary jobs and good paying jobs. But they don't have a football team.
There is one other Bucks County institution of higher learning. (And if I have missed one, please let me know.) That is Cairn University, a Christian University, in Langhorne, Pa. It eliminated one of its six schools, its undergraduate and graduate social work, this year because criteria for accreditation in the field conflicts with the school's biblical position on "human sexuality, gender identity and gender expression."
There go the LGBTQQIP2SAA tourists (lesbian, gay, bisexual, transgender, questioning, queer, intersex, pansexual, two-spirited, androgynous and asexual) who might otherwise come to see Bucks County's covered bridge.
Centre County is home to Pennsylvania State University's main campus. Undergraduates alone number 40,000. The town is called State College, Pa., after all. So enamored are people who graduate, many of them go on to the Law School, the School of International Affairs, the College of Engineering, or just stay and raise their children here. It's a cult.
And then there's Allegheny County. You know what it's got? The University of Pittsburgh, for one. Carnegie Mellon for another. Oh, and Duquesne University. Those three alone have nearly 60,000 students, with a commensurate number of academics and administrators, all of whom also have advanced degrees.
Considering all that academic firepower pitted against Bucks County, we're actually doing pretty damn good, don't you think, to come in fifth with just an ag school, community college, a technical school, one outpost of a Catholic University and a Christian school that refuses to accept today's standards for social work?
Unless a lot of us as sneaking over to the Main Line to do guest lectures.
*You are dying to know which counties ranked at the bottom, aren't you? Here they are: Juniata, Mifflin and tiny Forest County.
.