The Pennridge School District announcement to teachers to cool it on discussions of January 6 became an urgent subject for national discussion. It led TheHill, the largest independent political news site in the United States, to run a story on Friday, January 7, with the headline: "Pennsylvania school district tells teachers not to 'wade into' Jan. 6 with students." TheHill's online story began, "The Pennridge School District, located in Bucks County, outside Philadelphia, instructed teachers in a Wednesday email to 'simply state that the investigation is ongoing and as historians we must wait until there is some distance from the event for us to accurately interpret it' if students had questions about the storming of the Capitol," according to local news outlet WHYY.
That story was shared 474 times online. More importantly, the version in newsprint was distributed free to all congressional offices. You want impact, get your story into TheHill.
It wasn't long before former presidential candidate Howard Dean tweeted that same day, Friday, that, "Pennridge directed its teachers to downplay the attempted overthrow of a free and fair election by a racist white mob."
And Dean went on to surmise that this order was "Not surprising since the President of the School Board attended the Stop the Steal rally on Jan6." [sic]

Now that bit of information was not in the story in TheHill, which was a rewrite of the WHYY story, which ran on January 5, the day before the anniversary. WHYY's reporters have focused with laserlike intensity on Pennridge, covering its removal of LGBTQ books, its pausing of diversity initiatives and its Trump-supporting head of the school board. And so Dean had to go back to the original WHYY story to find the nugget about her.
Having an email or phone number of a reporter is a great equalizer when a student or parent or teacher feels oppressed, wronged, or just puzzled. So it might be expected that when the memo of January 5 went out, it was sent to a friendly reporter at WHYY. Thus the original WHYY story. And the almost identical story on TheHILL.
The story on TheHill, by the way, drew 648 comments, and they demonstrated why the topic might become so divisive in a classroom. Among the vitriolic responses, one that can be repeated about having a discussion now was, "This is what Fascism looks like. Refusing to teach the history for events you don't like to hear about." And a repeatable comment against having a discussion in classrooms was "There is no apolitical take on 1/6 yet, and we don't need to fill our children's heads with propaganda from either party right now."
Pennridge's public roasting didn't stop there. Next came a discussion on CNN.
Michael Smercomish, a son of Doylestown, followed up on his CNN newsbreak on Saturday morning at 9 am with an in-depth look. CNN asked Pennridge for clarification, and received a long email.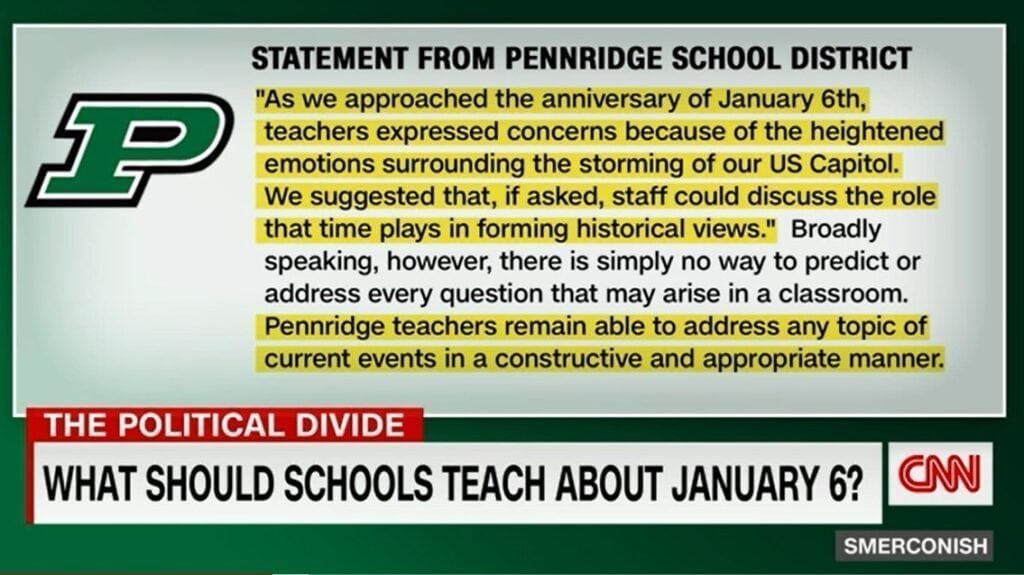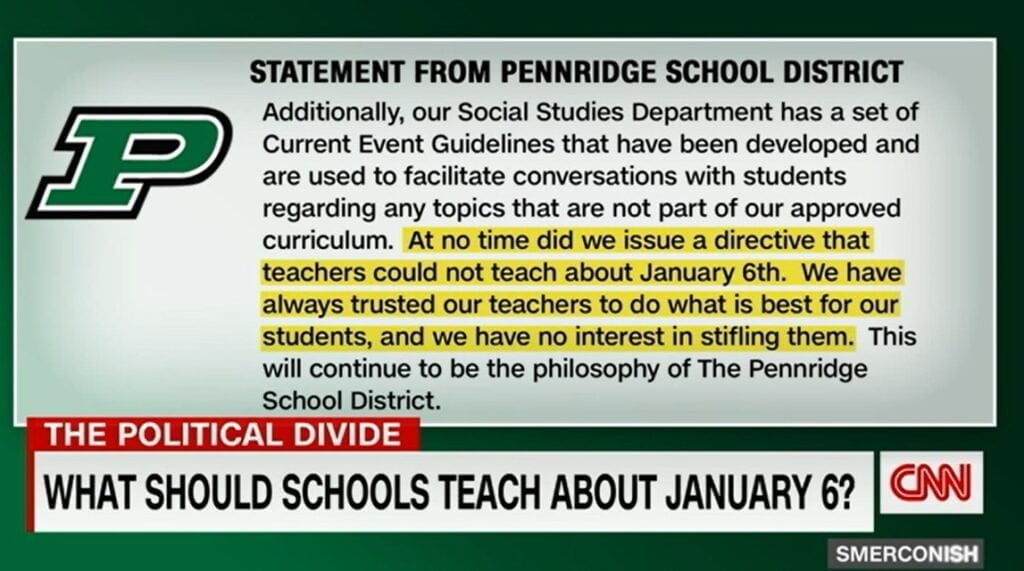 "They backtracked," said Martin J. Raffel, a frequent commenter on Bucks County affairs, who saw the CNN broadcast. "They didn't want to come across as saying we absolutely forbid our teachers to talk about this."
"This is a subject for all the school districts around the county," he added. "Which is not simple, with such a polarized society. There are certain basic truths. Things happened that are true, so the facts need to speak for themselves."
On the CNN broadcast Pennridge's conundrum led to a discussion about the difficulty of creating textbooks that cover current events, like the January 6 — uh — riot, attempt to overthrow the government, stroll through the Capitol building, terrorist threat. The decision was to report such facts, with numbers, arrests, time lines and so on. Which could perhaps lead to more confusion in classrooms. What were these people doing there?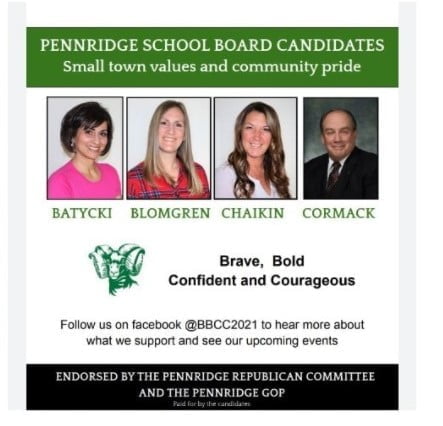 But that brings up a more critical issue, the November election to the Pennridge school board of four Republican candidates — Ricki Chaikin, Christine Batycki, Jordan Blomgren and Robert Cormack. Chaikin has posted references to QAnon theories of "child sex-trafficking, transphobia, and hate." And she complained recently that Pennridge's elementary school curriculum did not focus enough on "America's greatness." Christine Batycki and Jordan Blomgren joined Chaikin on talk radio's far right program 860 The Conservative Voice to discuss Critical Race Theory and transgender students before the election.
In a year or two they will select text books that contain information about January 6. Let's look at their recent discussion of current text books. Jordan Blomgren, for instance, was concerned that a textbook for AP "World Culture" did not focus enough on "Western Culture." What she called "meat and potatoes." Ricki Chaikin chimed in on text books and their coverage of Christopher Columbus and, well, this: "… there has to be a social studies program that, like for example, not to be hung up on it, but their explanation of the 2nd Amendment was so horrific…" While she did allow that "I haven't looked through all the books."
Imagine this school board's discussion when January 6 is in a text book. Will there be another election before then?