When a Pennridge mom reached out to a WHYY reporter because she was concerned that a tutoring service, seemingly sanctioned by the school district, volunteered to teach her child creationism when she sought out information on AP Biology tutoring, this was not an attack on the church that offered the free tutoring services.
This was not an attack on Christianity.
Nor was this an attack on the broader community.
Laura Foster was acting as a concerned parent looking out for the best interests of her daughter Camille's education, and quite frankly for the interests of everyone's children in the district. And it doesn't matter that the First Baptist Church of Perkasie's Re:vivals Resource Center states on its flier that they "bring hope and healing to the community through the gospel of Jesus Christ." If they are offering science tutoring that shouldn't be a trojan horse for proselytizing.
It seems like it is.
In an email response to Foster, Re:vivals explained they welcome the opportunity to tutor her daughter and help her understand creationism — which is not science — explaining:
"We come from a biblical worldview meaning that we believe that God created the world in six literal days, with great intention and design. Although we accept this through faith, there is evidence pointing in that direction."
Foster said this, at best, was a complete failure in vetting by the school district. At worst, this was intentional and part of a larger political agenda being pushed by the far-right school board.
"It seems to me like a really good resource for Christian outreach. It doesn't seem to me like a good resource for our schools," she added.
The Re:vivals service was previously featured prominently with its own page on the district website, but has recently been moved to the "Community Flyers" page.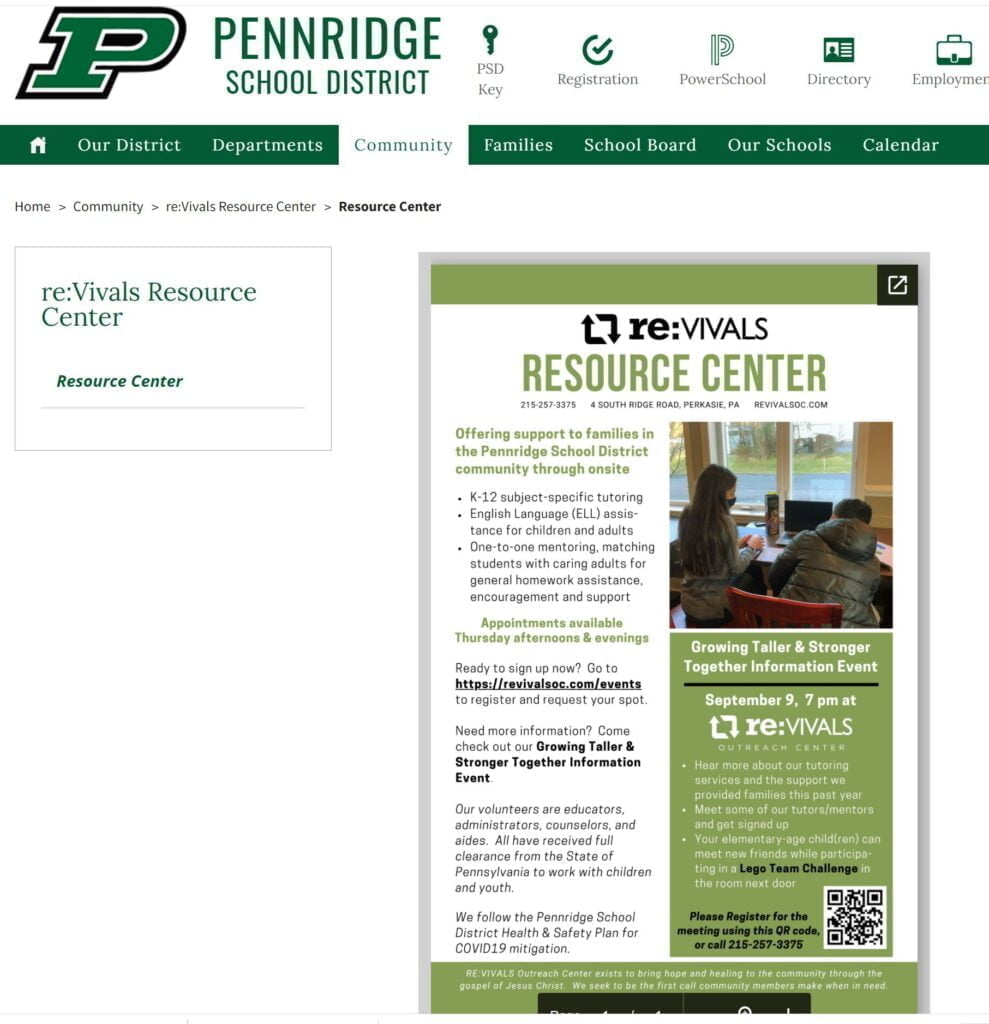 Rob Boston, a senior adviser at Americans United for Separation of Church and State, wrote that Foster was right to be concerned.
"First, creationism is a religious belief, not a scientific one. The fact that Re:vivals wants to offer it – or any other type of instruction from a 'biblical worldview' to public school students – is a sign that the church's main goal is proselytizing, not secular education," explained Boston. "Secondly, a student who takes an AP Biology exam having been fed creationism in lieu of sound science is almost guaranteed to fail. That is exactly the opposite of what the school district should hope for."
Indeed.
Pennridge Superintendent David Bolton and the school board ought to clearly state to the community whether they believe creationism is science and whether they believe it should be taught to students. I try to be an optimist, so I'm going to chalk this up to the superintendent and school board's ineptitude rather than them trying to do an end-around for pushing Christian dogma in a secular public school district as part of a larger right-wing political agenda. But, now that this information has come to light thanks to Foster and WHYY's reporting, other parents are concerned as well and seeking answers.
Tina Gerhart, whose son and daughter attend Pennridge high school, said it's ok to list Re:vivals as a tutoring resource and it shouldn't matter if a community resource is Christian or Muslim, as long as they are offering tutoring that actually teaches the subject materials being taught at school. And that requires proper vetting.
"Obviously they need to follow the curriculum," said Gerhart. "It would be like telling the kids the wrong Math facts and having them go to class and try to take a test."
Emily Goble Smith, another concerned Pennridge parent with high school-aged kids, said she was glad the program was moved to the "Community Page" and wanted to make clear that many people like herself are grateful that "Re:vivals does many good things for the community." But, when it comes to its role in tutoring and educating local students there needs to be proper vetting, better transparency, and more accountability.
That sounds like a common-sense, bipartisan, trust-building solution for handling all resources. Let's hope the Pennridge School Board and Superintendent Bolton take Smith's advice.