For more than 20 years, Bucks County has been able to rely on a steady source of state funds to help preserve farmland, restore streams and rebuild state and local parks.
That money has run dry however, and over the next few months we have a critical opportunity to make an historic investment that will protect Pennsylvania's land and water for generations to come.
The Growing Greener program in Pennsylvania was established in 1999 and since its inception has helped to protect open space, improve maintenance in state parks, clean up abandoned mines, restore watersheds, slash the backlog of farmland-preservation projects,  fund recreational trails and local parks, and provide new and upgraded water and sewer systems.
READ: Bucks County At The Heart Of The Fight For Our Environment
The program has been expanded twice due to its tremendous success and popularity, but it has been 10 years since it was last updated, and now is the time to make new critical investments that will safeguard our drinking water, clean up our rivers and streams, reduce floods; conserve land, sustain farm economies, and provide for outdoor recreation.
The Pennsylvania government is currently sitting on an unprecedented budget surplus, largely from unspent COVID relief funds. If we don't spend this money before the federal deadline, we will lose it, and so we must act quickly to seize this rare opportunity to provide significant benefits to all Pennsylvanians for generations to come without having to raise taxes.
​​
Investing in a third round of Growing Greener funding is vital to ensuring that we have access to clean water. Thirty percent of the streams in Pennsylvania have impaired water quality, meaning that you can't swim or fish safely, and agricultural runoff alone has impaired 5,765 miles of PA streams, including a 46-mile segment of the Susquehanna River that can no longer sustain aquatic life.
And in a place like Bucks County, renowned for its natural beauty and agricultural history, Growing Greener will provide critical funding to preserve the family farms and scenic vistas that are integral to the community and are why families choose to live here.
These kinds of investments are not just good policy, they're also extremely popular. According to recent polling, 96 percent of PA voters said protecting the quality of the PA's drinking water is very or somewhat important while 92 percent of voters believe it is important to clean up rivers and streams.
Investments like Growing Greener also make sense from a fiscal standpoint. Green infrastructure investments continue giving to communities year-after-year, and decade-after-decade. For example, the Keystone Recreation, Park & Conservation Fund delivers $7 in flood control and prevention, water treatment, and other natural services for every $1 invested.
Pennsylvania's long history of resource extraction has done considerable damage to our waterways. More than 5,500 miles of Pennsylvania streams have been polluted by billions of gallons of acid mine drainage, and we need resources to address abandoned mines and other hazardous sites. Brownfields need to be cleaned and recycled to become viable community assets and orphaned and abandoned wells need to be plugged.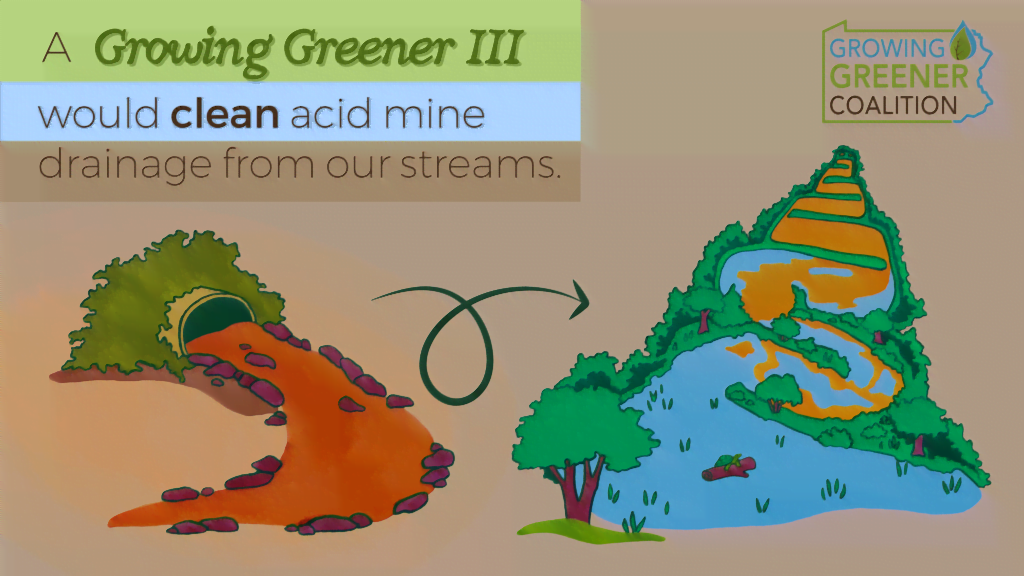 Growing Greener III would also enable Pennsylvania to make dramatic strides in flood control and prevention. From 2011 to 2018, PennDOT incurred $211 million in damages to state roads and bridges caused by flooding, mud slides, and other extreme weather events. And as climate change worsens, we will see more and more of these triggering events. Poorly planned and poorly managed development threatens our rivers and streams with uncontrolled stormwater, flooding, and pollution. Expanding Growing Greener will allow us to invest in nature-based solutions that prevent flooding and stream degradation, including installation of riparian forest buffers and wetland restoration.
Tourism is Pennsylvania's second-largest industry, generating more than $58 billion in economic output last year and supporting more than 430,000 jobs, and a healthy tourism sector depends on the availability of open space, parks, wildlife habitat, and clean waterways. The COVID pandemic led to Pennsylvanians getting outdoors and exploring our amazing state parks at unprecedented levels, but unfortunately this increased use also caused an increase in wear and tear, and PA's State Parks and State Forests were already facing a backlog of more than a $1 billion in maintenance, safety, and necessary infrastructure upgrades. We need to invest in repairing this critical infrastructure and developing new opportunities for Pennsylvanians to appreciate the natural beauty of our state.
Fortunately, there is bipartisan agreement in Harrisburg that we need to act now while we have the opportunity to do so. Governor Wolf and bipartisan groups in both chambers of the General Assembly have proposed committing a significant chunk of federal COVID relief money to investing in Growing Greener III.
While there's a lot to debate about next year's state budget, we need to seize this rare moment of bipartisan agreement. Governor Wolf and the legislature must quickly pass a bill that approves Growing Greener funding so Pennsylvanians can get to work building a greener future for all of us.