The abortion rights protests nationwide planned for July 9 felt important in the wake of the Supreme Court's horrific reversal of Roe v. Wade. Going to the heart of the problem, the scene of the crime – Washington, D.C. – to join the rallies and protests at the source felt important. I was running logistics of a trip there in my head when I got a text. Would I speak at the student-led protest on Saturday? Wow! The young people in my community want ME, a middle-aged soccer mom, to share their abortion story here? It's the kind of honor you don't turn down.
When I arrived and parking seemed too easy, concerns started to creep in. Was everyone distracted, done protesting and enjoying summer, or did the truly passionate flee to Washington, and now no one would be here in Doylestown? Did the student-let effort flop in finding an audience?
Gladly, there were swift reminders of why here was where I needed to be. The smiles and hugs of familiar allies were welcomed and I was treated as a VIP by thoughtful student hosts. The crowd built up to over 100 of my neighbors.
The event proceeded to surge with the amazing energy of community and purpose.
Our young hosts shared items they had written. They were full of passionate brilliance and raw emotion at the disrespect they – who were most deeply and immediately affected – were receiving from our government. I marveled at the confidence and talent they had at public speaking.
Their feelings were given immediacy by the recent advancement of a constitutional amendment to restrict abortion access in PA through the legislative session as a surprising move less than 48 hours before the rally.
State Senator Steve Santarsiero was among the speakers. His brilliance at making plain what has been developing in Harrisburg rang as strongly as his grasp of the moment. One of the first things he noted was how as a young person he doubted he could have pulled off the same level of event.
We collectively agreed.
What was also collectively agreed was how hard as a community we need to work together to make sure we can gather to elect more pro-choice candidates to Harrisburg and Washington.
Voting is no longer enough.
Organizing and fundraising now to flip state house and senate seats, winning the gubernatorial races, senate race, and US congress is essential. The students managed to assemble an impressive roster of local candidates, in addition to Santarsiero.
Democrat Ashley Ehasz, running for U.S. Congress, impressively attacked our current congressional forced-birth fan Republican Rep. Brian Fitzpatrick, listing his vote against codifying Roe v Wade and support for legislation restricting access to abortions to save the mother's life. Booing at the mention of Fitzpatrick's name filled the crowd with every instance she cited of his horrid and sustained record against the right to an abortion. Her words came through heavy and clear: "The choices we make in 2022 will impact our families for generations."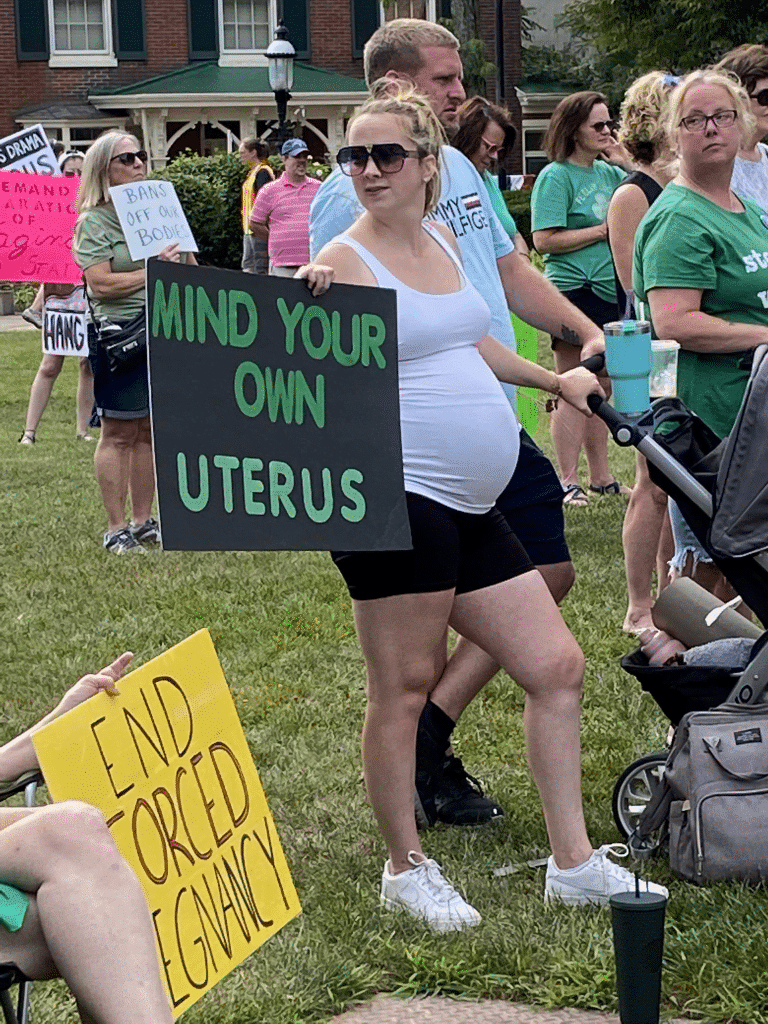 Just sit with that again. The choices we make in 2022 will impact our families for generations.
Gwen Stoltz and Tim Brennan, both running for PA state rep in their respective districts (PA-143 and PA-29), pledged their commitment to protecting our rights in PA and asked for support for their grassroots campaigns. Stoltz is running to represent my own district and I've followed her campaign as she's maintained since the fall that she is committed to get the work done that's failed to be done in Harrisburg for decades – namely to protect our bodily autonomy and rights to privacy.
A few of us shared our experience with having an abortion. Putting faces to the issues, sharing that there are people in your community who have made these difficult decisions and moved on after an excruciating decision to have an abortion, is important for these young people to hear. As the youth organizer who introduced me noted, 1 in 4 women have had an abortion.
After the formal portion of the rally was over, more hugs of solidarity with neighbors I never met before ensued. A dozen people shared their stories with me. Some stories of relief, some stories of heartbreak, but all wanted to be done with the shame.
Someone you know has had an abortion while it was safe and legal in Pennsylvania for decades. We just had the privilege not to make it everyone's business what our private choices have been in our life. I'm hoping my small contribution to the movement is showing these local, passionate young people that you don't need to be guilty about it while further encouraging them that it's a right that is absolutely worth fighting for.
Connecting with all these candidates and hearing their voices would not have been possible if I went to Washington. Listening to and supporting the talented youth in my community would not have been possible if I went to Washington. Standing with my community and feeling our chant of My Body = My Choice reverberating off the familiar, charming brick architecture in Doylestown on an enchanted July weekend filled my soul in a way that going to Washington never would.