The producer of a documentary glorifying Pennsylvania State Senator Doug Mastriano, the GOP's gubernatorial candidate in the Keystone state, has had trouble finding a theater to showcase his film. Two venues, Penn Cinema and Wyndham Lancaster Resort and Convention Center, have already canceled on him. The cancellations are understandable given Mastriano's apparent ties to violent insurrections and reports that his campaign spent thousands on buses to the Capitol ahead of the insurrection and that he personally strolled through breached barricades as the insurrection unfolded. As The Beacon previously reported, Mastriano also spread one of the most blatant and viral election lies in the runup to Jan 6. He has neither retracted nor apologized for doing so.
The documentary is called "The Return of the American Patriot: The Rise of Pennsylvania." Its producer, a far-right Youtuber and writer named Steve Turley, has received less scrutiny than Mastriano. Perhaps that will soon change, as The Beacon has recently learned that Turley has ties to the same pro-Kremlin network of Christian nationalists as Charles Bausman, the Lancaster, Pennsylvania, man who fled to Moscow, leaving his Christmas tree lights hanging, after he was filmed inside the Capitol on Jan 6.
The Beacon began looking into Turley after a Twitter researcher posted that Russian Faith, a website run by a Bausman, had published some of Turley's work. As reported by Lancaster Online, Bausman also owns a historic barn in Lancaster county, which in August 2020 hosted a rally for the National Justice Party (NJP), a newly formed group of virulently anti-Semitic white nationalists.
During the rally, NJP chairman Mike Peinovich declared, "We are announcing the formation of a new political party, a new political vehicle that is going to fight for you, for white rights, for our people in America and the world." The new party's enemy, he added, "is capitalism, Zionism and the international Jewish oligarchy. These are the people that are oppressing us." After an initial denial, Bausman admitted that he had hosted the event and that he was present during Peinovich's speech.
Bausman also runs a pro-Kremlin outlet called Russia Insider, which has featured both Turley's work and essays by Peinovich. In 2018, Bausman himself penned a widely condemned essay titled "The Jew Taboo," declaring that it was high time to address the "pernicious influence" of "Jewish elites."
The following year, Bausman and Turley attended a conference in Verona, Italy, hosted by the World Congress of Families (WCF), an anti-LGBTQ international annual gathering that has for years "acted as the primary bridge between American Christian fundamentalists and Russian partners," according to a report by Think Progress. According to its website, WCF is "organized by the International Organization for the Family (IOF)."
Turley spoke at WCF in Italy, where he also interviewed WCF's Russian representative Alexey Komov, who works for a Russian oligarch named Konstantin Malofeev. Malofeev has reportedly helped finance WCF.
According to Think Progress, an Italian investigation found that it was Komov who had conceived of a clandestine plan for Russia to illicitly finance Matteo Salvini's far-right political party in Italy. "The Italian exposé of the attempted financing between Salvini's party and Russia pinned the idea on Komov directly," Think Progress wrote. The outlet further reported that "Komov is at the heart of the burgeoning relationship between America's Christian fundamentalist contingent that looks warmly at the Kremlin and the financiers behind Russian designs, and the cultivation of far-right forces abroad."
Bausman has called Komov a "good friend." In 2014, Bausman reportedly asked Komov to help him secure financing from Malofeev for Russia Insider, according to emails leaked by Anonymous International.
Pro-Trump attorney John Eastman, who has championed legislation in Uganda that would criminalize homosexuality, was slated to speak at the same 2019 WCF event attended by Komov, Turley, and Bausman. Eastman has since gained notoriety based on reports that he pressured former Vice President Mike Pence to block certification of President Joe Biden's victory over Trump in the 2020 election. Eastman separately acknowledged that all nine U.S. Supreme Court justices, including his former boss Clarence Thomas, would find this unconstitutional if asked to address the issue.
Eastman is Chairman of the Board of a nonprofit called the National Organization for Marriage (NOM), which opposes gay marriage. NOM President and co-founder Brian Brown is also President of WCF. Journalist Heidi Cuda wrote a great piece in the Byline Times, where she interviewed disinformation specialist Dave Troy about the WCF and how it has served as the "connective tissue" between Russia and the U.S. far right, including the Council for National Policy (CNP). For more on the CNP and its involvement in the events leading to Jan 6, Anne Nelson, author of the Shadow Network: Media, Money, and the Secret Hub of the Radical Right, wrote a must-read piece in The Washington Spectator,
The U.S. has recently indicted Malofeev, WCF's reported benefactor, for violating sanctions that it had levied against him in 2014 based on his alleged financing of "Russians promoting separatism in Crimea," a region in southern Ukraine that Russia later invaded. It has also indicted a former Fox News producer, John Hanick, for allegedly working with Malofeev and making false statements to the FBI to conceal his sanctions-violating conduct.
Malofeev currently owns a Christian Orthodox TV channel called Tsargrad TV, which he launched with Hanick's assistance. Malofeev is also president of a pro-Kremlin think tank called Katehon, which endorsed Trump for president in late 2015.
In December that year, the Kremlin paid Trump's disgraced one-time national security advisor, General Michael Flynn, to attend a gala in Moscow with Jill Stein (the Green Party's 2016 presidential candidate) and others, celebrating the tenth anniversary of Russia Today, a state-owned international television network. As observed by OSINT researcher @gal_suburban, Bausman (the Lancaster man with the barn and ties to Turley and Komov) attended the same gala.
Flynn, who infamously declared in 2021 that the U.S. must have only "one religion" (presumably Christianity), is among the most prominent supporters of Mastriano, the "star" of Turley's new documentary.
As one might expect, Turley has used Facebook to promote the July 16 premier of his documentary, which he says Mastriano will attend in person. In March this year, he also used Facebook to promote a "RINO Hunting Bootcamp" featuring guest speakers Mastriano and Teddy Daniels, who was running for Pennsylvania lieutenant governor at the time. (Daniels later lost in the primary.) "RINO" is a pejorative that stands for "Republican In Name Only."
Turley was so enamored of his political hunting theme that he also posted images of four alleged "RINOs" — U.S. Senators Mitt Romney, Lindsey Graham, John Cornyn, and Jim Inhofe — for his followers to target.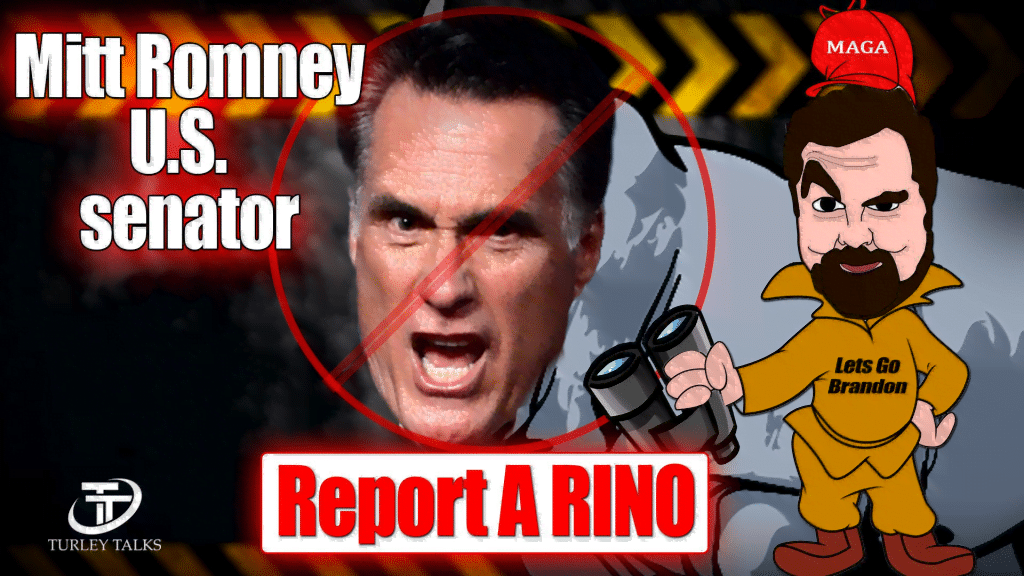 Another one of his posts featured a cartoon version of Turley pointing a rifle at Senator Lindsey Graham.
Turley's facebook page also includes this photo from a pro-Trump protest outside Pennsylvania House Speaker Bryan Cutler's home in Lancaster County on Dec. 5, 2020.
The man holding the bullhorn is Sam Lazar, a resident of Lancaster County, where Bausman has his barn. You can see Lazar more clearly in this video of the protest (at 20:10), which Turley posted on Youtube with the title "Pennsylvania Protest RISING UP Against 'RINO' House Speaker Bryan Cutler!!!" In the video, Lazar declares: "Over my dead body will we ever become communists" before leading a chant of "We are not sheep!" (Yes, irony is dead.) A few minutes before Lazar took the mic, protesters had chanted, "Christ is King!" After Lazar spoke, they chanted "In God we trust!"
During the Jan. 6 insurrection, Lazar allegedly threw bicycle racks, tore down barricades, and maced police. At one point, he shouted, "Hang the motherf#ckers!," as reported in The New Yorker. Before he was identified, he was known on Twitter as #facepaintblowhard. He was videotaped running alongside Zach Rehl, the indicted president of the Philadelphia Proud Boys, as observed by Twitter researcher @R5Philly.
Lazar later attended a Mastriano fundraiser hosted by Trump attorney Rudy Giuliani.
In addition to posting photos of the December 5 protest attended by Lazar, Turley used Facebook to promote a "Stop the Steal" event held by Trump's longtime advisor, Roger Stone, at a cafe called Conservative Grounds in Largo, Florida, on December 14, 2020.
Turley also posted photos of Ralph Cochran, co-founder of the Turleytalks podcast, inside the cafe where the event took place. As you can see, the cafe includes a life size replica of the Oval Office.
It was during this "Stop the Steal" event that Roger Stone posed with members of the Florida Oath Keepers who later breached the Capitol on Jan 6.
During the insurrection, Kelly Meggs, the spouse of one of those Oath Keepers, allegedly searched for Nancy Pelosi. Text messages show that, before the insurrection, Meggs had declared in a message that "I'm going on a killing spree … Pelosi first." Journalist Marcy Wheeler released the texts on Twitter:
Whether Mastriano's documentary might attract a similar element is a legitimate concern for potential venues. Turley, however, claims to have secured a secret new "Woke Proof" venue for the July 16 premier. Although Turley is withholding the name of the location until Friday (and will disclose it only to ticket holders), I hear there's a barn in Lancaster County whose owner might be open to this sort of thing.
**An earlier version of this article incorrectly described images "with rifle crosshairs over their faces." There were no crosshairs. We apologize for the mistake.**