A prom for Bucks County LGBTQ teens is facing attacks after the influential conservative Twitter account Libs of TikTok amplified and mischaracterized the event, attracting media attention and directing harassment at anyone associated with the prom. Hosted by Planned Parenthood's Rainbow Room in Doylestown, the Queer Prom, which took place in October, was open to all LGBTQ youth and allies between the ages 13 and 21 and included typical prom festivities, like music and dancing.
The Rainbow Room, which has been serving LGBTQ youth in Bucks County for 20 years, held its first Queer Prom in February 2020 to provide an accepting, celebratory space for LGBTQ teens. It wasn't until the past week, however, that the prom came under fire and made national news headlines.
Libs of TikTok tweeted a video on Jan. 22 of a drag queen dancing at the event. In the post, the prominent Twitter account, run by Chaya Raichik, implied that the prom and drag queens present were somehow inappropriate and emphasized the contents of the "swag bags" handed out at the end of the night, which included condoms, dental dams, lube, and other items associated with safer sex. 
Libs of TikTok's post also specifically called out Democratic State Senator Steve Santarsiero of Bucks County, who sponsored and attended the prom in 2020 with his wife and younger son who had recently come out at the time. While he didn't attend the most recent one, he still sponsored the event and went on to raise $630,000 in funding for the Rainbow Room.
Santarsiero told the Bucks County Beacon that there was nothing untoward about the prom and that plenty of parents helped plan and chaperone the event. "It's an unfortunate commentary on where we are right now in our society that something like this would be turned into a political cudgel, and that's essentially what's happened here," he said. "And it's disgraceful, of course, because it's using kids as pawns in a political game."
The next day, former GOP gubernatorial candidate State Sen. Doug Mastriano issued a memo announcing his intention to introduce a bill banning drag shows in public spaces frequented by minors. In the memo, which was later removed and reposted a day later, Mastriano cited the Rainbow Room's 2022 Queer Prom, calling it a "sexually charged drag show" and vowed to reclassify drag performances as an "adult-oriented business," similar to that of strip clubs and adult bookstores.
Hours later, the story was picked up by Fox News, which portrayed the event as inherently sexual in nature, zeroing in on the goody bags and the mere presence of someone in drag in a room full of teenagers. A highlight reel of the prom on Facebook Watch, however, shows attendees simply talking, laughing, dancing, and getting their pictures taken.
"I've never seen my drag as sexy," Seth Wohl, a college student who has identified himself as the drag queen in the video, told the Bucks County Beacon. "I just see myself as a clown, who likes to dance and be an idiot, and make people laugh and have fun doing it." Wohl, who is a recent Rainbow Room alum and intern and goes by the drag name Miss Shuggenah, said that he was hired to come back and perform at the Queer Prom and noted that he was comedically dancing to the Little Einsteins theme song in the video that has since circulated across social media. 
Wohl said he was surprised to find himself targeted by Libs of TikTok and on the cover of a Fox News article.
"It's ridiculous. I've done dozens of shows in the scene and I have never heard my drag being referred to as sexy," Wohl said. "My drag is very stupid and dry humor. If you're seeing sex appeal from that, you specifically have a preconceived notion."
In the absence of any evidence of wrongdoing, the Fox News article went on to cherry pick outdated or out-of-context statements from sex ed educators who were previously affiliated with Planned Parenthood, but not associated with the Queer Prom or the Rainbow Room in Bucks County.
While the Rainbow Room has long been considered a safe haven for LGBTQ youth in the area, it has also been the target of constant vitriol from conservative parents and far-right activists in Bucks County, like Megan Brock – a self-proclaimed parents' rights activist, who Libs of TikTok credited for the video posted last Sunday. Brock tweeted about the Queer Prom about an hour before Libs of TikTok's post, tagging the conservative influencer in the tweet. While the origin of the video is still unclear, Santarsiero suspects it may have been taken from the social media account of a young person who attended the event.
Two days later, Brock tweeted that the Rainbow Room's sex ed classes and activities were age-inappropriate and involved "explicit imagery," including a single screenshot of a Facebook event from 2017 titled "Sexuality & Slang" as supposed evidence of inappropriate behavior. Despite claiming otherwise, LGBTQ teens needed to be at least 14 years old to attend the workshop, according to the Facebook event page. In the same tweet, she also criticized Santarsiero for sponsoring the Queer Prom and securing funding for the Rainbow Room last fall.
Fox News' role in amplifying this hate and disinformation also extends beyond the initial article mischaracterizing the prom. Over the weekend, Fox News published a follow-up story implying that Santasiero was being mass labeled a "groomer" by his constituents for his support of both the Queer Prom and Wohl's drag performance, but the evidence was scant. The entire premise of the piece was based on six tweets from mostly random accounts in response to Santarsiero's public statement denouncing Mastriano's memo. In fact, one Twitter account cited by Fox News that was critical of the state senator also tweeted that "Islam is a religion from hell," to give you an idea of the type of critics he has.
In the wake of the media storm created by Brock, Libs of TikTok, and Mastriano, Santarsiero said his office has been "receiving all types of harassing messages" and "pretty vile comments," but notes that he's more concerned about the impact this will all have on LGBTQ youth and organizations like the Rainbow Room.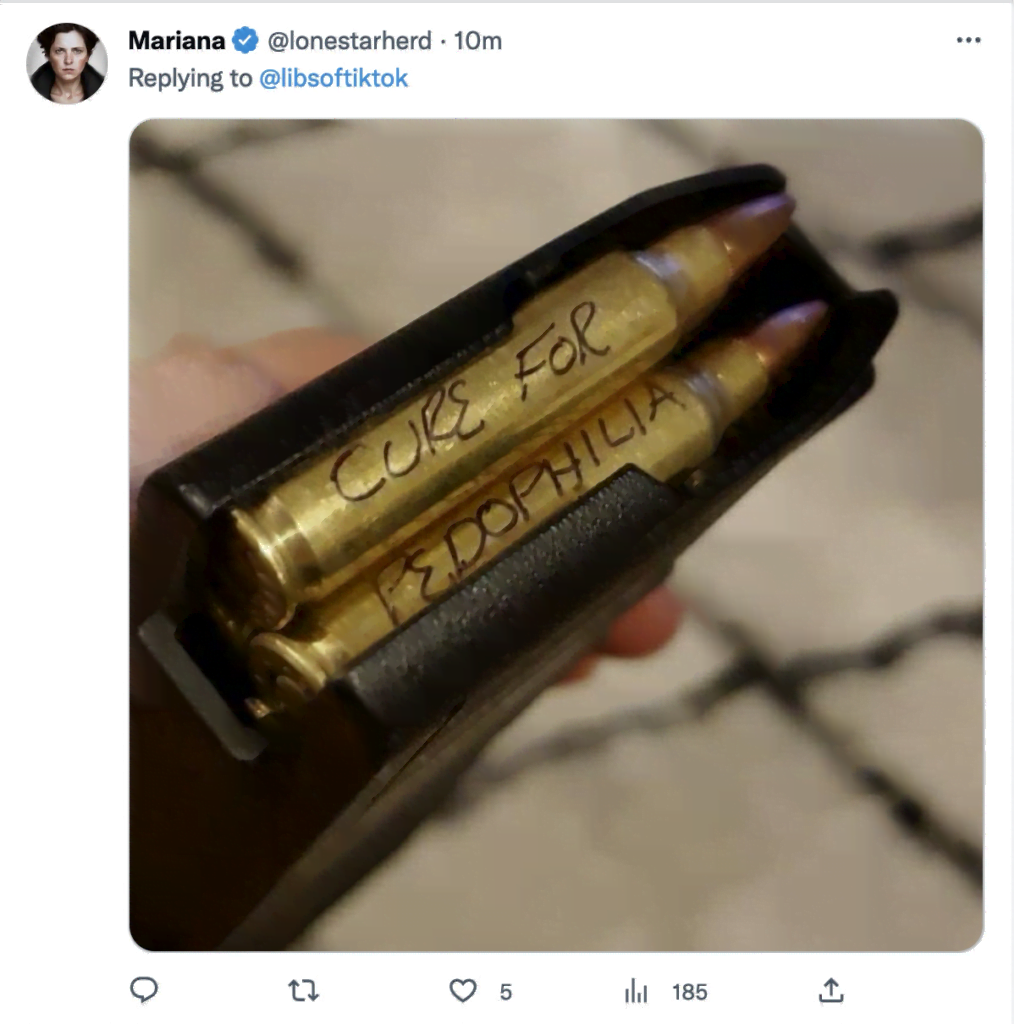 "We're talking already about a group of teenagers who have enough challenges as it is, so to add this on top of it is just really despicable, in my view," he said. Santarserio called the outrage "a crass form of politics," adding that it is a "tragedy" that the Queer Prom and the Rainbow Room have been targeted, especially "without any effort to talk to any of the organizers, to talk to any of the kids."
Wohl has also received a barrage of online threats and harassment, which ultimately forced him to delete all of his social media accounts. Wohl said even his family is being targeted in these threats, as well, especially since his father used to be a CBSD school board member.
"It's a scary situation for all of us," he said.
While Planned Parenthood Keystone did not respond to questions about any harassment it may have received, a spokesperson provided a statement to Bucks County Beacon denouncing the attacks on the Rainbow Room's Queer Prom, calling it an attempt "to invalidate and stigmatize LGBTQ youth" and hinder "the movement for equality and acceptance."
Alejandra Caraballo, a clinical instructor at Harvard Law School's Cyberlaw Clinic, told the Bucks County Beacon that "the fear is the point" of these disinformation campaigns, noting that the end goal is to "isolate LGBTQ people from their community" and "eliminate events and any sense of safety." From the attacks on LGBTQ teachers to the threats on hospitals that provide gender-affirming care, this fearmongering and harassment follows a very familiar and predictable pattern.
According to Caraballo, these campaigns typically start with local activists who end up scouring through social media to find anything they can use to spark outrage and then amplify it on Twitter. "Then it gets picked up by conservative influencers, or sometimes they do provide a tip to Libs of TikTok," she said, and before they know it, "innocuous posts on someone's TikTok or Facebook get turned into some kind of national news story."
As Caraballo puts it, there is a "direct pipeline" from the initial social media post to Fox News' coverage of it, adding that the "random nature" of the attacks and the influx of harassment that follows them can take quite a toll on those on the receiving end of it.
"That can be absolutely overwhelming if they have hundreds of people going into their replies and calling them a 'groomer,' posting pictures of wood chippers, people calling them, calling in threats," she said, adding that it can "create a broader chilling effect."
Despite all the vitriol, unfounded accusations, and targeted harassment, Wohl says that he is not going to hide. "I want it to be known that I was the person in that video and I'm speaking up," he said, adding that the Rainbow Room was a safe and accepting space for him growing up and continues to be a "place of education" about queer culture.
As for the media's fixation on the contraceptives in the prom goody bags, Wohl says that, while sex education does not define the Rainbow Room, it is an important part of it and is something to be proud of.
"If a teenager is going to be sexually active, it's important that they're prevented from having sexually transmitted infections. It's important that they're educated about consent," he said. "There's just so much more to the Rainbow Room than what people who are distorting the image make it look like."