A judge ruled Tuesday that Pennsylvania's school funding system is unconstitutional, delivering a landmark decision that could transform public education in the state. This ruling comes almost a decade after the initial lawsuit was filed by several parents, school districts, and advocacy groups in 2014, arguing that the state's education funding was inadequate and did not meet the constitutional standards.
In the ruling, Commonwealth Court Judge Renée Cohn Jubelirer agreed with this argument, instructing both state lawmakers and Governor Josh Shapiro to "devise a plan to address the constitutional deficiencies" in the current school funding system. "All witnesses agree that every child can learn," Jubelirer wrote in a nearly 800-page decision. "It is now the obligation of the Legislature, Executive Branch, and educators, to make the constitutional promise a reality in this Commonwealth." 
But how long could this process take?
It is unclear when state lawmakers will take it upon themselves to remedy this disparity, especially since Republican lawmakers, who maintain a majority in the Senate, fought against the lawsuit and objected to the ruling. For example, Senator Doug Mastriano, while running for governor, released a plan to make the current funding system even worse by cutting it in half. And with Democrats only narrowly in control of the House, passing reforms through the state legislature and approving more funding may prove difficult. In fact, House Republican leader Rep. Bryan Cutler said in a statement on Wednesday that the ruling amounts to government overreach, adding that school choice is the best path forward to create a more equal education system for students.
Then there are examples from other states that don't inspire confidence. Republicans in North Carolina's state legislature, as journalist Peter Greene pointed out, have ignored for about 25 years their State Supreme Court's order to fix – by properly funding – its public education system which failed to constitutionally protect children's rights to the "opportunity for a sound basic education." And in Washington the State Supreme Court fined the legislature $100,000 per day for years because they refused to abide by a court ruling to adequately fund its K-12 schools.
"It's up to the legislatures how fast they're willing to act," Michael Churchill of the Public Interest Law Center said on Wednesday. "We think, given the strength of the record here of the deprivations which need to be corrected, they should start immediately to address this problem."
In her opinion, Judge Jubelirer said that students in school districts with lower incomes and property values do not have access to the same educational resources as those in higher income areas. That's because Pennsylvania's school funding system mostly relies on money from local property taxes, with the state providing only a third of all public school funding. This has caused major funding gaps between school districts in wealthy and low-income areas. "As a result of these disparities, petitioners and students attending low-wealth districts are being deprived of equal protection of law," she wrote.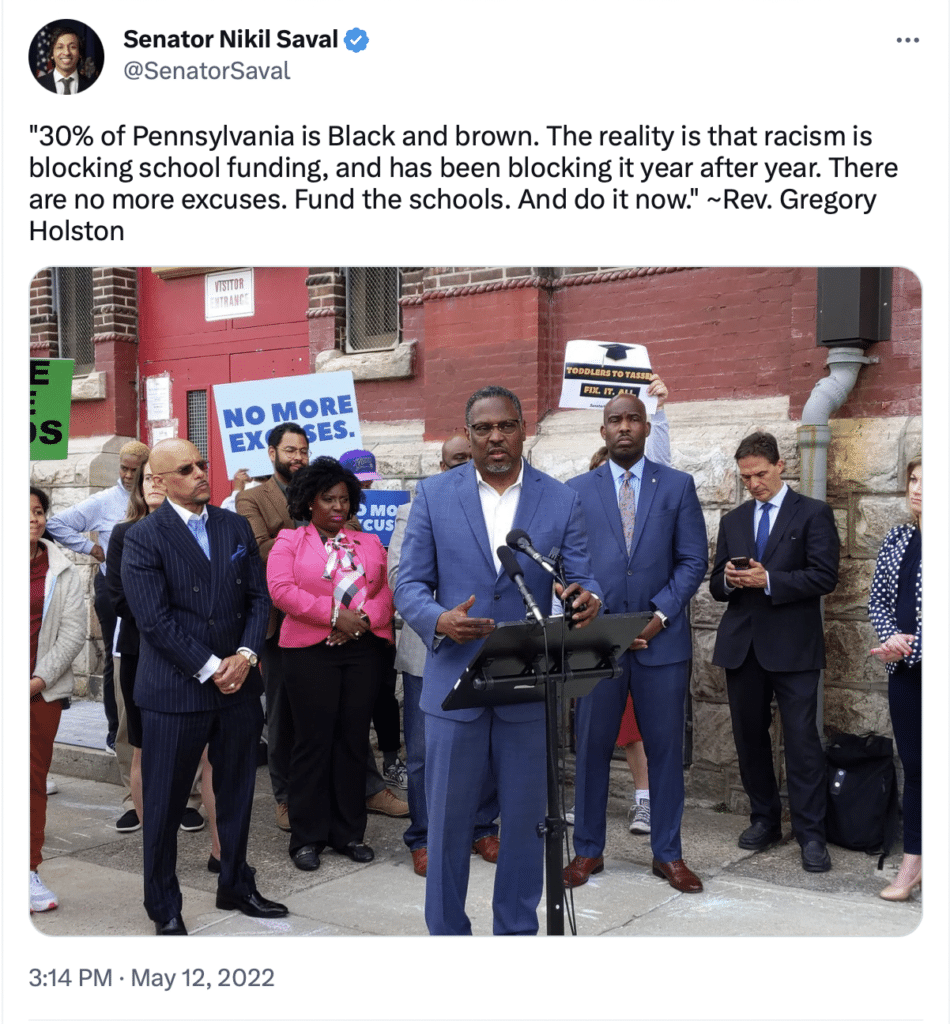 "We know that adequate and equitable school funding makes an enormous difference in the life chances of young people, enabling them to achieve at higher levels, earn higher wages as adults, and avoid poverty," said Linda Darling-Hammond, President and CEO of the Learning Policy Institute, in response to the ruling. "Everyone in the society benefits when all children have good schools."
And according to Maura McInerney, a lawyer for the plaintiffs and legal director at the Education Law Center, the judge concluded this based on the language of the state constitution, which plainly asserts that public education is a fundamental right.
"The court credited extensive evidence that the plaintiffs, the petitioners presented, demonstrating wide achievement gaps on state assessment scores," McInerney said in a press briefing on Wednesday. "These achievement gaps widened dramatically for Black and brown students, English learners, economically disadvantaged students, and other historically underperforming students."
McInerney says these gaps can be seen in high school graduation rates, college and post-secondary enrollment rates, and other similar metrics, which the court said must be fixed.
READ: It Takes A Village: Expelling Right-Wing Extremism From Bucks County School Districts
In order to reform the school funding system to make it constitutionally compliant with the landmark ruling, however, Jubelirer says the state must provide adequate funding and resources that allow all students to obtain access to a "comprehensive, effective, and contemporary" public education system. One analysis from Penn State, which was presented at trial, found that the state would need to spend an additional $4.6 billion in order to provide sufficient funding for all public schools in Pennsylvania.
"As the judge said, money matters and it matters because it provides specific kinds of resources," plaintiff's attorney Katrina Robson said in the briefing. For instance, additional and equitable school funding can allow school districts to hire more teachers, tutors, and counselors and even allow them to purchase better textbooks and safer school facilities, among other essential resources.
While legal and education experts agree that the state needs to allocate more money for education and distribute it more equitably, exactly how this would happen has yet to be determined. "The respondents will need to develop a directive which clearly addresses the constitutional deficiencies which have been identified," Martin Gasparian, an attorney at Maison Law, told the Bucks County Beacon. "This plan would need to provide all students with the 'thorough and efficient system of education' detailed in the state's constitution and demonstrate equity across districts."
Governor Shapiro, on the other hand, said in a statement on Tuesday that his administration is in the process of reviewing the court's opinion and "determining next steps." In the meantime, the defendants have not yet indicated whether or not they will appeal the decision. If they do appeal, Gasparian says the case will go to the Pennsylvania Supreme Court.
For now, however, experts view this ruling as a huge victory.
"Every student has the constitutional right to a fair and equal education," Fran M. Haasch, an attorney at Fran Haasch Law Group, told the Bucks County Beacon, adding that Pennsylvania currently ranks 45th in the nation in state funding for public education. "This ruling to re-evaluate and reallocate funds to education all over the state … is a major win."