The Lord told Moms for Liberty (M4L) Bucks County Chapter Chair Jamie Tromba "to get involved in local politics."
When I heard her tell "Face the Culture" podcast hosts Kim Kennedy and Pastor Steve Gruen that last week it made me think of when former President George W. Bush said "God told him to invade Iraq." Now we all know the Lord didn't tell Bush to invade Iraq, destroy the country, and have people tortured, just like we know the He didn't actually tell Tromba to start a group to spread dangerous misinformation, ban books, and alienate and ostracize LGBTQ kids under the flag of Christianity and so-called parental rights. Unfortunately, when religious fanatics start hearing voices in their heads, there's rarely anything you can do to walk them back to reality.
Tromba and her M4L Bucks County Vice Chair Tricia Doebler wanted to set the record straight and "change the negative stigma" around their group, which is why they went on this tiny Christian nationalist podcast sponsored by Red State Talk Radio.
"We're definitely in a battle of good and evil at this point," said Tromba early in the interview.
Now to be fair, Tromba is not alone in this thinking. It is pretty mainstream for the Republican Party. For instance, fellow Bucks County M4L and sitting Central Bucks School Board member Debra Cannon said at a May 2021 meeting, "Right now as we speak there are demonic adults recruiting, brainwashing, and participating in unconscionable behaviors with children, and every one of you know it."
She actually won an election even after saying that.
LISTEN: Merchants Of Deception: The Dark Money & Parent Props Trying To Destroy Public Education, With Maurice Cunningham
But even Republicans of greater stature like Florida Governor Ron DeSantis, who many see as a frontrunner in the 2024 GOP presidential primary, will invoke imagery of a holy war the nation is facing. During stump speeches last summer, the Republican who was gifted a sword from Moms for Liberty at their last national conference would paraphrase a passage from Ephesians 6, calling out to crowds of his Republican disciples:
"You gotta be ready for battle. So put on the full armor of God. Take a stand against the left's schemes. Stand firm with the belt of truth buckled around your waist. You will face fire from flaming arrows, but the shield of faith will protect you."
The podcast's co-host Pastor Steve shares the same sentiments. In the episode he said:
"And of course, the biggest fight of all is the spiritual warfare going on with the devil and he's our adversary. He's doing all these things. Scripture talks about that many of us wouldn't want to fight while we're in the fight, whether we want to be or not. Are you going to take up the sword of the Spirit using the Word of God? Are you going to stand for truth or are you not going to? Folks, we need you to stand and we need to be courageous and bold and really rejoice in the example of people who are doing the work."
Now of course Tromba would go on to mention grooming. This tired, yet dangerous and apparently effective (within the Republican Party) homophobic trope is a mainstay at Bucks County school board meetings.
"These books and things that we're seeing, I mean, it's grooming. It's nothing more than grooming," said Tromba.
She wasn't done. It gets worse.
"They're now making it where pedophilia is OK. That's what they're doing. They're trying to make it like pedophilia is OK," Tromba added. "They're inviting it into the schools. They're with your child more than you during the day. What's going on in that classroom? You have to be aware."
Now these crazy accusations aren't an attack on the LGBTQ community (yes it is). She has love for all of the children – even the LGBTQ ones – kind of, as long as they stay hidden or closeted.
"I have no hate for any child that has any kind of, you know, whatever is going on with them. Okay," said Tromba "It's just not, it does not belong in public schools."
That sentiment is pretty popular within Moms for Liberty.
The entire interview, while insane, is useful to listen to because it unmasks the extremist nature not only of the local Moms for Liberty chapter, but their allies within the grassroots of the Bucks County Republican Party. They are on a crusade to transform public schools into Christian nationalist indoctrination camps. It's why they are trying to ban books. It is why they are targeting curriculum. It's why they are creating a climate of fear for teachers and librarians. And it why they are recruiting, training, endorsing, and campaigning for far-right school board candidates.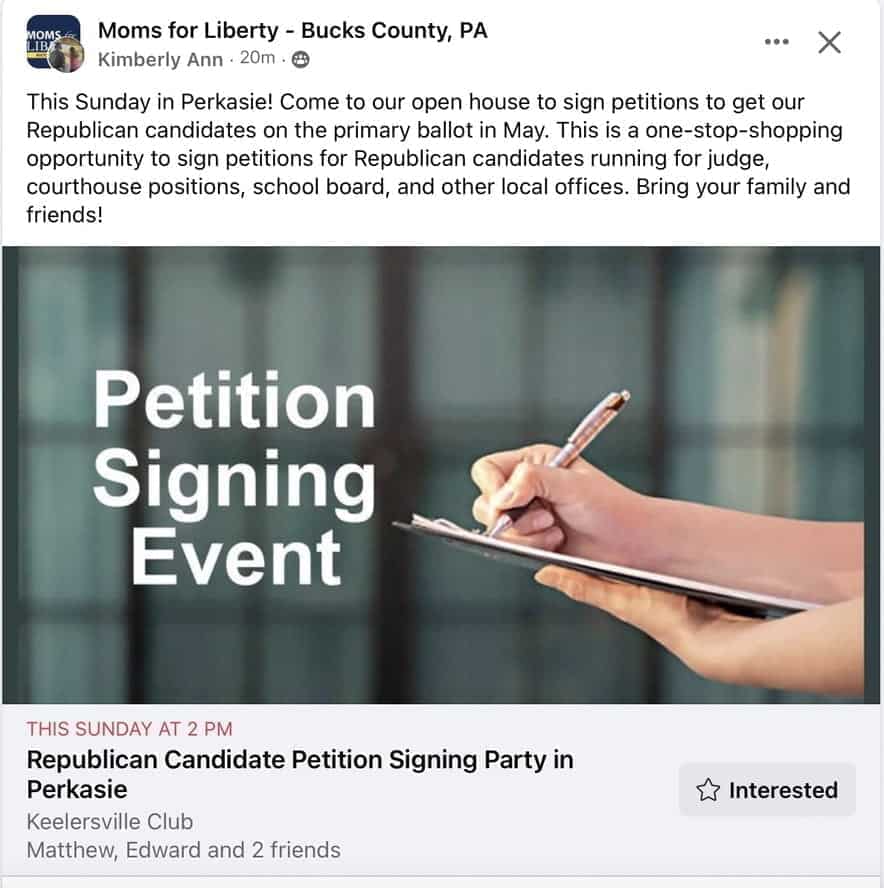 This is a very dangerous societal threat we are facing and people need to educate themselves, organize door-to-door and face-to-face, mobilize, and vote – and pony up some money as well if you can spare it.
For more information on how to get involved visit:
https://www.cbsdneighborsunited.com/
https://advocatesforinclusiveeducation.org/