"Stop the Steal" 2020 was a nationwide campaign that sought to overturn former President Donald Trump's electoral defeat with a toxic combination of lies, unfounded allegations. and physical intimidation via pro-Trump extremist groups known for glorifying violence.
The 2020 "Stop the Steal" hashtag was first teased on Labor Day (Sept. 7, 2020) by Jack Posobiec, a longtime protege of political consultant Roger Stone, who had served as Trump's informal advisor for decades.
Posobiec had also used a tweet to launch Stone's 2018 "Stop the Steal" campaign in Florida, as we previously reported. (FN1)
Labor Day 2020 was significant because it was the deadline that the Republican establishment had reportedly set for Trump to resurrect his sinking re-election campaign. If Trump's prospects did not significantly improve by the deadline, then the GOP planned to pull its support and redirect its resources to races it could win.
On Labor Day, Trump's prospects remained in the toilet due to his grotesque mishandling of the coronavirus pandemic and the social justice protests that summer.
The protests had arisen from the savage murder of George Floyd, a Black man, by a white police officer, on May 25, 2020, three years ago today. The officer has since been sentenced to more than 20 years in prison in connection with Floyd's death.
Trump apparently saw only one way out from his own, self-inflicted destruction: creating an alternative reality in which Democrats planned to defeat him by cheating in the 2020 election (the "Big Lie"). He would then use this alternative reality to try to strong arm election officials, lawmakers, and judges into overturning his defeat.
It is no coincidence that Stone and his nefarious network were the biggest proponents of Trump's "Big Lie." In July 2020, Trump had commuted Stone's 40-month criminal sentence on seven felony accounts. As Stone wrote in 2018, it is essential to "pay your political debts."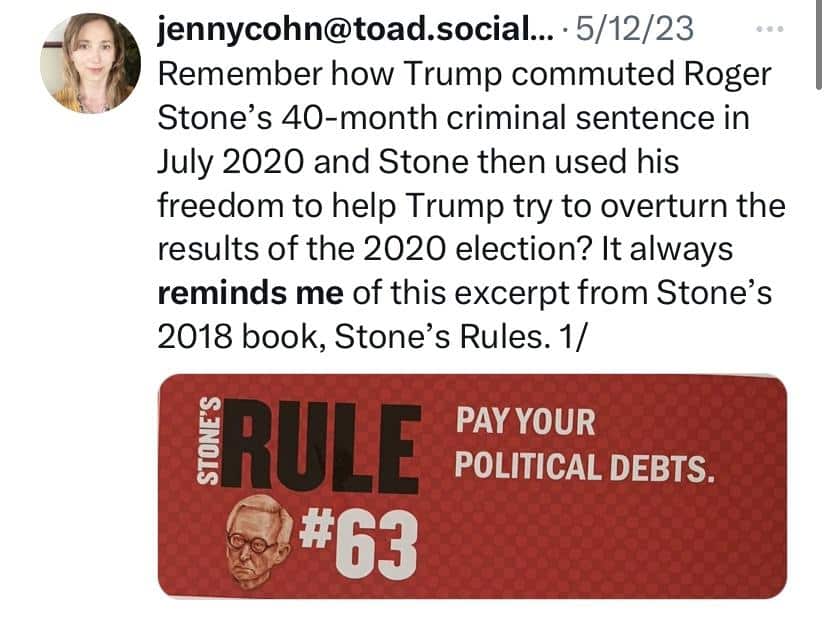 This is part 6 of our series detailing the malevolent activities of Stone and his cohorts from 2016 through the present. Here are links to parts 1, 2, 3, 4, and 5.
Trump and the George Floyd protests
For justice-seeking Americans, the prospect of Stone serving time in prison had offered a glimmer of hope in an otherwise bleak year that included the brutal murder of George Floyd, a Black man, by a white police officer who had kneeled on Floyd's neck for more than nine tortuous minutes as other white officers stood by without attempting to intervene. Floyd had cried out for his mother in his last moments. Bystanders had captured all of it on video.
Floyd was murdered in May 2020. Less than a week later, known members of the Proud Boys gang dressed as members of the Antifa (anti-fascism) movement during a Black Lives Matter protest of Floyd's murder in Portland, per the Office of the Director of National Intelligence.
Trump and then Attorney General Bill Barr nonetheless blamed Antifa for violence that erupted during that protest, even though the FBI said that it had no intelligence to support the accusation.
After the protest, Joe Biggs called upon Trump to designate Antifa as a terrorist organization, and Trump tweeted that the U.S. government would do so.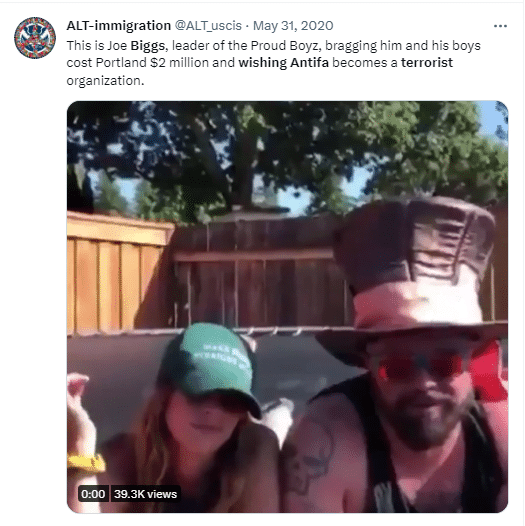 Trump also began using "Antifa" as a catchall smear. "Buffalo protester shoved by police could be an Antifa provocateur," Trump tweeted about an elderly man who had been knocked to the ground during a George Floyd protest in June 2020. "He fell harder than he was pushed," Trump added.
Posobiec used the Antifa label indiscriminately too. On May 30, 2020, in Annapolis, he "pointed at some Black people peacefully protesting and tried to brand them Antifa,"as reported by journalist Luke O'Brien. "Why am I making Antifa the narrative? Because Antifa is right there. You can look at them with their eyes," Posobiec said.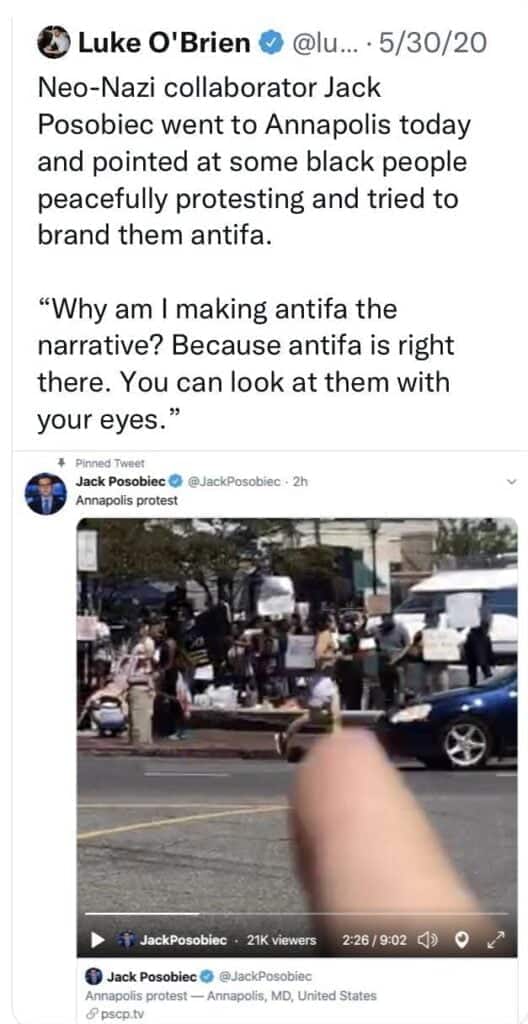 It was also in the summer of 2020 that Posobiec (who has almost 2 million Twitter followers) pushed a hoax about pipe bombs having been planted at the Korean War Memorial during the George Floyd protests.
Jacob Engels, Stone's longtime assistant, promoted a separate hoax that summer about Antifa planning to desecrate the Gettysburg cemetery in July 2020.
Meanwhile, state police armed with pepper spray had cleared peaceful demonstrators from Lafayette Square (in June 2020), a move that preceded Trump's infamous photo op in which he held a Bible held upside down outside a church in Lafayette Square. (The two events were supposedly not connected.)
Trump reportedly also considered deploying the military to put down the protests by force.
A far-right "Boogaloo Boi" extremist was later charged with setting fire to a Minneapolis police precinct during one of the protests that summer.
Despite efforts by Trump and the far right to demonize the left, most Americans sympathized with the social justice protests (as of June 2020), whereas only 36 percent of Americans approved of Trump's response (as of July 2020). This did not bode well for Trump's reelection prospects.
Trump and the pandemic
While Trump's response to the protests damaged his re-election campaign, his grotesque mismanagement of the Covid-19 pandemic obliterated it.
The first U.S. case of Covid-19 was reported in January 2020. From the start, Trump seemed more concerned about the pandemic's impact on the stock market than with saving American lives, as detailed in Slate.
Despite privately admitting to author Bob Woodward that the virus was "more deadly than your serious flus," Trump told the public that, "This is like a flu" and "It's going to disappear."
In early March 2020, Trump voiced his desire that a cruise ship with 35 infected passengers not debark, declaring that, "'I don't need to have the numbers double because of one ship that wasn't our fault.'"
Trump also politicized the virus, telling "Fox News that coronavirus emergency funding bills would be unfair to more conservative states. 'It's not fair to the Republicans, because all the states that need help, they're run by Democrats in every case,' he said," as reported by NBC News. At the time, "three of the four states that [relied] the most on federal funding would be considered red states," per NBC News.
In late March 2020, as the virus spread across the country and people began to panic, Trump lavished Personal Protective Equipment (PPE) on his newly adopted home state of Florida, while seeming to stiff states with Democratic governors.
On March 28, Massachusetts, Maine, and Colorado received just 17 percent, 5 percent, and one day's worth (respectively) of the medical supplies they had requested from Trump's administration.
Florida, by contrast, received everything they requested and an identical shipment the next day, with a third shipment reportedly on the way.
Around the same time, Michigan Governor Gretchen Whitmer reported that, "What I've gotten back is that vendors with whom we've procured contracts – they're being told not to send stuff to Michigan. I've been uniquely singled out."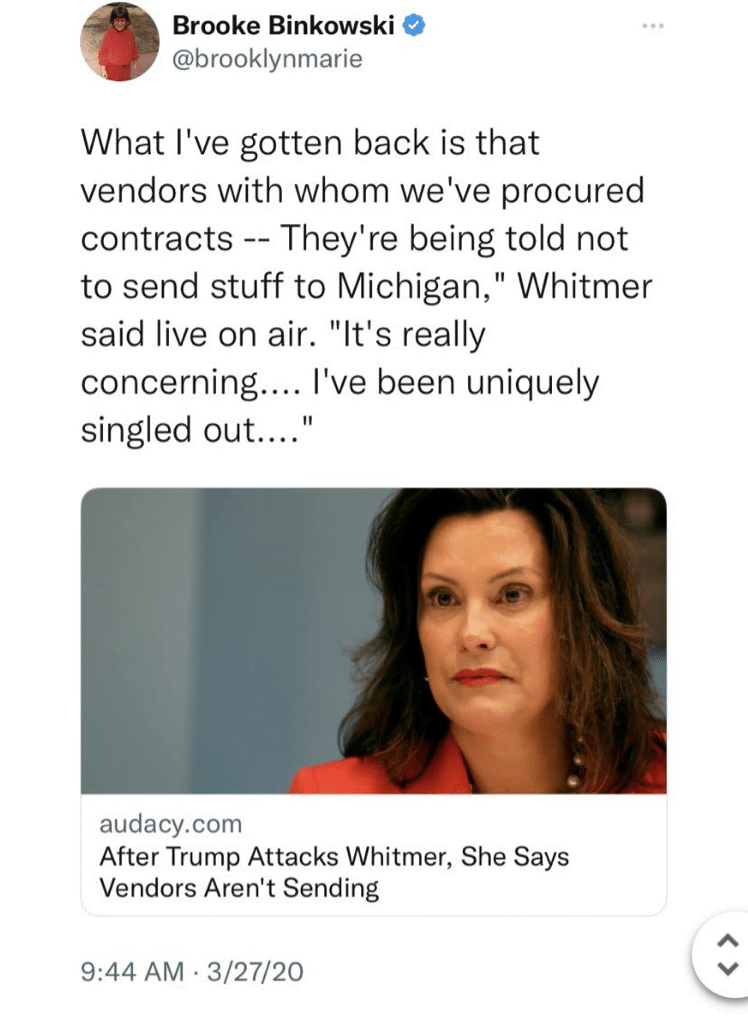 Trump even instructed then Vice President Mike Pence — who he put in charge of the pandemic response — to ghost Whitmer and the governor of Illinois who were desperately scrambling to secure more PPE to prevent mass deaths.
"If they don't treat you right, I don't call," Trump said, adding that he had told Pence, "don't call the governor of Washington. You are wasting your time with him. Don't call the woman in Michigan [Whitmer]. It doesn't make any difference what happens."
On March 29, after New York State sounded the alarm that they needed more PPE, Trump responded by suggesting that the state's shortfall was due to healthcare workers stealing the state's supply.
At the time, there were so many cases in New York that the state had begun setting up makeshift supplemental morgues (refrigerated trailers) and hospitals were considering splitting ventilators to accommodate more patients. A New York nurse had just died from Covid-19 in a hospital where healthcare workers were forced to wear trash bags and reused masks due to the PPE shortage.
On April 4, 2020, the Washington Post released a blistering expose of Trump's 70-day deadly delay in taking urgently needed steps to contain the virus.
Less than two weeks later, Trump hired Michael Caputo—founder of the "Pardon Roger Stone" organization—to serve as his spokesperson at HHS. The administration announced the decision on April 15.
Caputo had scored the job after tweeting that "millions of Chinese suck the blood out of rabid bats."
In addition, Caputo had called multiple women "dog face" and told political commentator Cheri Jacobus that he hoped she would die bitter, childless, and alone.
(Jacobus had angered Trump in 2016 by revealing that he had lied when he claimed to have received no super PAC money. CNN had abruptly blacklisted Jacobus after she exposed Trump's lie. The network was run at the time by Jeff Zucker, a personal friend of Trump, per Jacobus.)
Caputo may also have impressed Trump by deflecting from Trump's pandemic mismanagement with a vicious social media campaign launched in late March 2020.
Caputo's campaign targeted Laura Krolczyk, a private citizen and former administrator at Roswell Park Cancer Institute in Buffalo, New York, Caputo's hometown. Krolczyk had been alarmed by Trump's downplaying of the pandemic and refusal to order the production of more ventilators. She had made the mistake of venting her frustration by writing in a private Facebook conversation that Trump supporters with Covid-19 should forsake their ventilators or stay home from the hospital since they seemed to believe the pandemic was a hoax.
One of Krolczyk's Facebook "friends" forwarded the conversation to Caputo who used it to attack Krolczyk on social media, with apparent assistance from automated bots and fake accounts, as detailed in the documentary 15 Minutes of Shame. Fox News picked up the story, claiming that Krolczyk wanted Trump supporters to get Covid-19.
Krolczyk apologized profusely and said that she didn't mean her remarks literally. Roswell Park nonetheless fired her, a move celebrated by Caputo who had more than 30,000 Twitter followers at the time (FN2).
(It may be a coincidence, but Caputo had previously consulted for Gazprom Media, a subsidiary of Gazprom, which was reportedly owned at the time by Russian oligarch Roman Abramovich, Roswell Park's largest donor.)
Krolczyk also received countless death wishes (some examples appear below), which destroyed her peace of mind, while Caputo was rewarded with a job at HHS.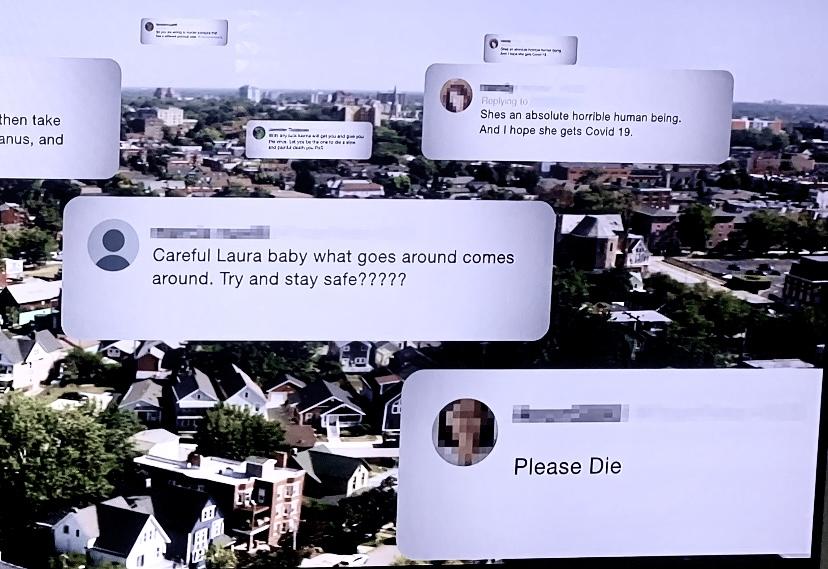 Caputo's mentor, Roger Stone, would later joke that he wanted Democrats and socialists to take the Covid-19 vaccine (which Stone claims has "injured or killed millions of Anericans"), thus implying that Stone wanted these people to die. Unlike Krolczyk's Facebook post, Stone's remarks made MAGAs laugh and cheer.
It was on Caputo's watch at HHS that the agency directed states to bypass the Center for Disease Control (CDC) and instead send their Covid-19 data to a database developed by Palantir, a company founded by billionaire Peter Thiel. Per the New York Times.
Thiel was "one of Trump's biggest donors in 2016" and a "prime financier of the Make America Great Again movement." In 2009, Thiel had declared that, "I no longer believe that freedom and democracy are compatible."
It was also Caputo's idea for HHS to hire Paul Alexander who infamously pressured the CDC into altering its Covid-19 reports and then bragged about it to Caputo in an email, declaring "Yippee!!!"
Trump's galling approach to the pandemic sent his reelection campaign into a "free fall," as reported by the Brookings Institution in July 2020.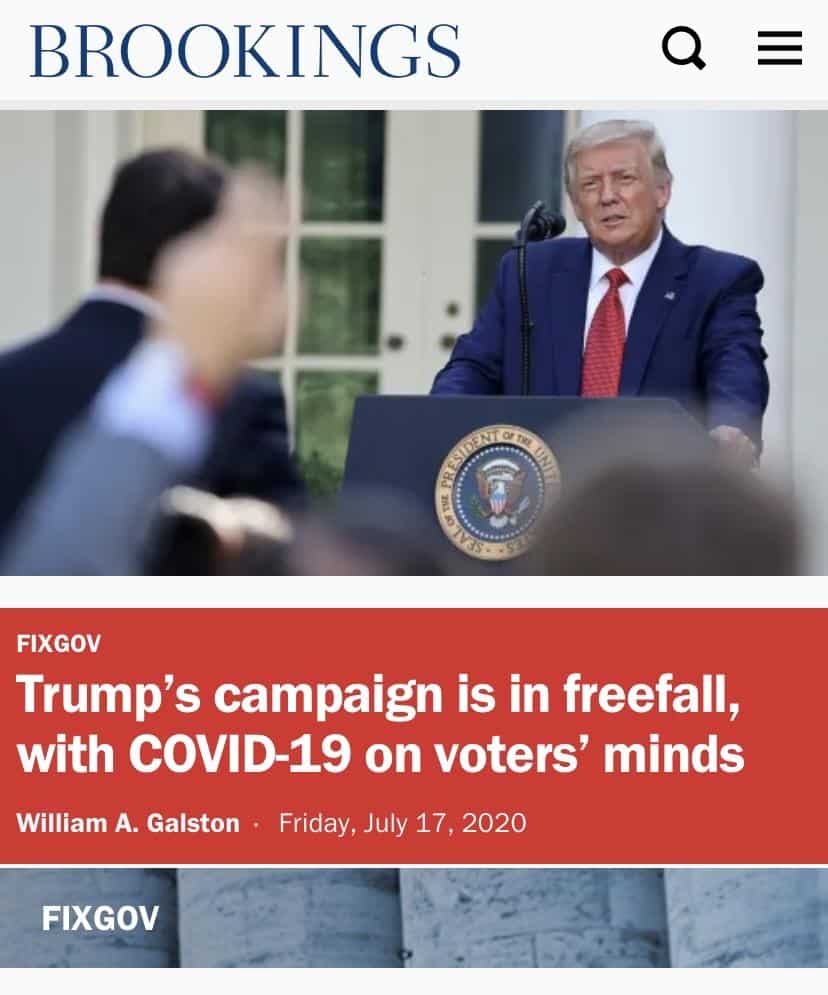 Stone gets a "get out of jail" free card
For most of America, including Trump, the pandemic was a scourge. For Stone, however, it created an opportunity.
After his conviction, Stone asked the court to postpone his incarceration, which he called "essentially a death sentence" due to the pandemic.
The court gave Stone an extra two weeks, while securing a spot for him at a prison with no Covid-19 cases. Stone was to surrender himself on July 14.
The brief postponement was long enough for Stone to embark on a virtual media tour in late June 2020 during which he announced publicly that he could help Trump's flailing re-election campaign if only Trump would commute his sentence or grant him a pardon, as reported by Media Matters.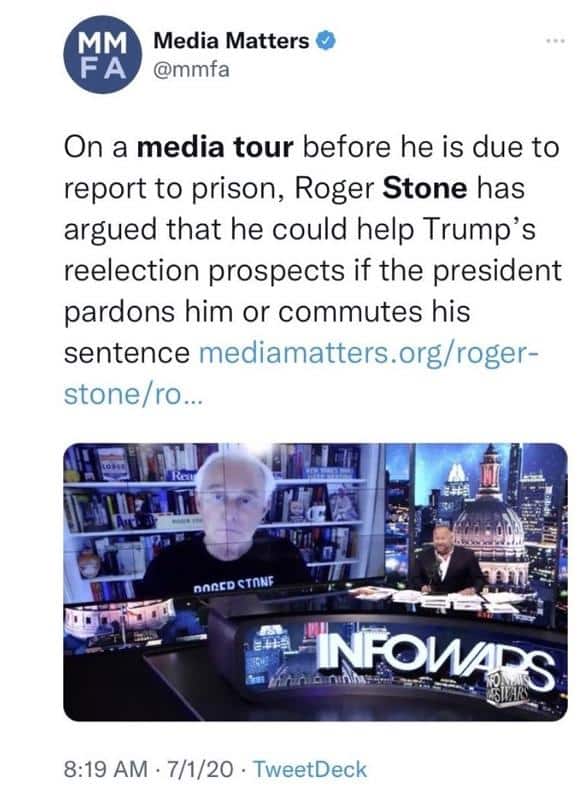 Trump bit. He commuted Stone's sentence on July 10, a decision that Posobiec announced with a triumphant tweet, declaring that he had "just got off the phone with Roger Stone. He is a free man."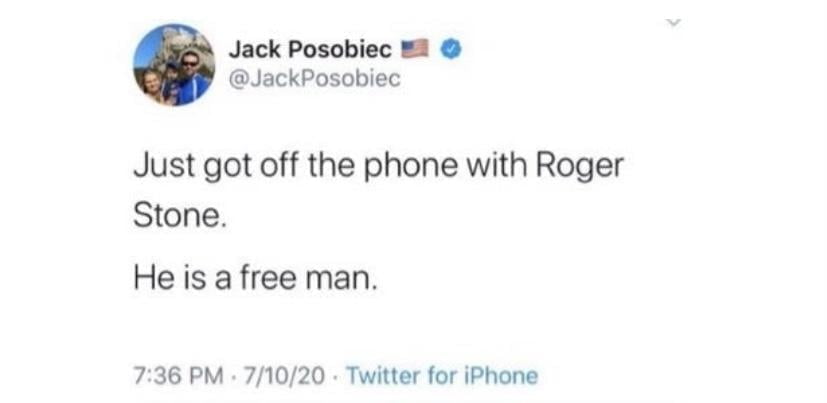 Stone celebrated his freedom with the Proud Boys gang, including Enrique Tarrio, who was recently convicted for seditious conspiracy involving his efforts to overturn Trump's loss in the 2020 election.
To be continued…
Footnote 1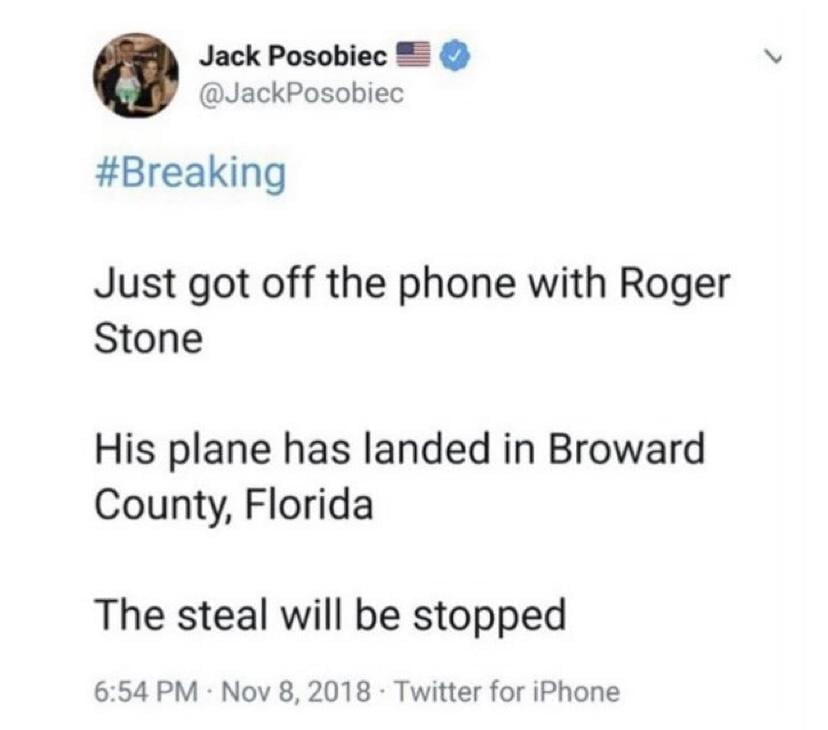 Footnote 2