On June 10, I joined friends from Southampton and Warminster to travel down to Chester and join a protest organized by Earth Quaker Action Team (EQAT) and Chester Residents Concerned for Quality Living (CRCQL). Outside the country's largest trash incinerator, we highlighted the real, human cost of a system that puts profit over people and planet, showing why it's time to pledge "Never Vanguard." Vanguard is a top investor in many corporations that have industrial and incineration sites polluting communities along the Delaware River, like Covanta, which runs the trash incinerator in Chester, and Trinseo, which spilled latex polymer in Bristol earlier this year and threatened the drinking water of millions of people.
We believe strongly that Vanguard is on a reckless course, and we refuse to be complicit.

We joined EQAT again on June 14 at Vanguard's global headquarters in Malvern, to announce that customers have withdrawn, or promised to withdraw, $17 million out of Vanguard accounts and funds so far. This is just the "tip of the iceberg," and we encourage all Vanguard customers to join us and do the same.
READ: How Protests That Double As Trainings Are Growing This Fossil Fuel Divestment Campaign
These two back-to-back protests highlight the direct connection between the decisions made by Vanguard CEO Tim Buckley in Malvern and the communities, like Chester, that bear the brunt of those decisions. We're demanding that Vanguard use its power as a shareholder to push the companies it invests in to make meaningful progress on reducing emissions, exit its investments in fossil fuel companies that don't transition, and offer climate-safe funds as mainstream investment options.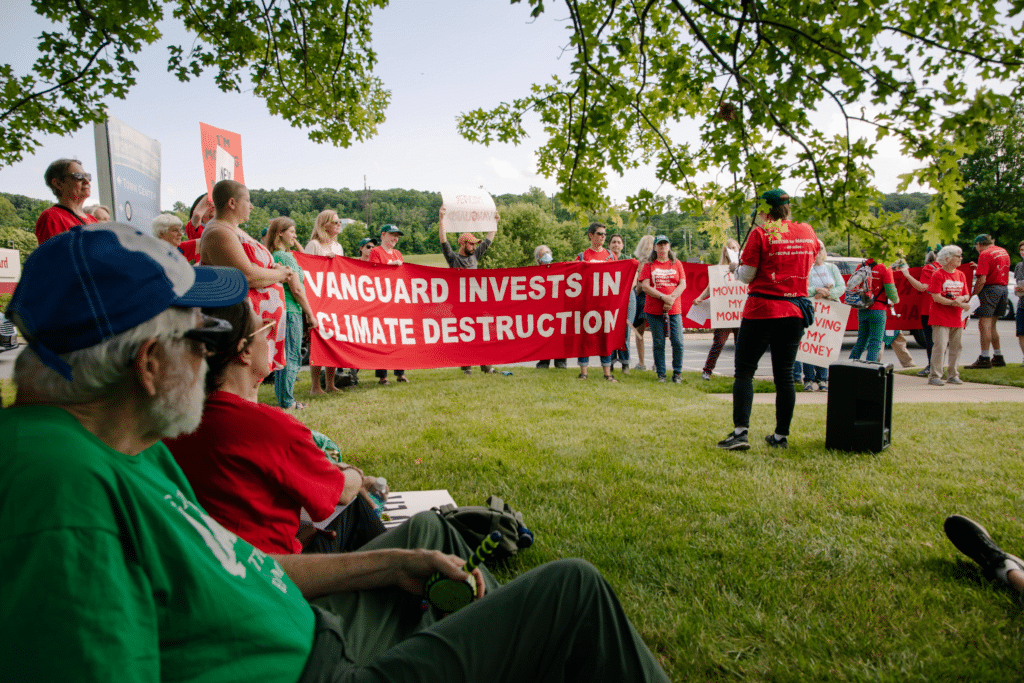 Photo by Rachael Warriner.
Despite being the world's second largest asset manager and the largest investor in fossil fuels, Vanguard company leadership has so far refused to take meaningful climate action. Vanguard investors hope for a secure retirement, but Vanguard's fossil fuel investments are increasing dangerous extreme weather events, and research shows that Vanguard stands to lose $3 trillion by 2050 if it fails to act on climate. Vanguard has actually acknowledged that climate change is a material risk to investors, yet lags far behind even slow-moving peers like BlackRock and State Street. Vanguard is a large investor in almost every publicly traded company or sector of the economy.
CEO Tim Buckley is the ultimate decision-maker at Vanguard. He recently took the almost unbelievably regressive step of withdrawing Vanguard from the Net Zero Asset Managers initiative (NZAM), giving reality to EQAT's quip, "The Buck Stops with Buckley." NZAM is a positive group within the financial industry that is working, albeit with limited success so far, toward phasing out the obvious problem of fossil fuels.
READ: Shaking Off Climate Anxiety And Apathy To Build A Sustainable World
There must be thousands of people in Bucks County who have money saved with Vanguard. This is our chance to make a difference in relative comfort. A whole county of people simply threatening to move their funds would certainly make Tim Buckley sit up and listen.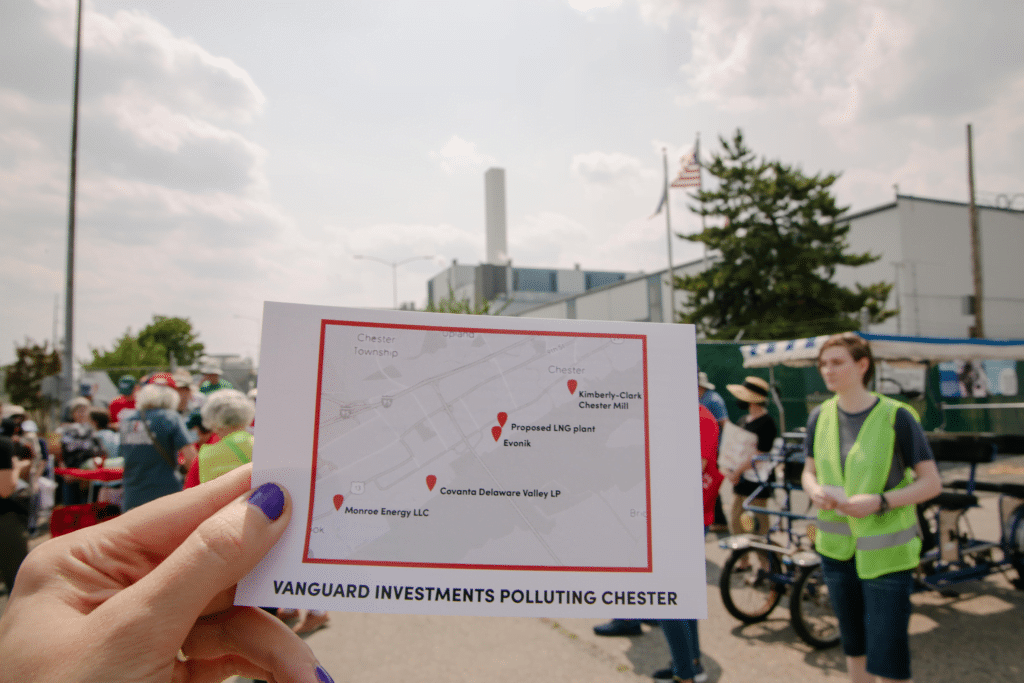 Photo by Rachael Warriner.
The "Never Vanguard" pledge is for anyone willing to take a stand against climate destruction. Some are pledging to move savings invested with Vanguard or in its funds. Others are promising to not invest in or work for Vanguard until it deals with its climate problem and invests for a livable future. To join the "Never Vanguard" initiative, go to https://www.eqat.org/never_vanguard. While we cannot provide specific investment advice, there are resources for choosing better options on our website.
The reality of climate change, barreling down the road right toward us, makes it obvious that time is running out. Our grandchildren and their kids will live in a very different world, but it's not too late for us to stop the worst of the catastrophes now on the horizon.