Draw The Lines PA's Bucks Map versus the current PA State House Map
In a state that has some truly wild bits of gerrymandering — "Goofy kicking Donald," anyone? — the prevailing wisdom is that Bucks County isn't as bad as other parts of the state. And while that's true to a certain extent (for instance, our current U.S. House of Representatives election map does in fact mirror the actual Bucks area that Brian Fitzpatrick currently serves) the upcoming redistristricing of PA is something worth having an eye on, and even getting involved with, if you can.
It's in that spirit that Draw The Lines PA, an initiative of the Committee of 70, has just released the Pennsylvania Citizens' Map, a proposed map of 17 congressional districts that reflects the work of more than 7,200 Pennsylvanians who have already drawn 1,500 congressional maps through competitions held since 2018.
With map software being a fantastic and now-constantly-improving tool in the Internet toybox, this is the first such map that has ever been created by citizens.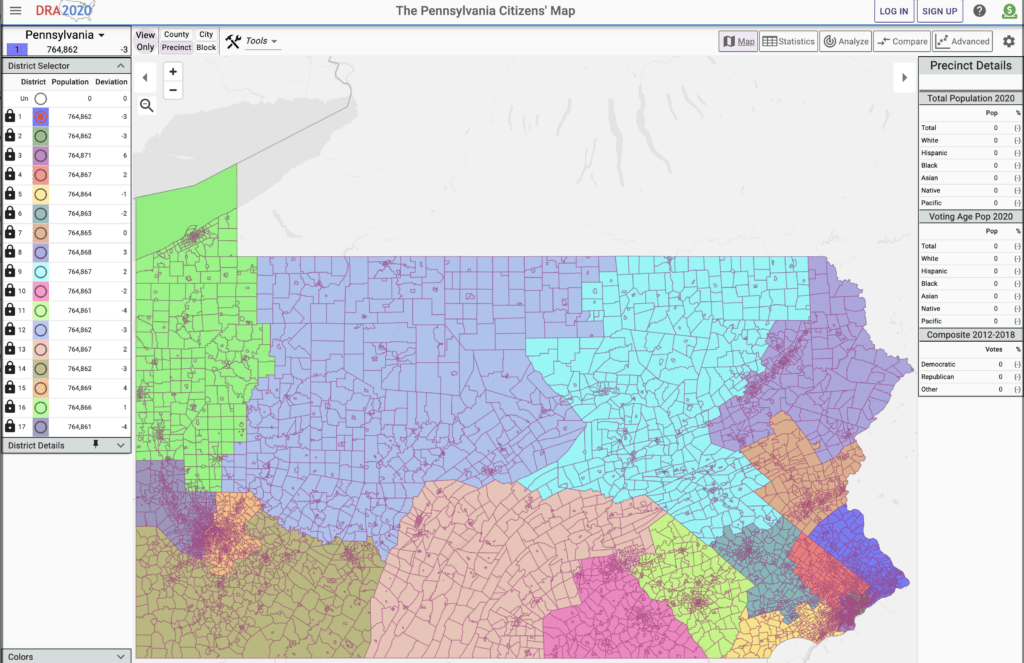 View the full map here.
"The Pennsylvania Citizens' Map makes clear what so many Pennsylvanians already know: that drawing fair districts is neither an activity that should take place behind closed doors, nor an exercise that should takes months on end," said David Thornburgh, Chair of Draw the Lines PA and President and CEO of the Committee of 70. "We're not suggesting this is a perfect map, but it certainly sets the table for discussion. There is no reason why the Legislature should be delayed in drafting our new congressional map and sharing it soon for comment with the citizens of PA. If we can do it, they can do it."