Democrats still outnumber Republicans overall in Pennsylvania by 600,000. It is broadly accepted that the area around Philadelphia is liberal. Bucks County is part of that purple area. But is Bucks changing?
The Pennsylvania Capital Star has analyzed the most recent trends in Pennsylvania's many regions and seen gains by the GOP in registering voters over the summer. These figures show how and where one party is gaining over the other: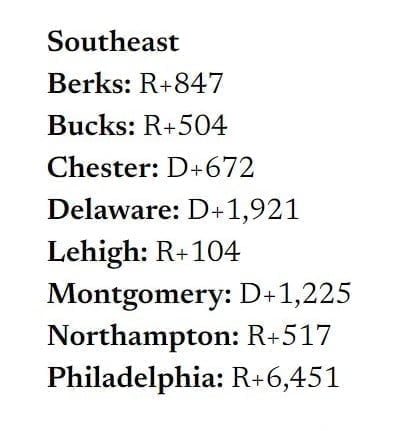 The GOP has made inroads in Philadelphia, enlisting 6,000 more voters than the Democrats did over the summer. Bucks county has turned more Republican as well, by 504 voters.
That contrasts with other suburban Philly counties, especially Montgomery and Delaware. Even Chester gained 672 more Democratic registered voters over the summer than registered Republican voters.
Bucks County is blue in the south. Central Bucks is more Democratic toward Montgomery County, and more Republican toward New Jersey. Northern Bucks is increasingly conservative.
The election on November 2 in Bucks County will be a bellwether of things to come in 2024.