Covid is on the rise again, as was expected in the winter months. Add Delta and now Omicron – don't they sound like toy action figures? – and the threat has increased, especially for those over 65 and for the unvaccinated.
Covid is not going to go away. Isn't that obvious? But free vaccinations are available in Bucks County. You may still get covid, but it won't be as bad. Isn't that a strong argument? Even Trump got a booster shot. And he had Covid.
Free vaccinations, first, second or booster, are available in two locations, no appointment, walk-ins only, Monday through Friday (except Christmas Eve day) 10 am to 4 pm, and on Dec. 31, 10 am to 2 pm:
Bring your vaccination cards.
Warwick Square (the old Giant location), 2395 York Rd, Jamison, PA and The Neshaminy Mall (enter through the Food Court), 707 Neshaminy Mall, Bensalem, PA
The Pfizer-BioNTech mRNA vaccine is available for anyone 12 and older, and as a booster after two other shots.
Anyone 18 and older can get the Moderna COVID-19 MRNA vaccine for their first or second shot and on a limited basis for a booster shot.
And anyone 18 or older can get the Johnson & Johnson vaccine.
Children ages 5 to 11 are eligible for the Pfizer-BioNtech mRNA vaccine.
The vaccination sites above will be moving on January 1. Note, they do not do covid testing. To find a testing location near you click here.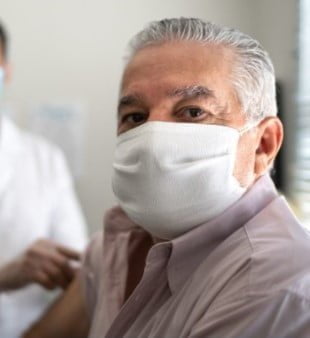 Why should you get the jab, even if you have been reluctant? Some 71 percent of residents ages 12 and up in Bucks County have been vaccinated. That supposedly is enough to grant herd immunity. No such luck, however. Either the constant arrival of new variants, or new people, tourists, relatives, etc., seems to keep cases steady or rising.
Covid infections are increasing in the general population, even though day-to-day numbers bounce up and down. That's because cases are often not reported on weekends or holidays. There was a spike on Dec. 11, with 595 new cases in Bucks County.
A spread because of Thanksgiving travel? Who knows… For people who are already fully protected, that is not particularly worrisome. But for the unvaccinated, as of Dec. 20, the CDC says the Bucks County unvaccinated should consider it an "extreme risk" to be with "more than a handful of people." It suggests avoiding unnecessary travel. And says indoor activities with other people are "extremely dangerous" right now. We ask for a friend: Does that include school board meetings?
Oddly, the people in the county who are most against vaccinations are the ones who are most against wearing a mask. Others must protect themselves by doing both.
There has been a 43 percent increase over the past two weeks in Bucks County in the number of people with covid in hospitals. Because the county hospitals are filling, there is a danger if you have a heart attack or are in a car accident. St. Mary Medical Center in Langhorne has 26 covid patients. It's ICU is at 88 percent capacity, with 4 beds available.
Lansdale Hospital is at 88 percent capacity with 2 beds available. It has 24 covid patients.
Doylestown Hospital ICU is at 52 percent capacity, with 19 beds available and 24 covid patients.
The risk for covid for unvaccinated people in the City of Philadelphia, while very high, is actually lower than in Bucks County. For carefree holiday travel, movies, restaurants, even window shopping for unvaccinated people – it might be more salubrious to go to Philly.