December 30 Thursday Stay Home – Do you speak Mandalorian? You are about to speak Boba Fett. Disney+ has been secretive about the plot but they assure us it is going to bring customers back to their channel. Why? Because it begins on Tatooine, and it picks up Boba Fett, a bounty hunter who had a mere five lines in "Star Wars: The Empire Strikes Back" and who died in "Return of the Jedi," but who has inspired a passel of fans. And let's get this straight. Boba Fett is way different from the Mandalorian, who is also a bounty hunter. Because Boba Fett takes off his helmet. And you want to see it because there's Tatooine. This is different, you see, because the Mandalorian is kind of aimed at the Spanish/Italian international market, and this is kind of aimed at the Asian/Pacific international market because of its stars—Temuera Morrison from New Zealand, who is part Maori, and Ming-Na Wen, born in Macau, as his sister soldier. So, it's a different series. Even though Boba Fett is a Mandalorian. Forget they are both bounty hunters. It's different. And you get to hear that song in the Cantina again. Disney+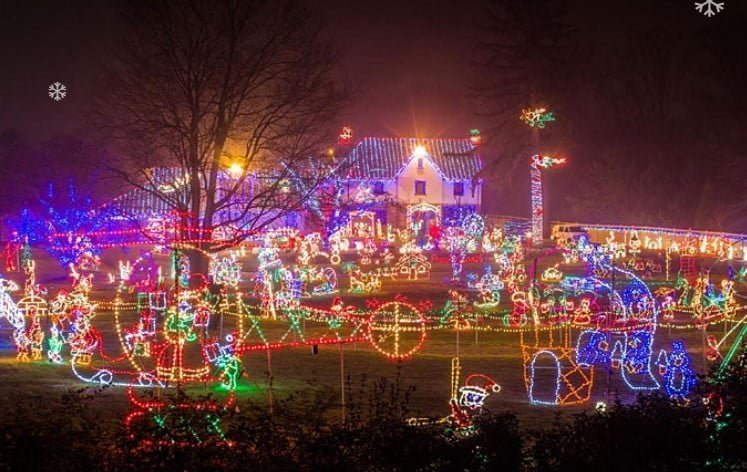 December 30 Thursday Go Out Before it's too late, pile into the car and drive around to see holiday lights. We say avoid the commercial places, like Peddler's Village or Shady Brooks Farm. Instead drive to 1320 East Butler Pike, Jack Yost's home in Ambler, PA. (above) It's sponsored by Acteon Networks, with the help of a lot of neighbors, and provides money for local charities. The Moskaitis House at 301 Matthews Lane in Wrightstown won this year's 94.5 PST Hit Music Station's Holiday Light Display contest, so that's worth a stop. The house is big (there are 11 children) and 100,000 lights, so the display is visible from the larger Brownsburg Road. Or go to 106 Dolly Lane in Chalfont; the Chrostowskis, 28 St. Dunstans Road, Hatboro; the Blinkhouse, 9 Franklin St., Fallsington; Colonial Drive Lights, 155 Colonial Drive, Langhorne;  Stonybrook Lights, 56 Stonybrook Drive, Levittown, and, if it's on this year, 1 White Spruce Ln, in Levittown. In fact, all of Levittown has a reputation for holiday lights, so if you see something flashing, there's either an accident or another animated, computer-synchronized Santa and reindeer descending nearby on a yard or rooftop. Just keep driving.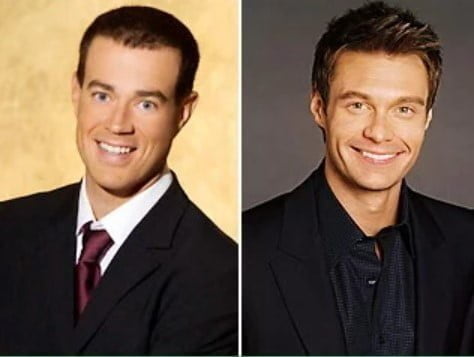 December 31. Friday Stay Home. You know the drill. First, you pretend to young children that midnight comes at 8 pm. Ginger ale. Party hats. Noise makers. WHEE. Then they go to bed. Now it's time to take a disco nap so you can stay up until midnight to watch TV. Fox canceled its Toast and Roast. Omicron. And the NBC show has been, ahem, "pared back." Megan Thee Stallion, Post Malone, Dua Lipa, Ava Max… uh, who are these people performing for? Wait, Paula Abdul will, um, do what? Lip synch? Ok and the host is – anyone? anyone? If you said Ryan Seacrest you would be So Wrong. It's Carson Daly for the 16th time. That means you've either had better things to do, fallen asleep or can't tell Carson Daly from Ryan Seacrest. (Seacrest's hair stands taller)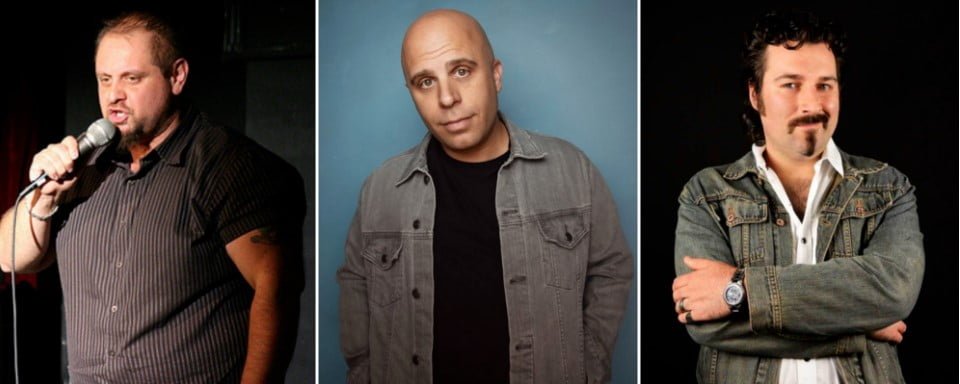 December 31. Go Out. Here we quote the Grace Paley's book title, "Enormous Changes at the Last Minute." Because some live music events in bars were advertised, scheduled, then canceled because of Covid-19/Omicron, we are trying hard to keep up. Even if you made a reservation, check again. As far as we know, still on the books, a show at the Newtown Theater. Comics Joe Conte, Joe Fernandes, and Mark Riccadonna. There's an early show, 6 pm to 7:30 ($55, includes two drinks) and a 10 pm show ($75, includes two drinks, dessert, general revelry and champagne at midnight). You can laugh first, then go eat somewhere if you find something open. Or you can eat before the show, then drink and laugh and then watch a televised ball drop on the big movie screen at midnight. The reason for comics? Are you kidding? After the year we've had? 120 North State Street. Reserve tickets here.
January 1, Saturday Stay home. Did you make a resolution? Too late. Actually, it doesn't matter, does it? Because we live in a time when inflation, a virus and a coming election year will rule our lives. Why not clean house, change the beds, put a new slipcover on the sofa. Buy a plant. Make everything look different. Get used to saying 20 20 two. On your computer and desk and in your billfold and purse, take all those 2021 receipts and tickets and bills and put them in a file marked 2021. You will be glad you did. See? No more clutter. Also, pay those bills.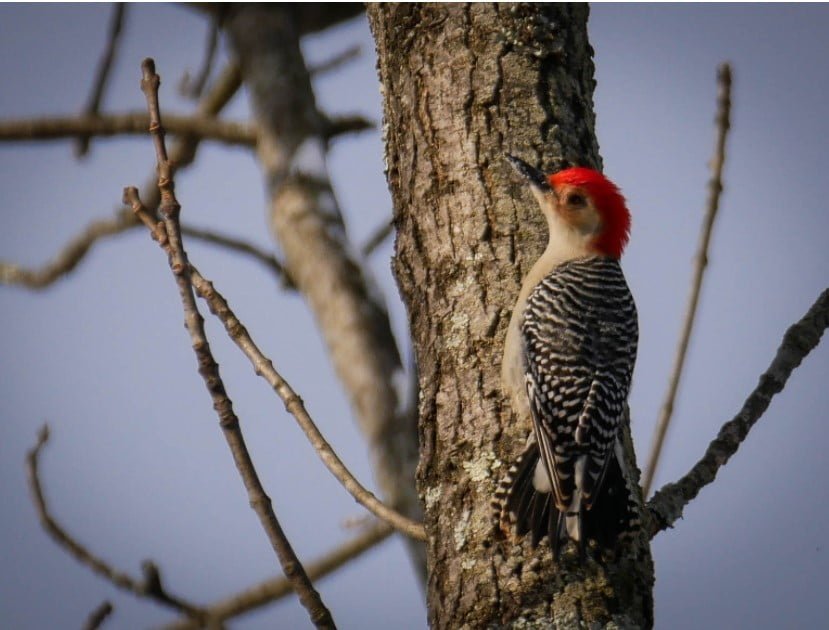 January 1, Saturday, Go Out, 8 am to 10 am. First Day Bird Walk. Bucks County Audubon Society. Good news. It will be unseasonably warm. Even better news. It will be pouring rain, which will keep covid virus from floating through the air. You will still wear a mask, of course, but what could be safer? Will you see birds? In the rain? Maybe fog? Doubtful. But a guide will point at some thing and you will look that way. You will walk. Dress in rain gear and layers and boots. And, ahem, be an early bird. 2877 Creamery Rd. New Hope, PA. Is that a red-bellied or a ladder-back woodpecker above? Let's hope the guide will tell you.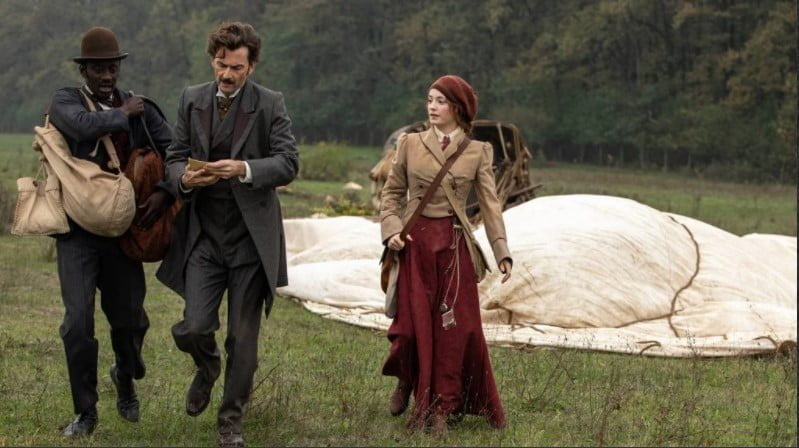 January 2 Sunday Stay Home. 8 pm to 9 pm. PBS comes through with Episode 1 of a new series: "Around the World in 80 Days" starring David Tennant (Dr. Who, Broadchurch, etc) as the brilliant, stuffy, upper-class Englishman, Phileas Fogg, who has an opinion on everything, but has barely left his club, and never left London. He embarks on his adventure with his valet and an enterprising female reporter. The scene above is from Episode 2, because who wants to see a stuffy Englishman, even if he is played by David Tennant, sitting in a club chair? There are eight episodes, through Feb. 20, and it is family friendly. If anyone in the household can't wait to find out what happens next, "Around the World" can be streamed online, if you have paid your PBS dues.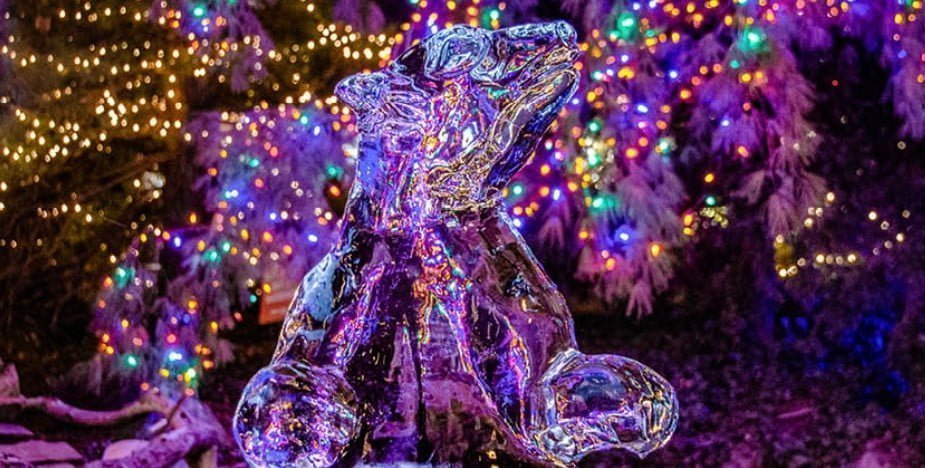 January 2 Sunday Go Out. Ok, we warned you about crowds and covid. But there are sales and Peddler's Village is having one. There are also "white sales" at the mall, which supposedly means sheets and towels, but now means everything. It's a good time to pick up wrapping paper and ribbons. Did anyone notice that stores don't sell rolls of ribbon anymore? Just expensive, tack-on frizzles. Doesn't anyone know how to tie a bow? In any case, if you must, you might go out to test the waters. Are people wearing masks? Everyone? And keeping their distance? We are not recommending being in crowds if you don't have to be, especially if you have children. After all, aren't there plenty of things to do at home? We are just passing along this information. Peddler's Village is at least mostly outdoors, at Routes 202 and 263, Lahaska.