Have you wondered if you may bury a dog in the back yard? Pa. Act 100 — 1996, Subchapter E, has the answer for you. And did you know that Pennsylvania has a puppy lemon law?
If you buy a dog, and within 10 days a veterinarian discovers that the dog has a parasitic, infectious or contagious illness or a defect – or if the puppy dies – you, the buyer, are entitled to return the puppy for a refund; a replacement puppy, or reimbursement for veterinary fees, not to exceed the purchase price.
Also, in Pennsylvania it is illegal to buy, trade or barter a puppy younger than eight weeks of age.
Thank you, Pennsylvania Office of the Attorney General.
Here at the Bucks County Beacon we are going to look at the quirks of Bucks County townships as they deal with pets, and struggle with wording their regulations. Is it five dogs and or cats combined? Or eight? Sometimes the language they use is mangled to the point where it is not clear what they mean.
People who push dogs in strollers or carry them in tote bags along the paths and sidewalks in the parks of Tinicum… are you aware you have violated Ordinance No. 244? That is because of the way Tinicum's Ordinance No. 244 Section 31: Animals and Birds is written: "No person shall bring, drive, lead, or carry any dog, animal or pet which is unleashed or on a leash less than six (6) feet in length. Animals must be in immediate control of a competent person."
Now, there could be a discussion about what might constitute a "competent" person. But the ordinance is clear: Even if you are carrying your cat, parrot, or chihuahua, he or she has to be on a leash less than six (6) feet in length. Plus, the pet has to be inoculated, even if feet never touch the ground. And you must be competent.
In Bensalem, no one can own more than six pigs or swine (is there a difference?) unless your piggery was grandfathered in as of 1947.
Bedminster wins the prize for obscure regulations for horse/livestock ownership: "Personal Use, must have 5 acres. Animal density: 2 animal density units per acre [ok so far, then] (1,000 = 1 unit)" Did that clarify anything for anyone? 1,000 what?
In the Falls Township, a trained guard dog must have a trained guard dog license. And in the Falls Township "[a]ny animal which reeks of offensive odors to the extent that the occupants of adjacent premises are deprived of their ability to occupy, use or otherwise enjoy those adjacent premises" is considered a nuisance.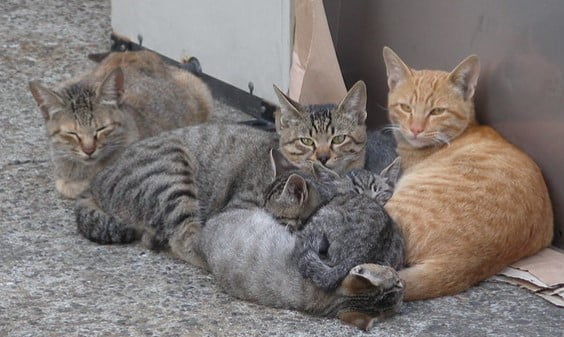 Several places try to calculate just how many household pets are too many. In the Falls Township, "[n]o more than four dogs, six cats of licensing age or a combination of such dogs and cats" must not exceed six.
In Warrington Township: "It shall be illegal within the Township of Warrington for any person or persons to own, possess, harbor, or control more than three each of dogs or cats on any property."
The Borough of Doylestown leaves it to reason: "As to the number of such pets to be kept there and, as to sanitation, [we hope] to insure that no public nuisance shall be created or maintained and no threat to the health of persons living within the dwelling or elsewhere shall be created."
If such a threat to the health of persons living there is discovered, it would be referred to the Bucks County Department of Health. What Doylestown Borough does spend a great deal of space outlining is just what constitutes animal cruelty. And, just how pets are to be treated humanely .
They are not the only town to do so, but a surprising number of towns lack any regulations about animal cruelty and, like Chalfont, regulate only barking dogs and picking up dog waste. The range of rules on barking dogs – five minutes, ten minutes, a half an hour, intermittently, continuously, verified by tape, etc. – is proof that barking dogs are a pain in the ass. Note, in our brief survey we did not find any restriction on early-rising roosters, which can be just as much a disturbance as barking dogs.
One solution for barking dogs is, of course, death. So back to the first question. Yes, Pennsylvania allows dog owners to bury fido in the back yard. The dog's own back yard, not someone else's. Two feet down. Not wrapped in plastic, please. Covered with dirt. The burial site must be: outside 100-year flood plain (law), a minimum of 100 feet from waters (law), wells, sinkholes, and property lines (200 feet recommended) and within 48 hours of death (law). The same would go, of course, for beloved hamsters, cats, goldfish, parrots and any other legally owned domestic animals. (Livestock is another matter.)
Otherwise, the rule in Middletown is that owners must remove dead cats, dogs or other animals on their premises. On the other hand, the town is responsible for removing dead cats, dogs and other animals found on the streets.
It would not be unthinkable for a dead pet to be moved from the back yard to a street. Not unthinkable, if, say, you lived in a Middletown apartment and had nowhere for a proper burial. We're just saying…