Friday, April 29: Boathouse Row, The Best of Yacht Rock – rejoice with 70s & 80s rock and roll. Tickets are still available for the Best of Yacht Rock event at the New Hope Winery's Boathouse Row. Expect the old Southern California yuppie, feel-good vibes while taking a swig of champagne and other spirits. While enjoying the atmosphere, attendees can immerse themselves in the raw performances by none other than the genre big names such as Steely Dan, Hall & Oates, Toto, and many more set to perform in this unique local event. Just keep in mind COVID-19 safety protocols; showgoers will be expected to provide proof of COVID vaccination, antibodies test, or a negative COVID-19 test prior to entering Boathouse Row. Tickets are $35 per person, and tunes will flow from 8pm-9:30pm.
Arbor Day event at Andalusia Historic House, Gardens and Arboretum – In commemoration of the historic manor and garden's Level II accreditation awarded by the public garden organization Arbnet, Andalusia foundation will be holding an Arbor Day special celebration. People will be able to attend a guided walk through the garden at 10 a.m. – 12 p.m. or 1 p.m.- 3 p.m., with tickets available in advance or in-person for $20 per person. Spanning 100 acres filled with 800 trees, 250 of which are unique specimens and cultivars from worldwide, and over 400 labeled trees and plant taxa, green thumbs will certainly be able to get inspiration for their own home gardens. Tickets are also available at $30 for those who also wish to tour the estate. All visitors can expect to have time to explore the garden and grounds after the guided walk.
Comedy in the Village at the Cock 'n Bull Restaurant – Peddler's Village sees the return of their giggleful Comedy in the Village event with another round of comedians. Taking the mic atop the stage at the Cock 'n Bull are Bucks County resident Dwayne Dunlevy, who has over two decades worth of hilarious experiences delivered to audiences of Philly and NYC, Philly man Jake Head with his travels ranging all across the East Coast, and headliner Mike Recine, who started in New Jersey with open mic appearances and went on to perform stand up on "Conan," as well as making his appearances on "MTV Video Music Awards" and at Montreal Just for Laughs Festival. Keep in mind the event will feature the raunchy humor you deserve, so make sure to leave your kids at home with babysitters. The performance space is indoors, but also limited, so make sure to reserve now from the link on the event's page. Also keep in mind no seats are reserved and it's first come, first served. Food will also not be served during the event so guests are advised to eat at the Cock n' Bull or other restaurants at Peddler's Village ahead of time.
Frankie and Grace Season 7 Part 2 premiere – For all of you long-waiting lovers of the ingenious Frankie and Grace from Netflix, the payoff comes with the premiere this Friday of the finale of season 7. Following the story of the eponymous once-rivaling, now husbandless wives of two businessmen (portrayed by Martin Sheen and Sam Waterson) who left them in the dust for each other (and boy, has their romance been just as satisfying onscreen as Grace and Frankie's friendship), fans will be able to enjoy the last hilarious encore of these two women played by Hollywood favorites Jane Fonda and Lily Tomlin. So buckle in as these two ride out the second part of their last chapter on screen, because these two have certainly been through a lot, be it laughing, crying, trying shrooms, or entrepreneuring products.
Saturday, April 30: HBO horror classic The Blair Witch Project – Want to watch a horror cult classic? Netflix will be bringing the once groundbreaking found footage movie The Blair Witch Project to streaming services this Saturday. Directed and edited by Daniel Myrick and Eduardo Sánchez, one will be able to relive the haunting story of how the three fictionalized college students Heather Donahue (Rei Hance), Michael C. Williams (playing his eponymous character) and Joshua Leonard (also playing his own character of the same name) go missing in documentary-style storytelling.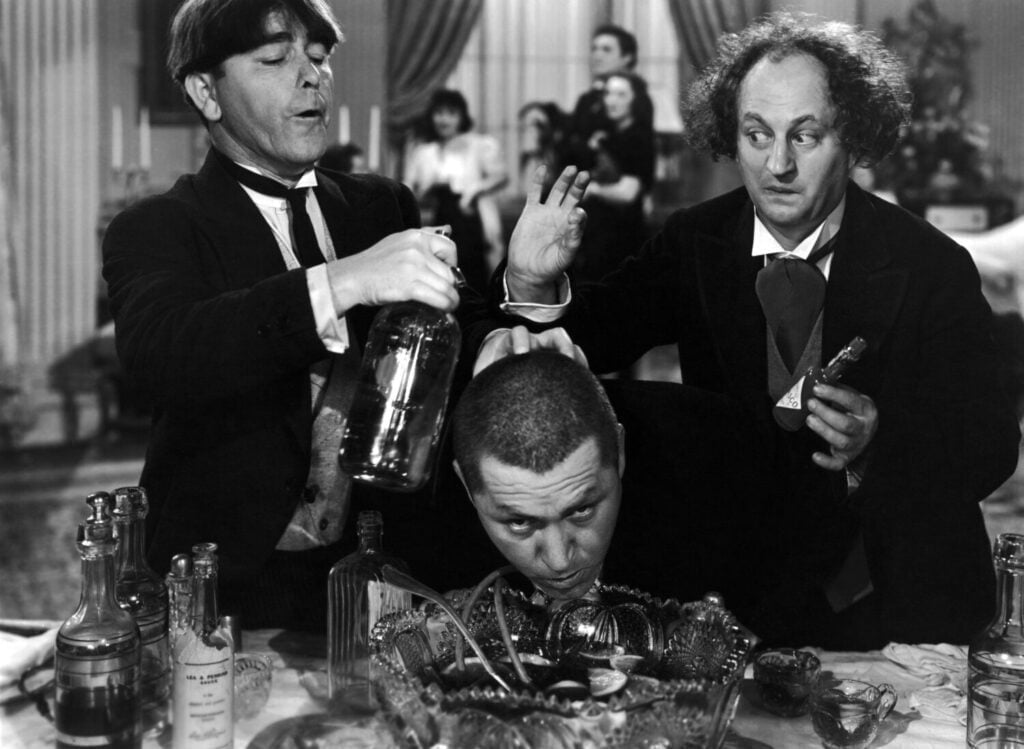 Three Stooges Film Fest – Kick off May with only the best of the best in slapstick humor – and by that look no further than the Three Stooges Film Fest! Starting at 2 p.m. and going till 4 p.m. at the Newtown Theatre, the event will be hosted by coordinator and registrar Michelle Squiccimara from The Stoogeum over in Ambler, who will introduce each short scheduled to be played. The roster of Stooge classics with our boys Larry, Moe, and Curly includes Pop Goes the Easel (1935), Three Smart Saps (1942), Dizzy Detectives (1943), Gents Without Cents (1944), and Who Done It? (1949). Keep in mind the doors open at 1 p.m. and alcohol will be available for sale before the show, so make sure to buy your tickets now with $15 for general admission and $12 for Newtown Theatre members.
Otherwise, leftover tickets can still be purchased for $20 at the door on the day of the event.