The Bucks County Courier Times has done a horrible job covering the local Republican Party and the growing extremism within its ranks. I've covered this before, but it's worth repeating until we actually see consistent changes. You could date this back to at least 2011 when the Thomas Jefferson Club, a Newtown-based Republican group, invited the leader of the hate group VDARE to speak to them. And the Courier can't plead ignorance about the TJC, columnist JD Mullane covered them glowingly. But nothing on VDARE or the TJC's former leader's own extreme views.
Then there were the Proud Boys rallying with local Republicans to support Republican Congressman Brian Fitzpatrick. Again, the Courier Times editorial leadership can't plead ignorance because again JD Mullane actually covered it, though giving the members quite the friendly treatment in his column. That shouldn't be a surprise given what his buddy thinks.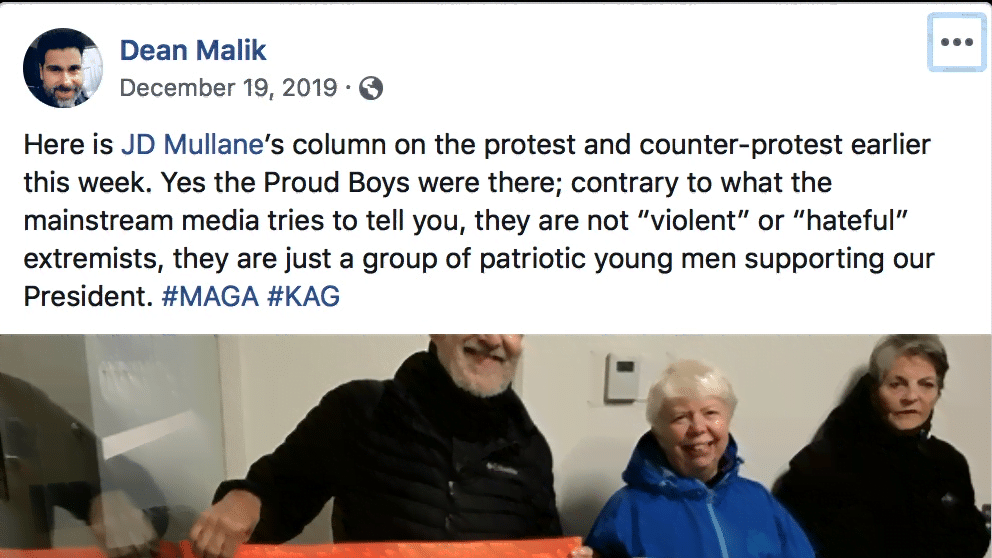 For the editorial board that jumped at a chance to attack Democrats for not wanting their former party leader to do an event with a MAGA millionaire who spread the "Big Lie" and said all Democrats "hate America," you'd think they would have written an editorial on the much more serious issue of the Republican acceptance of the "hate group" the FBI correctly classified as extremists.
But no.
READ: The Bucks County Courier Times Stumbles With Its NAC Editorial
However, it's probably not too late to do something like that, given the Proud Boys, one who was in Bucks County for the Fitzpatrick rally and is now in prison for his role in the Jan. 6 insurrection, are back in the news. Which leads us to the first story on my list:
1. Jan. 6 Committee Hearings. You wouldn't know this from reading the Courier Times, but there are Jan. 6 committee hearings happening right now. Pennsylvania ranked third in the nation with the highest number of arrestees from the Jan. 6 insurrection, while Bucks County was the second highest county in the state. The fact that we were very close to having a coup, that this was organized, and that former President Donald Trump bears responsibility for this should make this newsworthy. But there are a number of local angles to pursue as well. For instance, what does Rep. Fitzpatrick think now? Does he regret not voting for this committee? Does he regret his votes against impeachment? Does he regret voting for Trump in 2020?
What about local Republicans, many of whom were in Washington, D.C., that day – including, but not limited to local conservative leaders like Joan Cullen, Andy Meehan, and Jim Worthington. Do local Republicans now believe that the Capitol riots were or weren't a big deal? Have the hearings changed their minds one way or another? Are they even watching the hearings? Do they think the election was stolen? Do they still support Trump?
Shame on the Bucks County Courier Times for not covering this.
2. Bucks County Republican Committee Chair Pat Poprik was a fake elector. How is this not covered as a straight news story, then commented on by the editorial board? Poprik helped birth the Big Lie by signing a fake election certificate declaring Donald Trump won Pennsylvania in 2020 – even though he didn't. How is this not news?
Shame on the Bucks County Courier Times for not covering this. Become a Bucks County Beacon Monthly Supporter!
3. A Bucks County GOP "insurrectionist" who said she wanted to shoot Nancy Pelosi was elected GOP committee person in Doylestown. She rioted in the Capitol on Jan. 6, said "we were looking for Nancy to shoot her in the friggin' brain, but we didn't find her," yet those weren't disqualifying features for local GOP voters. Not only is this newsworthy, it's disturbing. When something similar happened in Lancaster County, where a local Oath Keeper militia leader was elected to their Republican Committee, you know what the Lancaster Online did? They wrote about it.
Shame on the Bucks County Courier Times for not covering this.
4. Local Republicans involved in election fraud. Former congressional candidate Dasha Pruett submitted her candidate petitions in May and they contained forged signatures. When her petitions were challenged she dropped out of the PA01 GOP congressional primary race. It was either she or her local Bucks County GOP petition circulators who forged them. We covered it. So did Levittown Now. Guess who didn't.
Shame on the Bucks County Courier Times for not covering this. Become a Bucks County Beacon Monthly Supporter!
5. Rep. Brian Fitzpatrick votes against the Domestic Terrorism Prevention Act of 2022. The bill would help beef up the federal government's tracking of racially motivated violent extremism, including "white supremacist and neo-Nazi infiltration of the uniformed services and federal law enforcement agencies." And the vote was just 10 days after a white supremacist massacred 10 people in Buffalo. Then Fitzpatrick, the former FBI agent, had the gall to give a statement blaming "The Squad" for his no vote and saying that the Department of Justice would be given "too much leeway in picking and choosing what it considers to constitute domestic terrorism." Who is he afraid they will target? White Supremacists, Neo-Nazis, Proud Boys, and anti-government militias?
Shame on the Bucks County Courier Times for not covering this.
The Courier Times' intentional lack of coverage over the years of the radicalization of local Republicans actually helps advance the radicalization of local Republicans. This illustrates how democracy does indeed die in darkness. So support the Bucks County Beacon and help us shine a light on local right-wing politics and extremism.