For the past several months, a small group of men and women have gathered at the busy intersection of Fourth Street and West Broad, on Quakertown's Triangle Park, a tiny triangular public park sandwiched in between one way traffic lanes situated in the middle of downtown.
Organized by local couple Teresa and Ryan Schade, the group is a mix of concerned residents who have taken it upon themselves to meet nearly every Friday about 4 p.m. at the intersection, remaining steadfast in their protest against the Supreme Court's June decision to overturn Roe v. Wade. I originally met with the Schades early in August in front of the now empty Planned Parenthood, just right across the street from where the Fridays rallies are held. While not initially the reason for meeting, the Schades were quick to point out the closure, calling the organization a "local institution."
Teresa commented that the closure came as a bit of a shock and when I inquired further on how she felt about Planned Parenthood closing given this year's rollback of reproductive rights, she replied bluntly, "Can I be frank? What the fuck." In fact, the closure does not bode well for local area women and the next closest Planned Parenthood is located in Allentown as Teresa's husband Ryan pointed out. The rights that women have enjoyed for the past 50 years are rapidly disappearing and the irony of closing a well established Bucks County institution is hard to dismiss.
The Schades, just like so many others this past summer, took to the streets to demonstrate their anger and disappointment over the Roe descion – and no wonder with states like Texas and Indiana spearheading anti-abortion legislation. Republican-controlled states, like here in Pennsylvania, are under threat of following suit and the state could very well see its own abortion bans enacted if far-right, anti-choice candidates like Doug Mastriano, Craig Staats, and Brian Fitzpatrick are elected this November. Mastrianio has expressed a desire for a complete ban on abortion care without any exceptions, including to save the life of the mother or in cases of incest and rape. Current representation of the 145th congressional district, which includes Quakertown and the surrounding area, is held by Rep. Craig Staats, a Mastriano ally. Ironically, Staats has an office just two blocks down from the building the Planned Parenthood used to operate out of, yet not one protester I met with mentioned Staats making it a point to speak or even acknowledge them. Several attempts were made to speak with Representative Staats about the weekly rallies though he has not returned any messages or calls.
While Staats routinely ignores his non-GOP constituents, his challenger in this November's election, Jim Miller of West Rockhill township, does not. In a phone interview, Miller discussed his presence at one the rallies reporting that he was happy he was able to support them. Miller called it "energizing" and said, "It's a great thing they are doing." He talked about how he witnessed lots of support from passing cars, many of which gave a thumbs up or a vocal 'thank you' from a down window. When I mentioned how Representative Staats had not yet returned any of my phone calls, Miller pointedly stated that this was not solely a Democrat or solely a Republican issue but that this is an "everyone issue."
And he's completely right. It's people like the Schades who, despite the sweltering heat of this past summer, have stepped up to remind the public that women's reproductive rights are on the line.
While the majority of the interactions with the public have been positive and largely supportive, the couple, along with their friend and fellow activist Casey Day, shared with me several instances where they encountered some tense backlash. On one of those occasions two workers in a Precision Property Maintenance Tree Experts work truck proceeded to counter-protest the Schades rally by parking their vehicle close by and waving around a very large "Fuck Biden" flag from the back of their vehicle.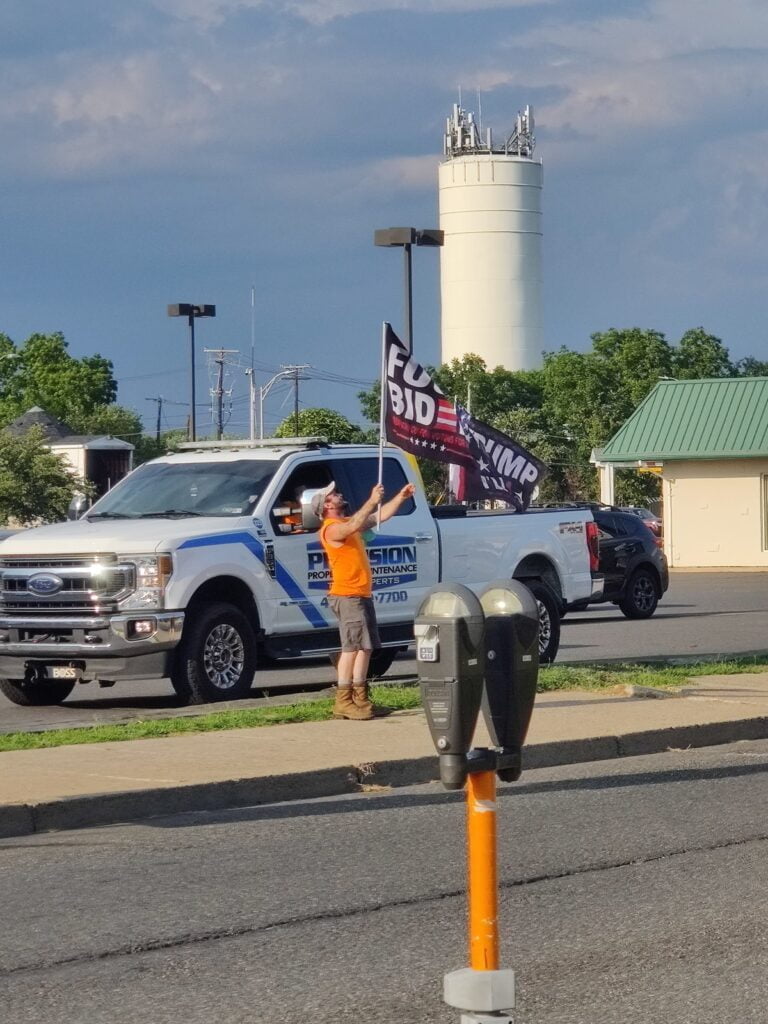 The Schades and Day then recalled an incident in August that ended in a physical confrontation and police questioning. A white older couple driving an SUV stopped in the middle of the road near the intersection, holding up traffic. The man driving hopped out of the vehicle and attempted to steal an upside down American flag the Schades had staked in a large cement planter. Day said she went after the man who tried to jump back in his car and leave with the flag and this resulted in a short, though physical confrontation. Day was able to wrestle the flag back all the while local police just happened to witness the ensuing event. Neither Day nor the man were physically hurt, though Teresa was incensed that the man had the audacity to try and steal her flag. "That's my dad's flag, it's my heirloom and I'll turn it upside down if I need to because we are in distress!" Other incidents haven't been quite as dramatic though equally as concerning.
Just last week a man decided to engage with the Schades, pulling up to the curb and talking from his open car window. He argued with a minor teenager who was present over the definition of "bodily autonomy" and nearly immediately launched into a tirade over Covid vaccines and government intrusion. Bouncing from one topic to another, most not even related to women or their right to proper healthcare, the man evaded any serious questions thrown back at him and even joked callously over topics like eugenics, suggesting that he would support the practice, under the guise of "abortions" in predominantly black and brown neighborhoods.
Despite confrontations like this, the Schades and others who have faithfully stood on the corner of West Broad these past many months, have remained positive and upbeat. There have been moments of solidarity and even acts of kindness too; a car pulling up and dropping off a case of water on an especially hot afternoon, and the kind and supportive words of a local business owner who has made the time to stop and speak with the group. It's a motley mix and people show up when they can.
One of the regular attendees, a local resident by the name of Ian, told me that his reasons for being there were because of his wife and young daughter. He discussed how his wife had went through a miscarriage and how that may have potentially played out had they been living in a state like Texas, which has enacted incredibly strict anti-abortion legislation and has left gaping holes in what used to be routine medical procedures. Texas doctors and hospitals have had to grapple with vague definitions of how and when to end a pregnancy much to the horror of Texas women. The Texas Tribune and PBS have covered some of the heart-retching and distressing stories coming from women who've needed to end their pregnancies because of medical reasons. One Houston woman was forced to remain pregnant despite losing most of her amniotic fluids at only 18 weeks. Survival for the fetus outside the womb was extremely low and the woman was at high risk for serious uterine infections which can lead to sepsis or even death. She was forced to remain pregnant until, at 24 weeks and very sick, was allowed to be induced to deliver her stillborn baby. Appalled?
That's exactly the kind of legislation that Pennsylvanians could be facing if people like Mastriano, Fitzpatrick, and Staats stay in positions of power. During a primary debate, Mastriano was asked if he supported abortion under the circumstances of rape, incest, or to save the life of the female. His response was chilling as he declared quite plainly that he did not support any exceptions. Even more discomforting, just a few days ago, NBC News released audio footage from a 2019 interview in which Mastriano was questioned on his view of criminalizing women who might seek out an abortion if made illegal. When asked if those women, if caught, should be charged with murder Mastriano responded that he did support charging them, stating, "Okay lets go back to the basic question there, is that a human being? Is that a little boy or girl? If it is, it deserves equal protection under the law." He has little to say however, as to how this would affect the life of that women or to the circumstances that prompted her to seek out an abortion in the first place. It's because of these men, Mastriano and his ilk, along with a far-right conservative Supreme Court, that prompted the Schades to make a stand. The Quakertown based pro-choice rallies show no signs of stopping and as the hot and humid late summer afternoons turn chilly and dark, Teresa says they'll be out there as long as the need to be. "I don't want to be doing this," she tells me. "But someone has too and it might as well be me."