'Tis the season for giving and, believe it or not, that includes making charitable donations to fund hate. How is that even possible? The answer might surprise you.

While using Bing, the Bucks County Beacon recently stumbled upon a rogues gallery of 501(c)(3)'s with the ability to raise funds on the Microsoft Rewards platform.

Groups such as Turning Point USA – deemed a right-wing group by the Anti-Defamation League with "links to extremist ideology and hate speech"; Pennsylvania-based Rod of Iron Ministries – identified as a far-right, anti-government group by Southern Poverty Law Center; and Moms for Liberty – described as a far-right-wing anti-LGBTQ harassment enterprise by the Victory Fund and Media Matters; election conspiracy theory-laden True the Vote; and the militia AZ Border Defenders all participate in the Microsoft giving program.


Last year Americans gave an estimated $471.44 billion to 501(c)(3) not-for-profit organizations, according to the Philanthropy Network of Greater Philadelphia.

The internet has made the ability to be generous super simple. Major corporations, including Microsoft with its Microsoft Rewards program, allow users to give to the charity of their choice (there are more than a million to choose from) without chipping in a single dime.

Here's how it works: Microsoft credits users with points for utilizing their services, including their search engine Bing, that are then converted into money and directed to the charity of your choice.

If you didn't know, charity is big business and the nonprofit sector is the third largest workforce in the United States.

Providing the components that allow corporations, donors and not-for-profit organizations to interact financially is a multimillion-dollar industry. When it comes to the Microsoft Rewards program, that business goes to Benevity.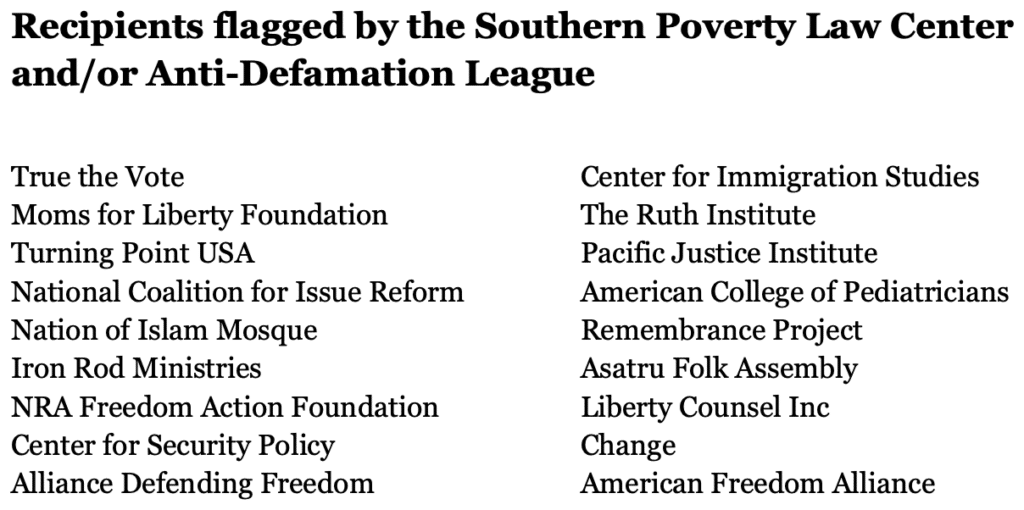 Microsoft's search engine Bing identifies Benevity as the company behind Microsoft's Rewards program:

"The Microsoft Rewards API is an integration with Benevity that allows Bing users to exchange reward points into donation currency to be donated towards a cause of their choice that is sourced from Benevity's database."
Why are Microsoft and Benevity making it easy to fund hate?

For over a month, endless calls and emails to Microsoft about this issue went unanswered. Finally, additional details were requested via email:

"As Microsoft is unaware of the hate group mentioned, we will conduct further investigation and we would like to ask for more information from you to help us isolate the issue. Please do reply to this email providing the screenshot of the hate group that you found online."

How can Microsoft be unaware that hate groups are participating in their giving program?

The information requested by Microsoft was provided weeks ago but the Beacon has heard nothing since.

Benevity did respond, just once, with a telephone call in early November to gather, but not provide,information and promised a follow-up call that never came.

Benevity's familiarity with hate groups dates back to at least 2017 when they encountered The Ruth Institute. The Southern Poverty Law Center provides this description, in part, for the not-for-profit:

"The Ruth Institute was originally a project of the anti-LGBT National Organization for Marriage (NOM), created to conduct youth outreach, and to warn young people about the dangers of divorce, sexual promiscuity, and, especially, to recruit them in the fight to block the legalization of gay marriage."

Vanco, another online donation facilitator, terminated its relationship with The Ruth Institute in or about September of 2017 due to "being affiliated with a product/service that promotes hate, violence, harassment and/or abuse."

Not long after, Benevity and The Ruth Institute forged a relationship in or about December of 2017 and, although Benevity initially balked, the group was included in the database and currently appears on the Microsoft Rewards platform.
Funding hate is not limited to online reward program donations.

In 2017 Mark Hurtubise, then president and CEO of Inland Northwest Community Foundation, now called Innovia, learned of a donor-advised fund, or DAF, earmarked for VDARE.

Succinctly, "VDARE is a racist and anti-immigrant website run by Peter Brimelow that features many white supremacists," notes the Anti-Defamation League.

Hurtubise refused to sign the check. "This was not right," he said. "This was immoral."

"The foundation's response was that they should award grants to IRS approved 501(c)(3) organizations," Hurtubise said.

A 501(c)(3) designation in no way gauges the integrity of any organization and is nothing more than a tax classification assigned by the Internal Revenue Service.
Letters, conversations and board meetings did not reverse the foundation's decision to convey funds to VDARE, but Hurtubise didn't give up, even after he left the foundation. In fact, he would come to learn that grants in ever increasing amounts continued to be given to VDARE following his departure.

In 2019, at a symposium hosted by the Southern Poverty Law Center and the Council on American–Islamic Relations, Hurtubise talked of his experience and was encouraged to share the story with the media.
Just days after the story went public, the foundation passed a policy to prevent future grants from being awarded to hate groups.

"Hate Free Philanthropy," a subsequent report issued by SPLC and CAIR, further chronicles the DAF/VDARE connection, among other things.

Charitable foundations and online charity-based reward programs are dramatically different in almost every aspect, however there is one remarkable similarity; hate groups have managed to infiltrate both philanthropic endeavors.

The Southern Poverty Law Center, established in 1971, seeks to protect civil rights by exposing those who would trample them. In the 1980s the advocacy group began tracking white supremacist activity and today its Intelligence Project is internationally known for monitoring and exposing hate and extremist organizations throughout the United States.

It's not by accident that a group ends up on the annual Hate List.

"We have a series of standards that have been in place for a long time that indicate what counts as a group and then what counts as a group that we list as a hate or extremist group," said Megan Squire, Deputy Director for Data Analytics at SPLC.

Some of those qualifications include a physical location, the ability for people to join the group and having actual members.

"They spend the year dutifully and painstakingly collecting tons and tons of evidence about all these different groups, thousands of different groups, and individuals involved in them," Squire said when describing SPLC's Intelligence Project. "Once a year in February or March, this coming year it'll be in early March, we put out a list called [the] Year in Hate and Extremism Report."
Squire was familiar with all five of the aforementioned groups initially found on the Microsoft Rewards platform. When asked about Moms of Liberty she advised that SPLC is aware of the radical parenting groups, that SPLC considers them a concern, and that they are monitoring them closely.
"It's unfortunate that there is no easy way for individuals to know whether a non-profit that they may donate to is a hate group. It is incumbent upon community foundations, DAFs and similar institutions to screen out these organizations from their programs," said Heidi Beirich, the Co-Founder, Executive Vice President and Chief Strategy Officer of the Global Project Against Hate and Extremism.

Beirich, who earned a doctorate in political science from Purdue University in 1998 that specialized in European fascism and far-right movements, is an expert in hate and extremism groups and has testified before Congress on issues related to white supremacy. Prior to co-founding the Global Project Against Hate and Extremism, Beirich led the Southern Poverty Law Center's Intelligence Project.

"No one should allow the funding of hate non-profits. And unfortunately, individuals will have to do some due diligence themselves on the institutions they support to make sure they aren't facilitating the trafficking of hate and bigotry," she said. Beirich is right. At the end of the day, the Beacon's due diligence initially identified five entities who share in the blame of funding hate and, in one instance, actually profits from it.
The very definition of the word charity is to provide help. If "charitable" donations are going to organizations that promote or engage in harm, is it really a charity?
The Internal Revenue Service is not in the business of investigating the altruistic value of any group applying for tax exemption but perhaps should review and take more seriously complaints about not-for-profits that violate the laws for which a 501(c)(3) may be revoked.
Knowingly or unknowingly, Microsoft and Benevity have, in a way, hijacked the true purpose of charitable giving to enhance their own image. Benevity actually promotes its DEI programs as part of its sales pitch but then facilitates the funding of groups who reject those same values.
As excerpts have pointed out, both companies need to do better.