President Judge Honorable Wallace H. Bateman Jr. of the Court of Common Pleas of Bucks County issued an order on Friday to schedule a hearing date for the two competing petitions to redistrict the electoral regions of the Central Bucks School District.
Legal counsel for both CBSD Fair Votes and the Central Bucks School District are to appear before Montgomery County Court of Common Pleas Senior Judge Cheryl Lynne Austin at 9:30 a.m. on April 14 in courtroom 410 of the Bucks County Justice Center located at 100 North Main Street in Doylestown.
READ: Parents' Group Files Court Challenge To Central Bucks School District Regions Map
The hearing was originally scheduled for February 9 but was canceled due to a full bench recusal of the Bucks County Court, thereby eliminating the possibility for either map to be selected for use in the 2023 election.
Judge Austin will decide if one of the two maps will be utilized for the 2025 election or order yet another redraw of the regions.
Central Bucks is currently divided into nine regions that are to be equally populated based upon census data.
Every four years voters cast a ballot for a candidate running to represent their region for a four-year term, however not all nine seats on board are up for election at the same time.
Five of the board's seats, regions one, two, three, six and eight, are up for grabs in the 2023 election.
READ: Central Bucks School District's Cruelty Toward LGBTQ+ Students May Finally Get The Scrutiny It Deserves
The current proposal from the school district's board of directors, based on the 2020 census, reapportions electors by way of a tortured redraw of the nine regions that critics argue is gerrymandered to favor Republicans and would disenfranchise thousands of voters while violating the one person one vote principle of the 14th Amendment.
The proposed map from CBSD Fair Votes creates three regions and provides three school board directors, versus one, to represent each region.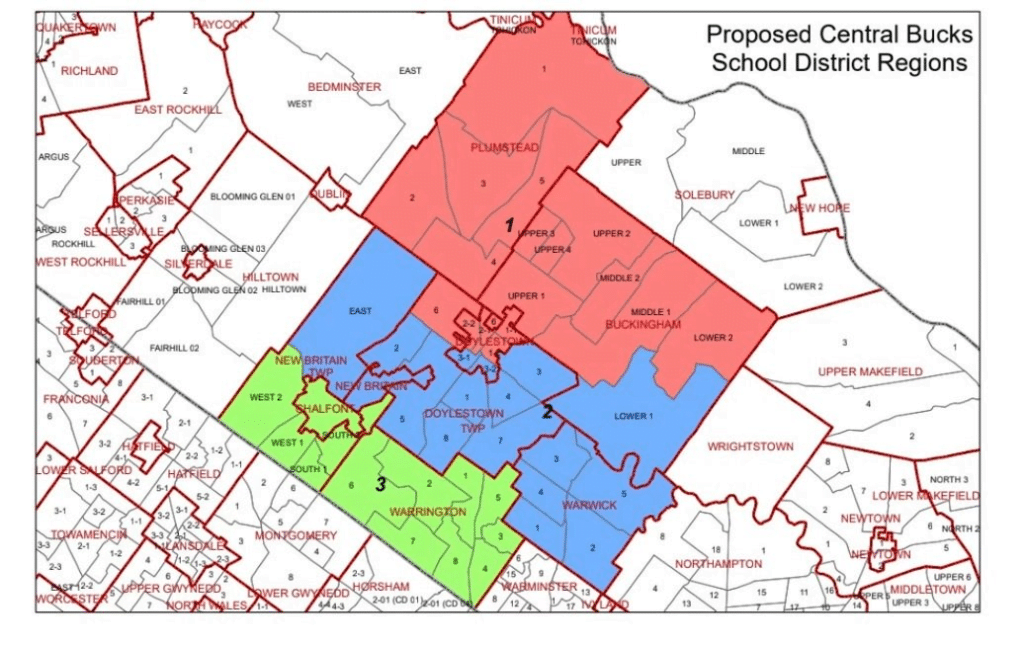 A three-region map would provide voters an opportunity to vote every other year for a candidate to represent their region on the school board without the disenfranchisement of any elector.
More than 3,600 registered voters signed the CBSD Fair Votes petition in support of the three regions map, far surpassing the 840-signature legal requirement to petition the court.