An extensive Right-To-Know to Pennridge School District has revealed an April 25 email exchange between Superintendent Dr. David Bolton and School Board Director Jordan Blomgren that sheds light on dissension between the administration and the republican majority school board on curriculum matters.

The document reveals Bolton to have asked a variety of questions about the controversial Vermilion contract one day prior to the April 26 board meeting.

The superintendent's inquiries and comments included the timing of adding the Vermilion contract, a contract that only Blomgren had reviewed, to the board meeting's agenda 24 hours prior to the meeting, that only some board members had an opportunity to review the document and that others, including school administrators, teachers, and the public had not.
Bolton also emphasized that the contract did not contain a description of the scope of work being contracted, included potential unlimited use of district funds, and how the sudden appearance of the contract had the potential to create a lack of trust with district staff.

Bolton's email was met with a scathing reply from School Board Vice President Megan Banis-Clemens who, among other things, claimed similar curriculum consultants have been issued a blank check.

Banis-Clemens also wrote that prior curriculum consultants have been paid a "ridiculous rate" and that they are responsible for bringing a "controversial" syllabus into the district.

Most recently, Banis-Clemens' unprofessional responses were caught on tape during last week's failed Zoom.

A third recording from Wednesday evening has surfaced. Banis-Clemens is heard asking that a recording of her comments be deleted and not preserved as is required by Pennsylvania's Sunshine Act.
On Tuesday, Bolton issued an email announcing a medical leave of absence for the month of June with a return date of July 5. Bolton's contract with Pennridge ends on August 31, 2026.
Certain Pennridge School District committee meetings are scheduled for Monday at 6:30 p.m., in the DAO boardroom according to the district's website. Originally, a full board meeting had been scheduled for June 12.
The agenda includes the Activities, Finance and Facilities committees.
A date for the three additional committees, Curriculum, Personnel and Policy does not appear to have been scheduled and Monday's meeting does not include the highly anticipated presentation by Vermilion's Jordan Adams.
A review of the budget will be discussed in Monday's Finance Committee.
The Facilities Committee agenda indicates approval of lists representing dozens of cartons containing fiction and non-fiction books being "weeded" out of circulation from Bedminster Elementary, North Middle, Goth Elementary, South Middle and the high school.
The ability to make public comment will also be offered.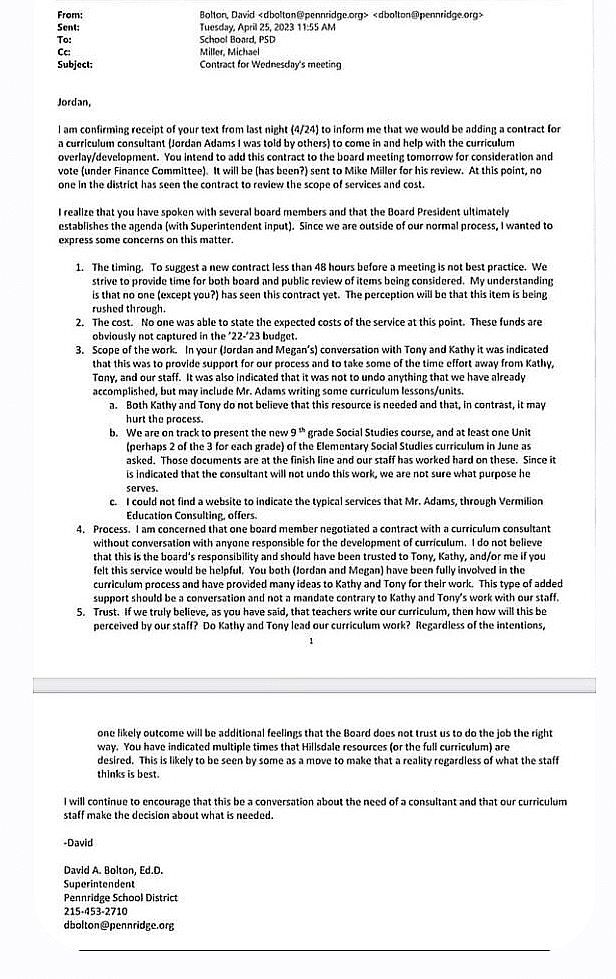 ---