Friday, December 10 6:30 to 8 pm The Grinch Who Made Christmas No Fun at All. They say people at Christmas produce 30 percent more waste than they do the rest of the year. So here is their idea: Hand over $20 to the Zero Waste Gift Wrap Workshop and they will help you explore "zero waste" gift wrapping "techniques." Here's our idea: Wrap presents in recycled Christmas catalogs! No ribbons, either. Done. And that didn't take an hour and a half. Peace Valley Nature Center, 170 N Chapman Rd. Doylestown. Register online to save a space. Sure to be a crowd.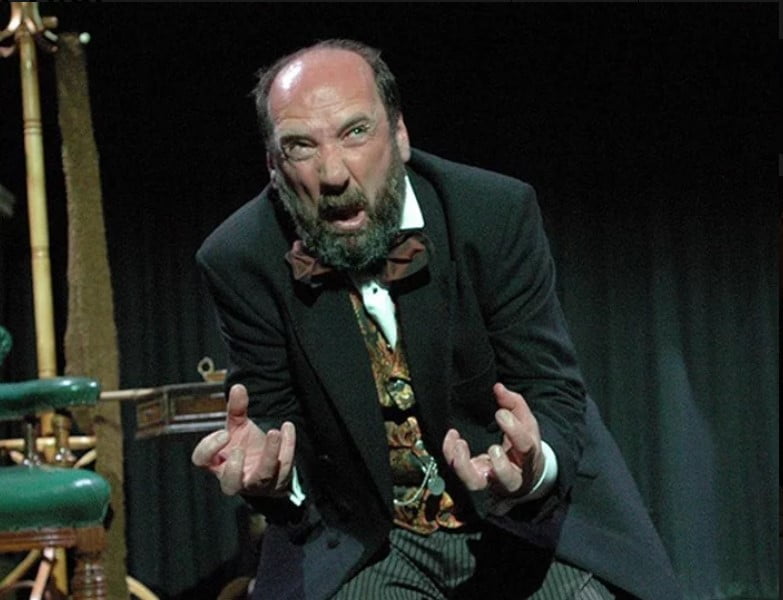 Saturday, December 11, 1 pm and 5:30 pm Gerald Charles Dickens in A Christmas Carol. The Sunday show is sold out, so hurry if you want to see Charles Dickens's great great grandson perform all 26 characters in either of these two 70-minute enactments. Not recommended for children 8 and under because of the length. Tickets $25. Masks required. On the Byers' Choice factory floor, 4355 County Line Road, Chalfont.
Of course the handmade figures of Bob Cratchit and Tiny Tim, complete with tiny crutch, are readily available, $144.
Saturday, December 11 4 pm Bucks County Choral Society "Gloria" John Rutter – never heard of him? Ever heard a song that begins, "Look at the World, everything all around us"? That's the guy. Now try to stop thinking about that song. He also wrote the big choral-orchestral extravaganza "Gloria." The Bucks County Choral Society, which requires every singer to be immunized against covid and sing while wearing masks, is putting on "Gloria" with organ at St. Paul's Lutheran in Doylestown on Saturday, and, on Sunday, same time, at Our Lady of Mount Carmel church, also Doylestown, with the Fairmount Brass out of Philadelphia. All you have to do is listen. Things being equal, hear it with brass. Tickets in advance, $25 adults, $10 students. $30 at the door. Be vaccinated and prove it.
Sunday, December 12 noon to 4 pm The Nativities Put this in an online file for an emergency. The emergency is when an in-law visits, a long-lost friend who has gone over to "the other side" comes for the weekend, an aunt hits town, or you need to give a partner a break for an afternoon. And yes, it is not in Bucks County, but it is just over the line in Montgomery County. This has to be the world's largest collection of nativity scenes, dozens of them, from all over the world. Kids will like them. So popular, you must book tickets ($5 donation) in advance. Closed on December 14, 15, 24, 25 and 26. The show ends January 1. Clencairn Museum, Bryn Athyn.