Bucks County Beacon columnist Jennifer Cohn has published many articles that shine a light on the growing national and global threat of Christian Nationalism and religious extremism, including how they have intersected with the MAGA (Make America Great Again) movement. Her work and analyses have been showcased in The Philadelphia Inquirer, The New Yorker, and other publications and podcasts across the country. Pennsylvania has been a hotbed of this movement, where you can see its tentacles in school boards, media, churches, and other pillars of society. Editor Cyril Mychalejko asked Cohn five questions to make sense of the election, assess this extremist threat moving forward, and to figure out what can be done to reinforce the crumbling wall between church and state in the country.
In Pennsylvania, Doug Mastriano's campaign was largely seen as the embodiment of white Christian Nationalism. While many on the left (and center) were relieved that Democrat Josh Shapiro defeated him by 14 percentage points, Mastriano still received over 2 million votes. What should Pennsylvanians take away from this election result on the future of Christian Nationalism in the state?
Christian nationalists — those who claim that Christianity defines America and that the government should take affirmative steps to keep or make it that way — worked relentlessly for years to gain a foothold in Pennsylvania. They made more progress than I think most Americans would have thought possible, and they will continue trying to mainstream their religious zealotry, including their desire to destroy the separation between church and state, to ban abortion without exception (even to save the life of the mother), and to demonize and eradicate the LGBTQ community and everyone who disagrees with their extreme religious views.
Their targets include, by the way, Christians who in their view are not sufficiently extreme. Many Christian nationalists, for example, loathe President Joe Biden, a practicing Catholic, as well as Pope Francis, who is too tolerant and compassionate for their liking.
The media and ordinary citizens, including Pennsylvanians, must remain vigilant to prevent Christian nationalists from radicalizing more people within the Keystone state and beyond. Florida and Texas have already gone mostly underwater with Christian nationalism. It remains to be seen whether those states can be saved, but we must try. And we must stop the bleeding in Pennsylvania.
What are the white Christian Nationalism movement's goals for the country?
Christian nationalists generally want to destroy the separation between church and state so that they can force their religious beliefs on the rest of the country. Thus, many of them support the idea of capturing enough state legislatures to re-write the U.S. Constitution.
In the meantime, they run around claiming that the separation between church and state is a myth, which is itself a myth propagated by, among others, a Christian nationalist leader and pseudo-historian named David Barton who founded an organization called Wallbuilders.
Christian nationalists generally want to control our government and education system. They have long sought to destroy public education and to replace it with unregulated private (for profit) Christian schools, as well as Christian homeschooling. These private schools would emphasize teaching the Bible.
On a related point, the campaign to demonize public school teachers and the LGBTQ community as "groomers" has been spread largely by Christian nationalists. This bad faith campaign has successfully deflected from the massive sexual abuse scandals that have plagued Christian institutions, including the Southern Baptist Convention, the Catholic Church, and the Mormon Church. "Annual surveys from [Christian Ministry Resources] suggest that in recent years, the pace of child-abuse allegations against American churches has averaged 70 a week," according to PennLive.
Not all Christian nationalists are white nationalists and, in fact, Christian nationalists have done significant outreach to the African-American and Latino communities.
But make no mistake. Most Christain nationalists will gladly join forces with white nationalists to increase their influence. We saw this during the "Stop the Steal" movement, including the Jericho March ("Hear the Church Roar!" rally) where followers of Nick Fuentes—a white nationalist, Christian nationalist, and overt anti-semite—helped lift the giant Jericho cross, while other Christian extremists spoke to the audience, including New Apostolic Reformation (NAR) leader Lance Wallnau, NAR leader Cindy Jacobs, NAR-affiliated radio host Eric Metaxas, MAGA Archbishop Carlos Maria Vigano, and disgraced retired Lieutenant General Michael Flynn.
Many Christian nationalists seek to convert others into their religious belief system. If given the chance, they would likely pass laws to enforce compliance and to make life a living hell for those who refuse to conform to a Christian lifestyle.
Members of the LGBTQ community and their supporters would be at the greatest risk; LGBTQ behavior would likely be criminalized, as would the failure to report such behavior. Next in line would be Muslims, then all other non-Christians, and finally moderate or progressive Christians.
Many or most Christian nationalists seek to outlaw abortion without exception.
How will this movement organize to accomplish these goals, both inside and outside of electoral politics?
Year in and year out, Christian nationalists strategize and organize via a seemingly never-ending stream of conferences, trainings, and other offerings conducted or provided by influential Christian political nonprofits such as:
Wallbuilders, a nonprofit founded by pseudo-historian David Barton, a leading opponent of the separation between church and state. Barton–who offers "biblical citizenship training" with Patriot Academy founder Rick Green–also promotes the militant "black robe regiment" movement and wrote a book about it.
United in Purpose (UIP), a Christian data targeting firm founded by convicted embezzler Bill Dallas. UIP's board has included David Barton and former congressman Bob McEwen. UIP was involved in a massive voter data breach in 2015, as we previously reported. In or around 2020, UIP formed a group called Ziklag, which pairs wealthy Christian donors with Christian political projects and organizations. UIP also launched a website called EveryLegalVote.com, which promoted "Stop the Steal" rallies and related "action items," although UIP's name was removed from the website soon after it launched. (Image via @visionsurreal.)
Truth and Liberty Coalition, which focuses on taking over public school boards in Colorado and beyond. The nonprofit is led by Andrew Wommack who owns the Charis Bible College franchise and has said that members of the LGBTQ community should wear warning labels on their foreheads. Truth and Liberty's board of directors includes Wallbuilders founder David Barton and NAR leader Lance Wallnau, who has said that we must "destroy the public education system before it destroys America," as reported in Elle Hardy's book Beyond Belief: How Pentecostal Christianity is Taking Over the World. Truth and Liberty's website includes a list of "influencers" that includes Rep. Lauren Boebert (R-CO).
Truth and Liberty has worked with John Guandolo of Understanding the Threat. Guandolo is a disgraced former FBI agent and anti-Muslim activist. As first reported by Right Wing Watch, Guandalo "has begun offering training sessions for right-wing citizens on how to take over their towns, arrest their mayors, and destroy the lives of anyone who objects by publicly humiliating them, getting them fired…, and forcing them to move."
Yesterday, Truth and Liberty held an online event called America's Post-Election Future. (Link via @gal-suburban.)
Patriot Academy founded by Rick Green. The organization partners with David Barton (of Wallbuilders) in providing "biblical citizenship training."
The Oak Initiative founded by Rick Joyner who advocated a military coup against Obama in 2013 or 2014. Rep. Louie Gohmert (R-TX) attended one of their summits virtually in 2015. NAR leaders Lance Wallnau and Cindy Jacobs are on the board.
The Council for National Policy, a secretive umbrella and strategy group for billionaires and the leaders of most prominent Christian Right organizations. Steve Bannon, KellyAnne Conway, Ali Alexander, Charlie Kirk, Ginni Thomas, Cleta Mitchell, Bill Dallas, Tony Perkins, and Ralph Reed have all been members. Michael Flynn has been involved with them too.
The Family Research Council founded by Tony Perkins, which hosts the influential Pray Vote Stand Summit (previously the Values Voter Summit) and a pastors roundtable called "Watchmen on the Wall."
The Family Leader, which held a Family Leadership summit in July this year. Its president and CEO is Bob Vander Plaats. Its website called its annual summit the "Midwest's biggest gathering of Christians seeking cultural transformation in the family, church, government and more."
Focus on the Family, the Family Institute, and the Dobson Policy Center founded by James Dobson. Focus on the Family has offices and partnerships around the world. Focus on the Family and Family Research Center helped craft and promote the bill that recently made Arkansas the first state to ban gender-affirming care for minors, as reported by Christian extremism journalist Sarah Posner. MAGA lawyer Jenna Ellis was director of the Dobson Policy Center in 2018.
The Conservative Baptist Network (CBN) The CBN calls itself a "partnership of Southern Baptists where all generations are encouraged, equipped, and empowered to bring positive, biblical solutions that strengthen the SBC [Southern Baptist Convention] in an effort to fulfill the Great Commission and influence culture." CBN's Steering Committee includes former Arkansas Governor Mike Huckabee and Rod Martin, who recently resigned from the executive committee of the Southern Baptist Convention amid complaints about his handling of sexual abuse claims. Charlie Kirk of TPUSA spoke at the CBN's June meeting where tables had advertisements promoting a TPUSA pastors conference.
The Phyllis Schlafly Eagles whose president is Ed Martin.
The Fellowship Foundation aka the "Family," which has close ties to Ben Carson (Trump's former director of Housing and Urban Development), former Congressman Bob McEwen, and MyPillow CEO Mike Lindell. The Family hosts the National Prayer Breakfast and has paid for at least one current member of Congress, Rep. Bob Aderholt (R-AL), to attend a prayer breakfast in Ukraine where he met with pro-Putin oligarchs.
The World Congress of Families, a primary nexus between the Christian Right and Russia. WCF's official Moscow representative is Alexey Komov, the unofficial emissary of sanctioned Russian oligarch Konstantin Malofeev. Brian Brown is a WCF leader. Attorney John Eastman spoke at the WCF conference in 2019, as did others involved in the "Stop the Steal" movement, including NAR leader Jim Garlow. Christina Pushaw, the former spokesperson of Florida Governor Ron DeSantis, was recently featured in a WCF Facebook post. (Image via @gal_suburban.)
Citizen Go, a virulently anti-LGBTQ international Christian organization that claimed to have 9 million members as of 2018. Brian Brown sits on its board of trustees.
America's Black Robe Regiment, a militant organization founded by Rev. William Cook, which partnered with the Oathkeepers in 2021. Michael Flynn helped them recruit new members a few months ago.
The International Coalition of Apostolic Leaders (previously called the International Coalition of Apostles), an organization for NAR leaders that has included MAGA proponents Lance Wallnau, Jim Garlow, Dutch Sheets, Che Ahn, and Cindy Jacobs.
The Congressional Prayer Caucus Foundation whose website includes multiple "faith impact opportunities" that, at best, blur the separation between church and state.
The Global Home Education Exchange (GHEX) whose board of directors includes Alexey Komov, the unofficial U.S. emissary of indicted Russian oligarch Konstantin Malofeev.
The Homeschooling Legal Defense Association founded by attorney Michael Farris who provides legal services to the Christian Right via the Alliance Defending Freedom (ADF). One of ADF's clients is TPUSA. Farris also helped ghost write the Texas Attorney General's brief that sought to overturn the 2020 presidential election. He wrote the introduction to MAGA lawyer Jenna Ellis's book. HSLDA's director of global outreach is Michael Donnelly. The organization is closely tied to GHEX (Komov).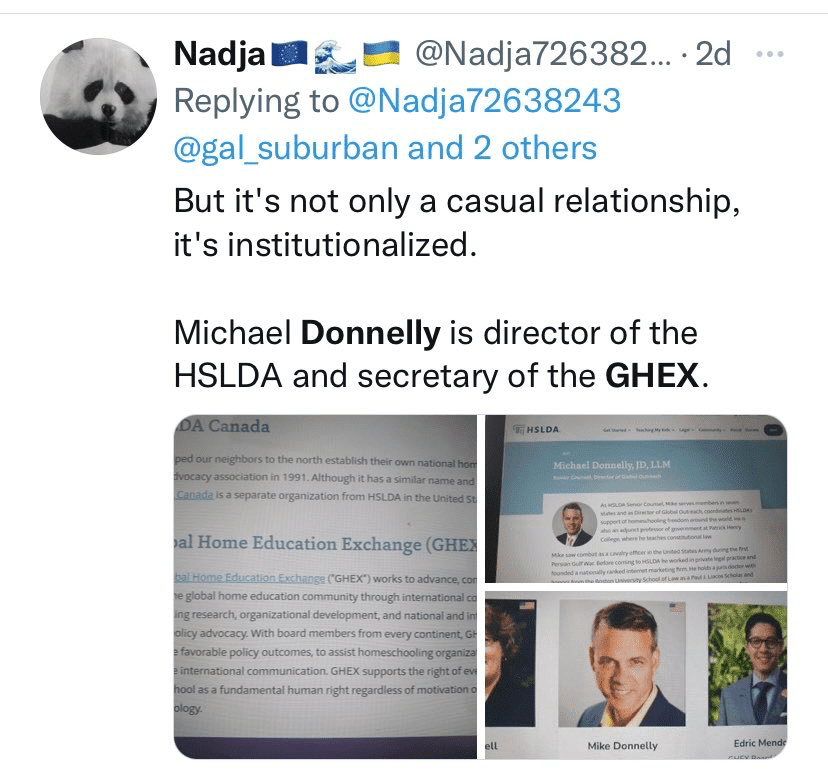 This list is not exhaustive, but it's a good start.
In addition, we should monitor Charisma News (which sponsored Michael Flynn's multi-state Reawaken America Tour) and the Conservative Partnership Institute where Ginni Thomas, Mark Meadows (Trump's former chief of staff), and Cleta Mitchell assembled after Trump lost the 2020 election.
Meanwhile, Christian nationalists are engaging churches to provide training for congregants to invade local politics, including school boards via so-called "Culture Impact Teams" (CITs), a concept developed by the Family Research Council, which offers a training manual explaining how to do it. Katherine Stewart's book, The Power Worshippers, discusses these CITs.
In Colorado, the Church for All Nations has a CIT that it promotes on its website. The Road Church at Chapel Hills (also in Colorado) has a similar group, which it calls its Public Policy Team (PPT). You can find it on their website, which includes a section titled "How to get involved with the 2022 elections." Presumably, other churches around the country have CITs or PPTs. I know of the two in Colorado only because I recently interviewed concerned Colorado residents who told me about them.
NAR leader Lance Wallnau has helped Christian nationalists organize their anti-democratic movement by popularizing the so-called Seven Mountains Mandate, a strategic iteration of dominionism, the belief that Christians have a mandate from God to control the world. The Seven Mountains Mandate targets seven spheres of influence for Christian control: 1. business, 2. government, 3. family, 4. religion, 5. media, 6. education, and 7. entertainment.
Christian nationalist leaders encourage their followers during conferences, webinars, etc. to choose a sphere of influence and to then invade it with the goal of taking it over for Jesus Christ.
Christian nationalists have almost certainly used online prayer networks to recruit people to attend political rallies and protests. The NAR in particular has massive overlapping networks due to its many online ministries and megachurches and frequent l "rock concert" style Christian revival events.
In 2020 and 2021, United in Purpose launched a website called Every Legal Vote, which promoted and organized many or most aspects of the Stop the Steal movement, including political rallies and email pressure campaigns, as we recently reported.
We should expect similar organizing efforts in the future.
Christian nationalism is not exclusive to the United States. It is actually a global movement. Can you talk about how it is taking hold in some other countries across the world?
American Christian nationalists seek to control not only the U.S., but also the world. They have made inroads into Africa where some of them have supported measures to criminalize homosexuality, as well as the failure to report homosexual behavior.
Elle Hardy's book, Beyond Belief, reports on the international influence of Christian extremism in frightening detail. It focuses, in part, on Guatemala where Christian extremists accused a Mayan spiritual guide of engaging in witchcraft, which led to his murder. Specifically, he was set on fire and burned alive.
Christian nationalists use the same type of dangerous rhetoric in the U.S., calling those who disagree with their extreme views (including other Christians, by the way) "demonic" and/or accusing them of witchcraft. They use these terms literally, and their followers take them literally.
How can people get involved in organizing against this movement – that many correctly identify as a threat to democracy? What groups and resources do you recommend?
Independent media and other organizations that have reported on Christian nationalism on a regular and in depth basis may be the most important resource to combat Christian nationalism. In addition to the Bucks County Beacon, I recommend Right Wing Watch, Religion Dispatches, the Southern Poverty Law Center, the Washington Spectator, and Documented.net. Eliza Griswold at the New Yorker has done excellent reporting on this subject as well.
I also recommend that everyone read the comprehensive report on Christian nationalism and Jan. 6, which was prepared by the Baptist Joint Committee for Religious Liberty and the Freedom From Religion Foundation. You can find this report here.
I've noticed a group called Christians Against Christian Nationalism, but haven't yet looked into it.
Several books that I recommend on this subject include Shadow Network by Anne Nelson, The Power Worshippers by Katherine Stewart, and Beyond Belief: How Pentecostal Christianity is Taking Over the World by Elle Hardy. I've heard great things about Jesus and John Wayne by Kristin Kobes Du Mez, which I plan to read soon.
I highly recommend an article by Anne Nelson, which exposes how the Council for National Policy stoked the assault on the Capitol on Jan. 6. You can find it here.