*This article has been updated to include other organizations involved in organizing the event.*
The Peace Center will host the 11th Annual Bucks and Montgomery Counties MLK Peace and Social Justice Summit on Sunday, January 15, beginning at 4 p.m., at William Tennent High School in Warminster. Students in grades 9 through 12 are invited along with mature students in grades 7 and 8. Members of the community are also invited.

The 2023 event theme, "Finding Common Ground," will enable students from different schools to interact while exploring an array of social dynamics.
"The Summit is geared to help students learn a little history of the growth of American democracy and justice as an ongoing process," said Danny L. Thomas, executive director of The Peace Center. "It allows folks (not just youth) to look with a different lens toward a more inclusive, hopeful and just future."
This year's summit welcomes back its traditional in-person gathering following two years of virtual presentations due to the Covid pandemic. The 2020 event was attended by approximately 400 students and organizers anticipate similar or increased participation this year. Temple Judea, YWCA, and Trinity Episcopal in New Hope-Solebury have helped organize the event, while the Bucks County Commissioner have provided financial support. Jerel Wohl and Barbara Simmons have been the co-chairs for the MLK Summit Planning Committee since its inception.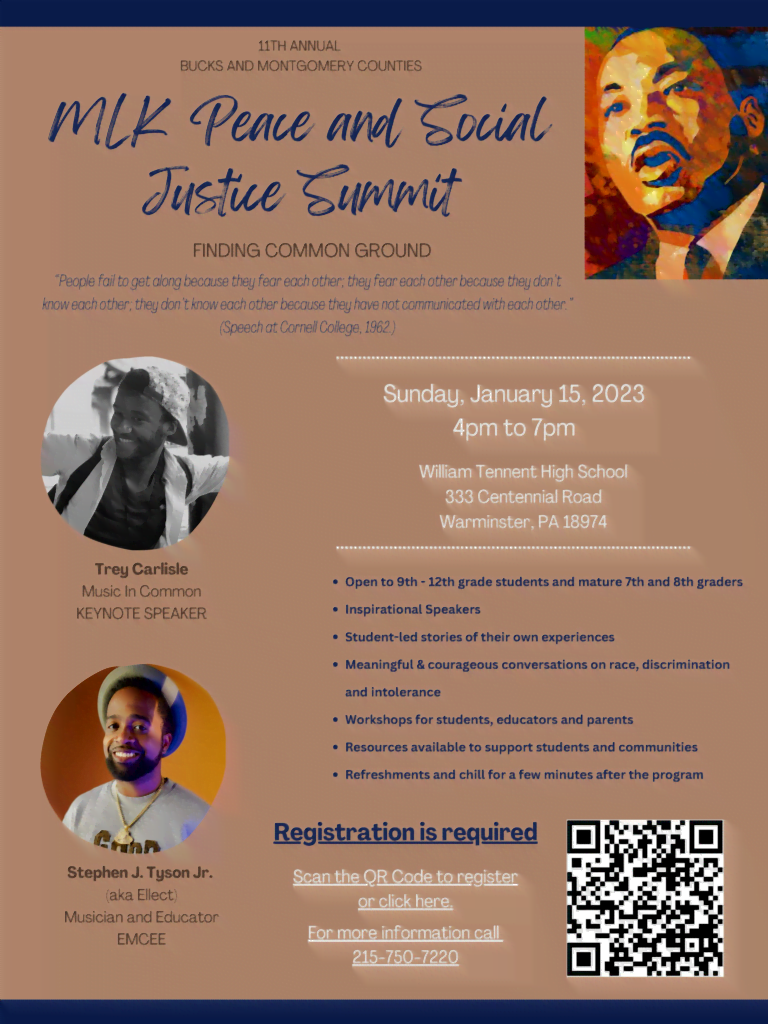 Accomplished musician, educator and activist Stephen J. Tyson, aka Ellect, will emcee the event. With more than 20 years of youth development experience, Tyson is the founder of JusListen Entertainment, LLC, a music, education, & arts organization founded on the Hip-Hop principles of peace, unity, love, and having fun.

Trey Carlisle of Music in Common, an organization utilizing music to strengthen, empower, and connect communities, is this year's keynote speaker. A 2020 Fulbright Award recipient, and recent graduate from Soka University of America, Carlisle is a lead program facilitator at MIC and is passionate about advancing peace and social justice through music, dance, and filmmaking. He serves as a co-director of The Black Legacy Project.

Workshops for students, parents and educators will allow for meaningful and courageous conversation regarding race, discrimination and tolerance.

"Students get to hear the struggles and concerns of others outside their own school and work together in the breakout sessions to develop recognition of disparity and injustice," Thomas said.

Thomas credits the ability to build skills of empathy, beyond our individual bubbles, fosters a feeling of empowerment, and helps empower others to work toward a community where everyone is seen and respected.

Those interested in attending the Summit are asked to pre-register by scanning the QR code found here or by calling 215-750-7220.
The Peace Center, located in Langhorne, Pennsylvania has been working for community peace and social justice since 1982. With programs designed to help reduce violence and conflict in our schools, homes and communities, the organization is dedicated to furthering peace by understanding and managing conflict in our community, our nation and our world.