Montgomery County residents plan to protest the upcoming local Friends of the NRA Fundraiser on Thursday afternoon beginning at 4:00 p.m.
The protest will be in and around the vicinity of the Franconia Heritage Restaurant where the event is being held. This is the second consecutive year area residents have protested the NRA annual fundraiser.
Information about the event alleges the National Rifle Association relies on communities to turn a blind eye to their events that are geared to raise money, influence politicians, and heighten the appeal of firearms.
READ: How Bucks County's PA House Lawmakers Voted On Three Gun Safety Bills
"Join other champions of the Second Amendment for dinner, games, auctions, and fun with a chance to win exclusive NRA guns, gear, décor, and collectibles," is how the National Rifle Association's website describes the event.
"The attendees will be eating, bidding, and playing games for guns to raise money for the National Rifle Association in the heart of the Franconia community that ironically has a long history of Christian non-violence and peacemaking," wrote Richard Detwiler, Committeeperson for Souderton Borough Ward One in a letter to the editor published by The Reporter Online. "Guns are not Franconia's heritage." 
Amy Shelby, Upper Salford Democratic Committeeperson, pointed to gun violence that occurred over the Memorial Day holiday where at least 16 people were murdered and dozens injured across eight states.
"The continuing gun shootings reported over this past Memorial Day weekend should be enough to ring yet more alarm bells in our country," she said. "For far too long the NRA has used their blood money to buy political influence and help defeat even the smallest steps toward common sense gun regulations."
Thursday's rally comes on the heels of a round of voting on May 23 for three pieces of common sense gun legislation in the Pennsylvania House of which only two passed.
Local Montgomery County State Representative Donna Scheuren (R-147) voted against all three bills, resulting in a protest outside of her Harleysville office on May 24 that was organized by CeaseFirePA. Thursday's NRA demonstration is located within Scheuren's district.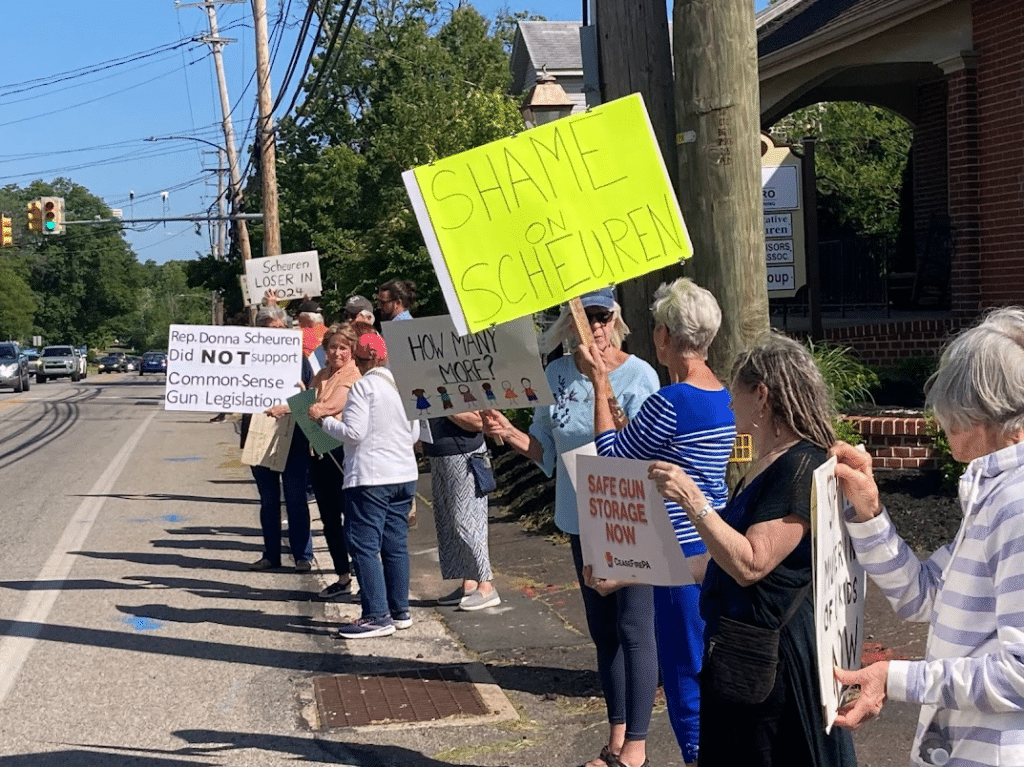 Neighboring municipalities in Montgomery County have also organized recently to draw attention to the need for common sense gun laws. The Lansdale community held a Gun Violence Awareness Day on May 21, two days prior to the Pennsylvania Legislature voting on the bills.
Hundreds of people participated in a walk down Main Street in an event that was hosted by Heeding God's Call and supported by multiple congregations in the area.
READ: Doug Mastriano And The Cult Of The Gun
"There can be no shame greater than gathering to play games, win guns, extract donations, and mingle around the buffet table while in some distant town a family gathers to mourn the loss of the latest victim of the NRA supported "assault" on other people's right to life," Amy Shelby added.
Indian Valley Democrats, the host of Thursday's event, is encouraging rally-goers to bring signs and wear comfortable shoes. Parking will be available at Franconia Community Park and shuttles will be available to transport participants to and from the protest.
Directions and additional information are available here.