Moms for Liberty will hold its national summit June 29-July 2 in Philadelphia under the slogan "joyful warriors." Whether sitting through warnings that communist teachers are using social and emotional learning to make "your kid a little sexual weirdo" or focusing on what they call gender ideology, M4L will celebrate what it takes joy in: banning books, attacking LGBTQ+ teens, and making threats.
LISTEN: The Right's Long War on Public Education
M4L partners with right-wing institutions like the Heritage Foundation and Leadership Institute, both represented on the Council for National Policy. CNP aims to abolish public education and replace it with "Judeo-Christian" teachings. M4L is also dependent upon the Leadership Institute. Its K-12 assault mimics the chaos instigated in higher education by Leadership Institute subordinate Campus Reform, which disseminates misleading reports on professors. The publicity routinely produces threats and harassment which have led to canceled lectures – and even the closing of a campus. Co-founder Tiffany Justice declares M4L's goal to be a takeover of the nation's school boards and firing education leaders to replace them with conservatives. Chaos is a way station.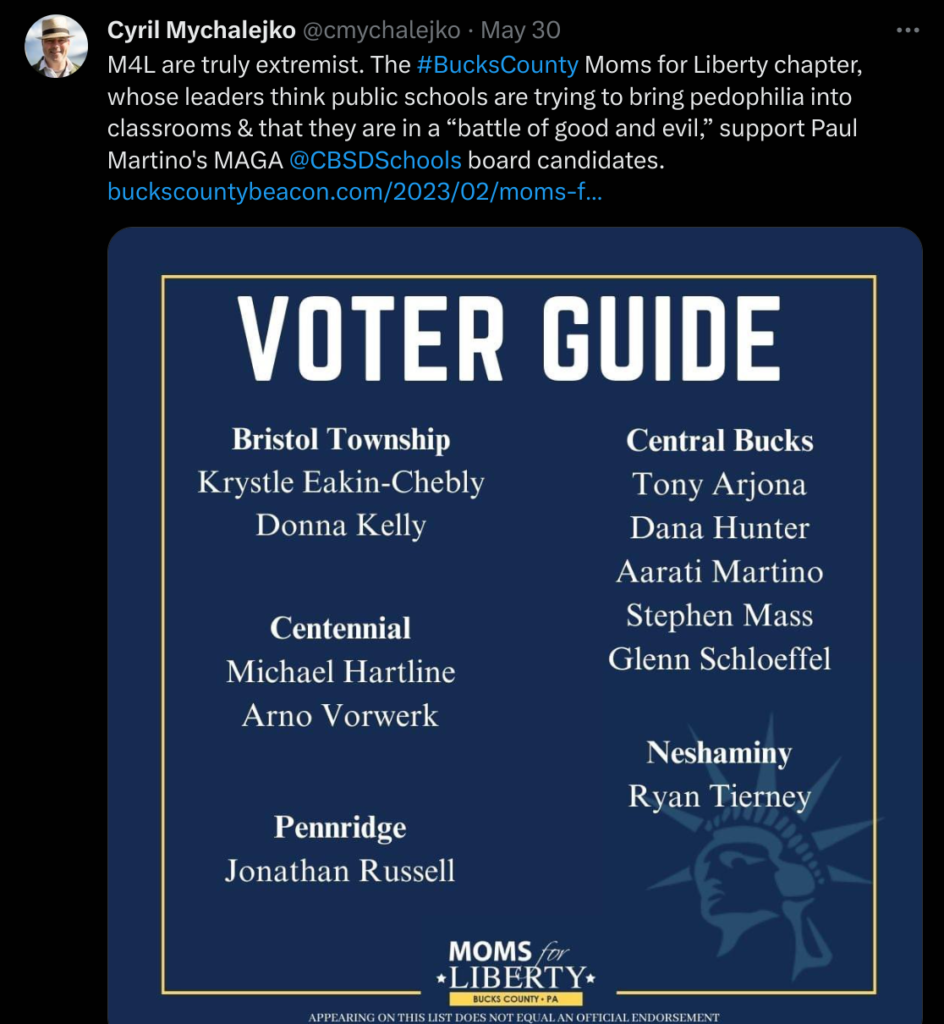 PEN America identified M4L as leading the nation's book ban movement. In one case M4L sought to ban two second grade books, Martin Luther King Jr. and the March on Washington and The Story of Ruby Bridges, a book about a 6-year-old African American girl who integrated a Louisiana public school in 1960. Another school board banned Maus, Art Spiegelman's Pulitzer Prize winning graphic novel about the Holocaust. Spiegelman responded: "I mean, talk about Orwellian, you know? Calling this organization Moms for Liberty, when it's actually for suppression, is about as basic as you could find in '1984,'…"
The Human Rights Campaign has issued a "national state of emergency for LGBTQ+ people in the United States." It determined M4L to be a "dark money" agitator for "hateful and discriminatory anti-LGBTQ" legislation. M4L attacks educators who support LGBTQ+ teens as "groomers." A Colorado M4L leader told CNN that President Biden and teachers unions are conspiring to create transgender children in order to undermine the family and destroy constitutional rights.
LISTEN: Merchants Of Deception: The Dark Money & Parent Props Trying To Destroy Public Education
The Southern Poverty Law Center designated M4L as an extremist group. A Pennsylvania M4L leader stands accused of hijacking a dead woman's Facebook page and using it to threaten a New York mother, writing "I will laugh as your family suffers." A leader of Defense of Democracy, set up to oppose M4L, received a voicemail threatening to put her in a wood chipper. At the 2022 Moms for Liberty national summit a speaker described Florida's Parents Bill of Rights law (aka, "Don't Say Gay" ) as "like the body of the AK-47" and added of political opponents, "it's not just that they don't care about our children. I believe they're actively trying to harm our children."
M4L co-founder Tina Descovich denies any bad behavior. Justice chants: "Our moms are joyful warriors."
But after Jennifer Jenkins defeated Descovich for a school board seat in 2020, M4L members began showing up at board meetings and Jenkins suffered threats. After Descovich posted the district's LGBTQ guidelines to her Facebook page, "it got crazy at out (sic) school board meetings," said Jenkins. "I mean, she [Descovich] riled up the craziest of the crazies." Vero Beach News reported of a visit Justice made to her child's school that her conduct was so unruly "School Superintendent David Moore warned she could be barred from the campus."
LISTEN: Understanding Backlash Politics And Religious Conservatives Inciting School Board Wars
For all the damage it has caused, familiarity is no friend to the group. M4L bombed in recent school board races. Even some conservative candidates accept M4L's help, but not the association. In the meantime, Defense of Democracy and Red Wine and Blue are outmaneuvering M4L with suburban women.
When the same conduct produces the same results, it is gullible to accept the "joyful warriors" catchphrase. Riling up the "crazies" is not an unfortunate byproduct of what M4L does. It is the objective.