The history and persona of Harriet Tubman and her heroic Underground Railroad journeys will come to life at 2 p.m. on Saturday, June 24, at the Warminster Township Free Library in celebration of Juneteenth.
Juneteenth commemorates events in Texas on June 19, 1865, when the last enslaved people in the country were emancipated.
Acclaimed actor Millicent Sparks embodies Tubman in a Living History Experience performance and will escort the audience on a time-travel adventure back to the late 1840s.
A seasoned actor, Sparks has been assuming Tubman's character with detailed accuracy since 2002.
Peter Lehu, Director of Library Services, said he chose the Tubman event as a way to celebrate the nation's newest federal holiday and to pay tribute to Tubman's heroism and her ties to Bucks County.
Having escaped slavery in 1849, Tubman was the most famous conductor of the Underground Railroad making approximately 13 trips to the south to aid at least 70 people traveling north to freedom.
Bucks County is rich with Underground Railroad history. Heavily traveled routes in Quakertown, Buckingham and Bensalem are known to have offered safehouses to hide freedom seekers on their journey to independence.
Langhorne, Middletown Township, Newtown and Yardley also aided and concealed escaped slaves on their way to New Jersey via the Delaware River.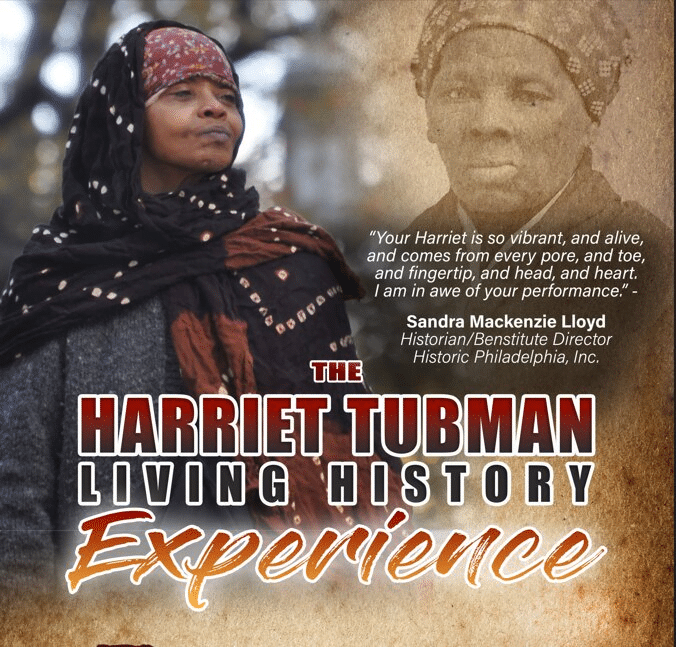 The Beacon asked Sparks what she hopes to impart to audiences.
"I am trying to instill in the audience, especially if they're young people, that slavery is still here. Slavery today is anything that keeps you from doing and being everything that you are here to do and be," Sparks said. "The Underground Railroad is still here today too, but today the Underground Railroad is education."
Sparks takes her ability to impact audiences seriously.
"Just like Harriet Tubman was a conductor to lead her people to freedom, I charge the teachers and mothers and fathers… they are the conductors now for these children on The Underground Railroad of education," she said, adding, "Never run your train off the track and never lose a passenger."
That Juneteenth and Pride Month collide is serendipitous and serves to underscore the nation's majority who seek to embrace diversity, equity and inclusion.
"We do have a Pride display up right now and we recently put up a big poster in our main reading area from the ALA [American Library Association] Office of Intellectual Freedom that says Books Unite Us And Censorship Divides Us," Lehu said. "We're not looking to make any big political statement or make anyone feel that they are on the political spectrum. We want everyone to feel welcome here."
Located at 1076 Emma Lane in Warminster, tickets for the event are $7 and available online or in person at the library Information Service Desk.
The Warminster Township Free Library offers a tremendous variety of events to explore and enjoy. Click here to see its calendar.