Tuesday's Central Bucks school board meeting was wrought with tension as residents and school board directors squared off over the proposed new contract and 40 percent pay raise to be awarded to controversial Superintendent Abe Lucabaugh. This is another of the many rushed, ill-conceived changes enacted by the School Board majority over the last few months. Given the underwhelming performance of the Republican candidates in the primary, it's likely the Republican board majority is feeling a sense of urgency to pass through as many structural changes as possible before the November election.
The meeting began with Dr. Lucabaugh introducing Jackson Manning and Anna Shea Saffron, two CB West students who were nominated for the prestigious Jimmy Award for high school musical theater. Manning is also one of the victims of former CB West choir Director Dr. Ohrt, who is currently incarcerated for sexually abusing minors.
Manning's bravery in coming forward was one of the key factors leading to Dr. Ohrt's removal and subsequent arrest. After the trauma Manning sustained, he became an advocate for student safety, pushing the board to adopt amendments to policies 317.1 and 824 that both clarify that employees should first reach out to Pennsylvania Child Line to report concerns about inappropriate conduct by a teacher and also prohibit any meetings between educators and students that are not "interruptible and observable."
During the award acknowledgment, Lucabaugh had an opportunity to praise Manning for his strong advocacy in keeping students safe from predators. Instead, he chose to shift the focus to himself and proceed with the Superintendent's speech, during which he blamed student access to books as a cause for sexual abuse. He even went on to threaten members of the audience and public who disagree with his stance. "There is absolutely no reason for anyone to engage students in conversations about their sexual habits, their sexual preference, or their sexual orientation and if you think it's acceptable, this is your notice, I'm gonna come for you," he warned.
The majority of public commenters expressed dismay that the Superintendent, who has only held his position for two years and has faced a barrage of criticism from community members and media outlets, would be given such an exorbitant pay raise.
READ: Today, Tomorrow, And Yesterday As A Transgender Youth – In Central Bucks School District And Across The Country
Katherine Semisch of Doylestown, a retired CBSD English teacher of 27 years, reported that a recent CBEA poll answered by over 1,000 teachers showed that 63 percent of teachers felt that their principals valued their work, but only 17 percent believe that the District Administration did. Such an alarmingly low approval rating should be raising red flags, not salaries.
Dana Foley, Buckingham resident, was confused about why Lucabaugh was worthy of such an extreme salary increase. She asked, "What has changed since Dr. Lucabaugh's initial contract started? The emphasis on student achievement has gone down and the emphasis on fighting culture wars has gone up. These changes have occurred on his watch and on our dime with an underwhelming and disappointing acumen."
Foley's frustration with the district is one of the factors that inspired her to run for school board. She hopes to help bring common sense, compassion, and good governance back to the district.
Foley's concerns are not without merit. Lucabaugh's term as superintendent has been racked with controversy. He has embraced the right-wing school board majority's policies to forbid Pride flags, make it easier to ban books, and restrict classroom discussion and teachers' ability to teach.
READ: Central Bucks Voters Must Reject MAGA Millionaire Paul Martino's Right-Wing Activist School Board Candidates
Other speakers pointed out that Administrators, led by Lucabaugh, pushed through a tax raise while refusing to pay staff a competitive salary. They cited the class action lawsuit filed by over 300 female CBSD teachers alleging inequitable pay as compared to their male counterparts as another example of the District unfairly shortchanging teachers, while inflating Lucabaugh's salary. Like Foley, they questioned if Lucabaugh has met performance expectations.
Ginger Hardwick, resident of Doylestown Borough, stated "I am an employment lawyer. I look at contracts for a living and I have NEVER seen a change like this."
READ: Central Bucks School District's Cruelty Toward LGBTQ+ Students May Finally Get The Scrutiny It Deserves
Several community members throughout public comment also repeatedly referred to Lucabaugh's opening threat of "I'm going to come for you," claiming that it was inappropriate and threatening.
It's important to note that not all of the speakers were opposed to the extreme changes in Lucabaugh's contract. Patricia Doebler, recent Bucks County Moms for LIberty vice president, issued an emotional speech on behalf of the Superintendent. She noted that Lucabaugh conducted his own investigation of Mr. London, a substitute teacher accused of inappropriate conduct, after the DA's investigation found no criminality. She praised Dr. Lucabaugh's persistence in probing the situation, which eventually led to the arrest of Mr. London.
"No one is saying thank you to you for going above and beyond and getting someone out of our schools that was hurting our kids," Doebler said to Lucabaugh.
Doebler cited the incident with London as proof that Dr. Lucabaugh was protecting students. While in this case, Dr. Lucabaugh may deserve praise, he has not always been as diligent in rooting out predators in our schools. What Doebler neglected to mention was that Dr. Lucabaugh presided over the district as assistant superintendent of secondary education for several of the years that former choir director Dr. Ohrt engaged in inappropriate behavior with students, during which time the district allegedly received countless reports about Ohrt's decades of abuse. Criminal charges were not brought until last year.
After public comment, board business commenced with School Board director Karen Smith attempting to present new information that proves accusations of misconduct brought against her by the Board majority were inaccurate. She was quickly cut off by Board President Dana Hunter, who insisted that Mrs. Smith reserve her comments for the end of the meeting.
The meeting remained rather calm until the anticipated moment of Lucabaugh's planned termination and subsequent rehiring for a five-year contract, 40 percent salary raise and vacation privileges amounting to nearly a hundred thousand dollars of additional yearly pay.
READ: 3-2-1 Protest: Central Bucks Community Demonstrates Against Education Gag Policy
Board members Dr. Dell'Angelo, Dr. Mahmud, and Karen Smith all spoke out against the secrecy of the board, attesting that they had not known about the contract change until the agenda was posted on Friday, whereas the Board majority seemed to be aware of the changes in advance. They questioned why they were not part of the negotiation process.
Mrs. Vlasbloom stumbled over her words as she attempted to defend the contract and deny any advance knowledge. She stated, "We were just going to throw numbers out and see where we land" in regards to the pay raise.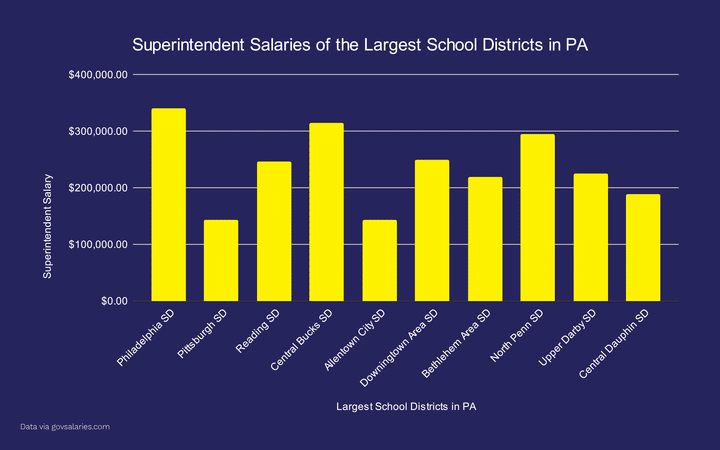 It is notable that Mrs. Vlasbloom thinks that a 40 percent raise seemed like a reasonable place to start, considering the fact that teachers and staff have had to fight for single digit raises.
When Mrs. Smith asked why she was not included in the discussion about the contract, Mrs. Cannon demanded of her fellow board member, "What gives you the right to be told anything at all with your current behavior?"
READ: Three Percent Militia-Endorsed School Board Candidate Debra Cannon & Her Crusade Against "Evil" and "Demonic Adults"
Dr. Dell'Angelo noted that she would have been in favor of a reasonable pay raise, but could not justify the high amount considering how many employees are currently being paid below market level.
Despite objections from the community and minority board members, the new contract and enormous salary raise were passed by a 6 to 3 vote, with all of the majority (including Mrs. Collopy who often boasts of her fiscal responsibility) voting in favor. Dr. Lucabaugh's salary is now officially increased from $229,500 to $315,000 per year, instantly making him one of Pennsylvania's highest paid superintendents.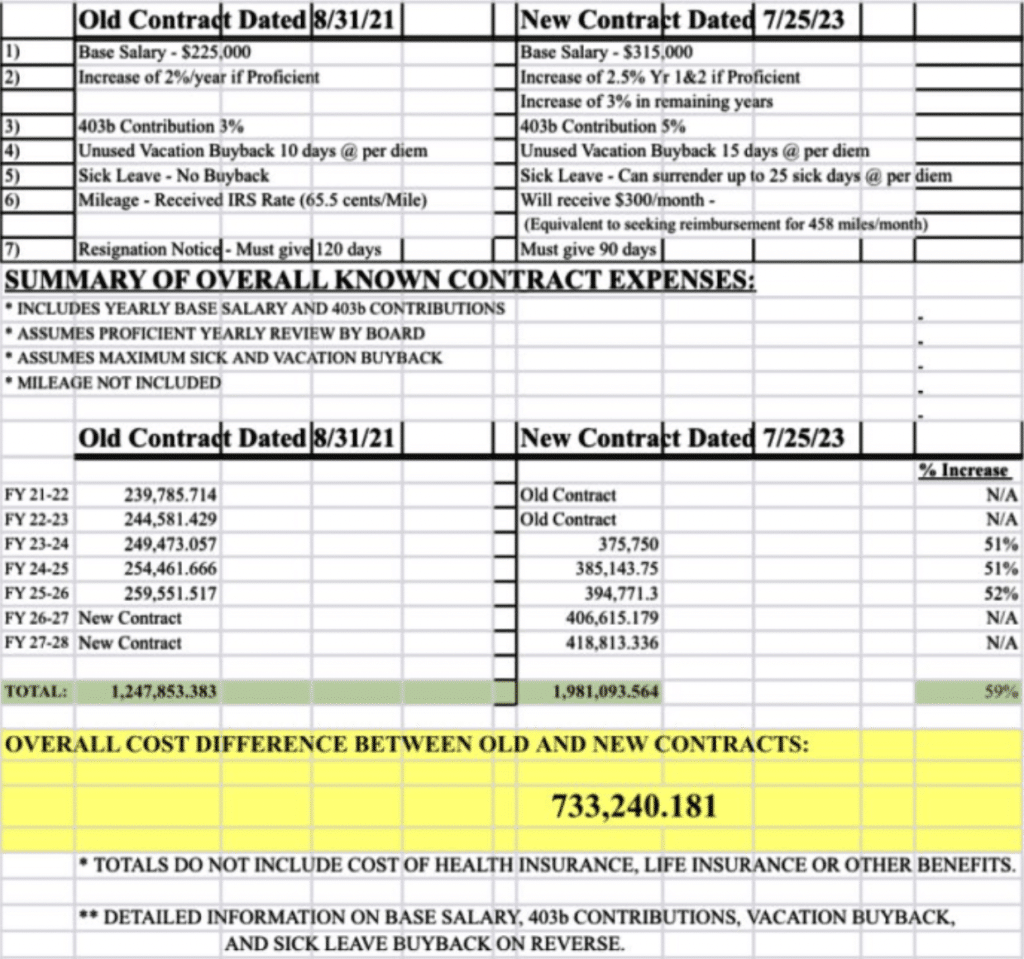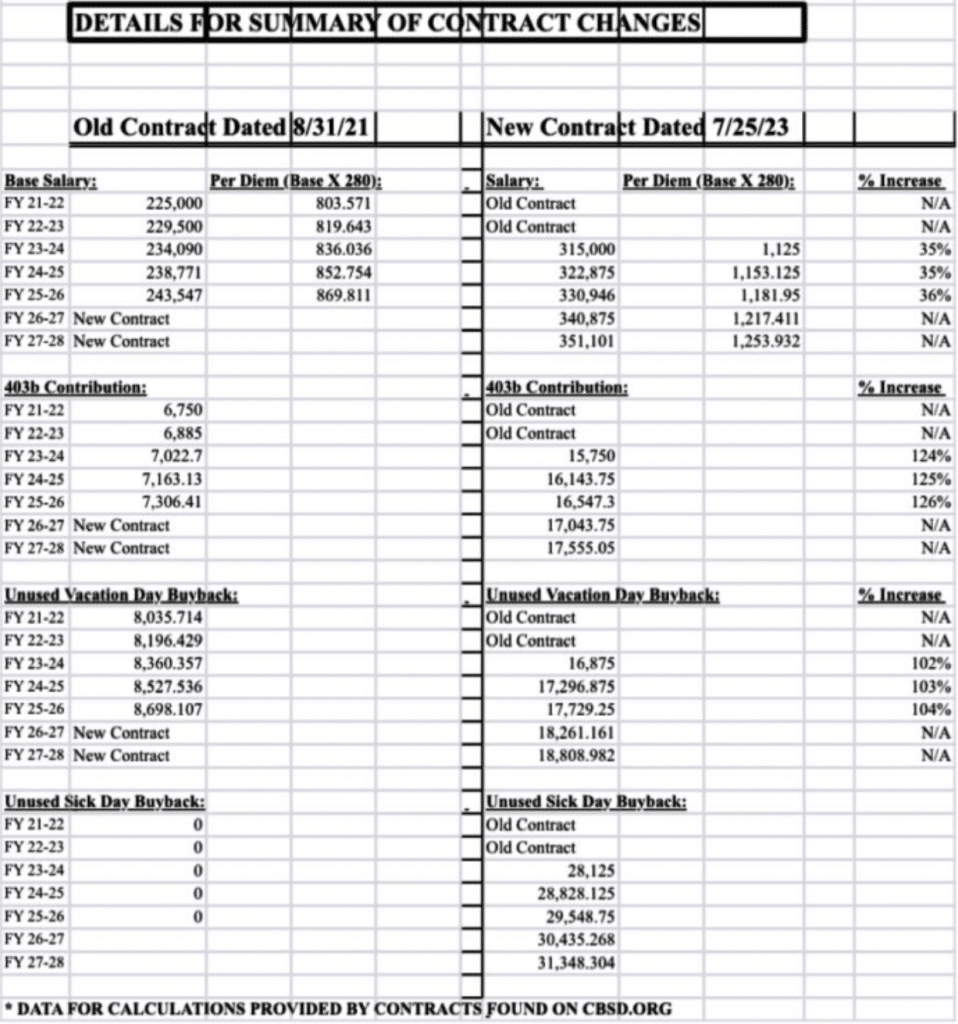 The new contract is in effect until 2028 and allows the board to raise Lucabaugh's salary by 2.5 percent after the first two years and by 3 percent for the last three years. The Board also has the right to increase his salary at any time during the Terms of the Agreement.
Accounting for vacation buybacks and other benefits in the new contract, Dr. Lucabaugh will be potentially earning $733,240 more over the next five years than he would have with his previous contract. The new arrangement also extends his contract for 5 years with a requirement that he be given a year's salary if the contract is ended prematurely, a stipulation which likely was added to make it more difficult and costly for a newly-elected board to dismiss Lucabaugh if they deem that necessary.