Right-wing political group Project Veritas is recruiting child labor for its hidden camera stings for which it has become famous. 
The group, which was found guilty of violating wiretapping laws in September, released a video last week showcasing a "7-year-old insider" at Brooks Knoll Elementary School in Santa Cruz, California, having secretly recorded conversations with his principal and a teacher. The video encourages viewers, and apparently (their) kids, to "become an insider" and directs them to the website www.RecordYourTeacher.com.
In March, the Pennsylvania Family Institute issued a similar call to action, recruiting students, parents and teachers to report on so-called "political, sexual, or racist ideological indoctrination" in schools.
"Activists in schools are working overtime to proselytize children into sexual and other ideologies," the right-wing group stated on its website. "They use coercion, grooming techniques, and even bully those who do not embrace such ideologies."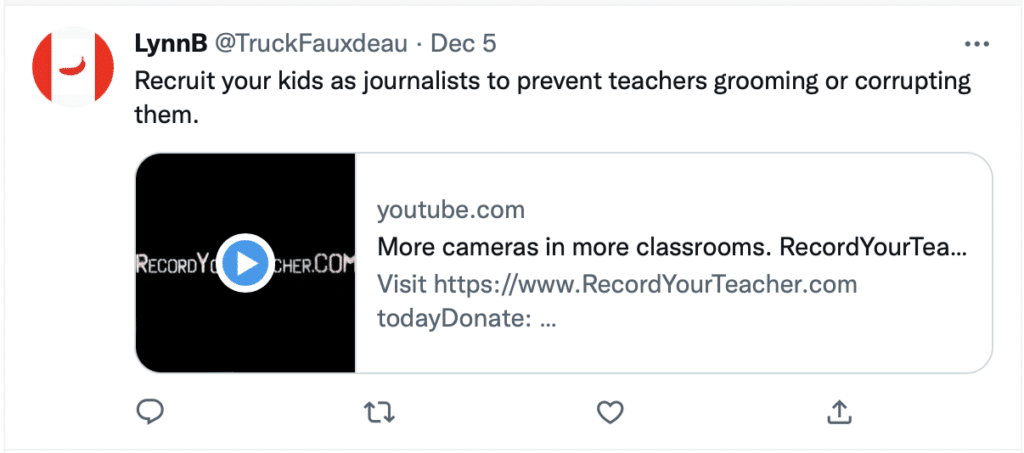 This is just the latest dark tactic in conservatives' escalating war on public education. Pennsylvania, however, is a "two-party consent" state, meaning it would be illegal to secretly record a conversation with a teacher, librarian, or any public school employee without their knowledge and consent.