The new documentary Shiny Happy People has reignited interest in the Duggars, a Christian fundamentalist home-schooling family with 19 offspring and, at one time, their own reality show on TLC. As shown in the documentary, the Duggar parents seemed to bask in television's limelight until news broke that their oldest child, Josh, had molested four of his young (minor) sisters. The Duggars had known about Josh's predation long before the story became public and had tried to "reform" their son by sending him to "work" with evangelical home-schooling proponent Bill Gothard, who was allegedly engaged in a pattern of sexual harassment and abuse himself (per a website run by former members of his once wildly popular Institute). Last year, Josh was sentenced to more than 12 years in prison on an unrelated charge involving his possession of child pornography.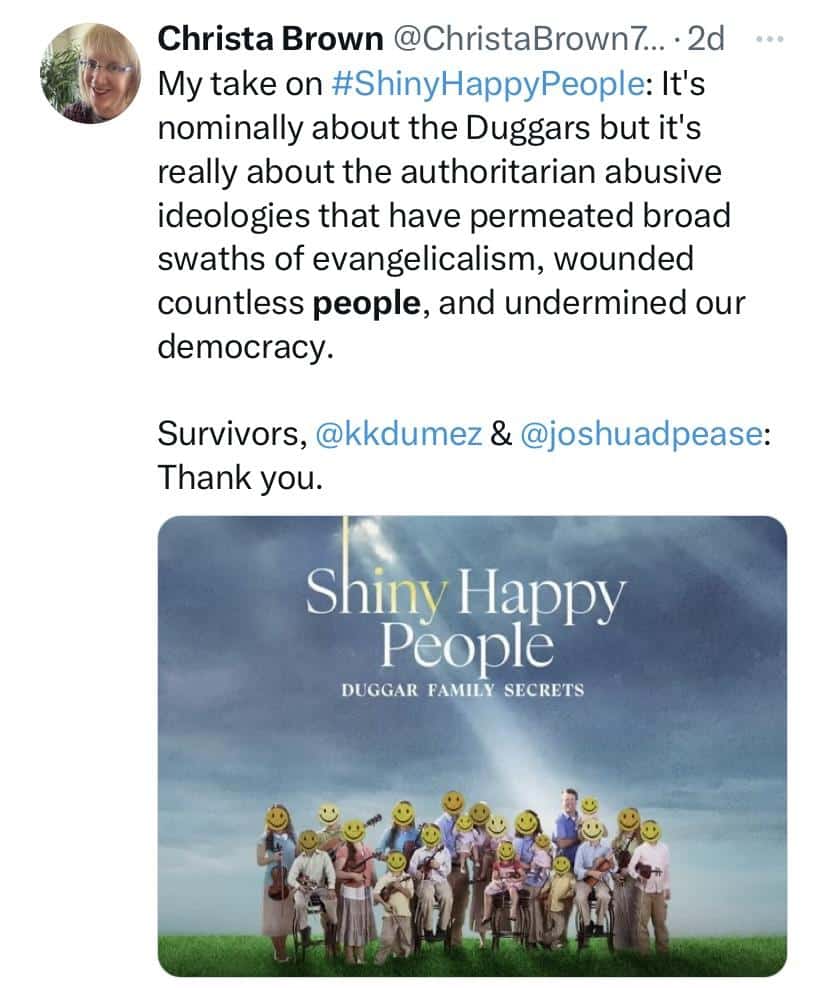 This abhorrent behavior did not occur in a vacuum. Rather, the toxic Christian homeschooling environment from which these individuals emerged has been enabled by a small network of Christian nonprofits with close ties to Michael Farris, a Trump-connected constitutional attorney and evangelical extremist who wrote a book called The Joshua Generation in which Farris infamously proclaimed that "[We] will succeed when our children, the Joshua Generation, engage wholeheartedly in the battle to take the land."
According to Alex Harris (whose father was a key leader of the Christian homeschooling movement), Farris has promoted the idea that, "Christian homeschool grads, with our superior training and a thoroughly conservative Christian worldview, would disproportionately fill positions of power and influence. We'd be the senators, presidents, and justices of the next generation."
***
Farris first landed on my radar due to his involvement in efforts to overturn Trump's election loss in 2020. According to the Washington Post, it was Farris who ghost wrote the Supreme Court brief filed by indicted Texas Attorney General Ken Paxton in an effort to reverse Trump's resounding defeat in the 2020 election. (The GOP-led Texas House of Representatives has since voted to impeach Paxton for unrelated wrongdoing, including alleged "bribery, abuse of office, and obstruction," as reported by the Texas Observer.)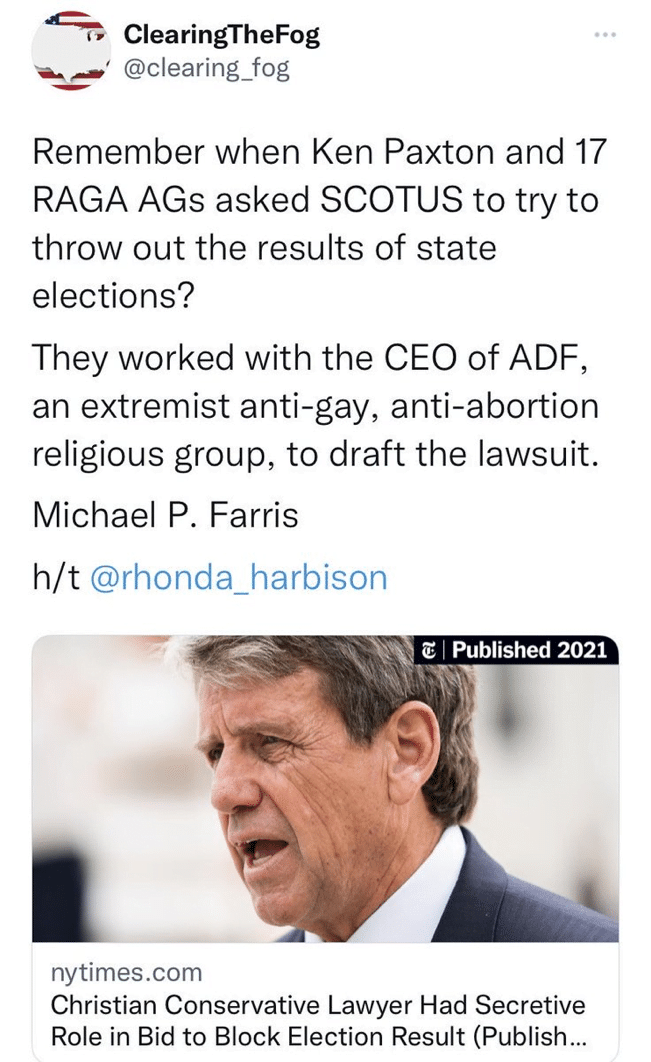 I soon learned that Farris is a longtime member of the Council for National Policy (CNP), an umbrella and strategy organization for the Christian Right and wealthy financiers. To give you an idea of the CNP's mindset, here's a quote from CNP co-founder Gary North:
"We must use the doctrine of religious liberty to gain independence for Christian schools until we train up a generation of people…constructing a Bible-based social, political and religious order which finally denies the religious liberty of the enemies of God."
READ: Christianity Will Fail If We Don't Stop Christian Nationalism
The CNP was heavily involved in efforts to overturn the 2020 U.S. presidential election, as detailed by Shadow Network author Anne Nelson in a groundbreaking piece for the Washington Spectator and in my own recent piece for the Bucks County Beacon.
Farris and other Christian extremist leaders had been determined to secure a second term for Trump because Trump had given the Christian Right unprecedented power during his first term, both within the executive branch and on the bench.
It was Farris who endorsed Mark Meadows, Trump's former chief of staff, back when Meadows ran for Congress in 2012, as initially reported by Nelson. Meadows, a young earth creationist, has since become infamous for allegedly burning documents in the runup to Jan 6, 2021, when Trump directed his mob of angry supporters to the U.S.Capitol.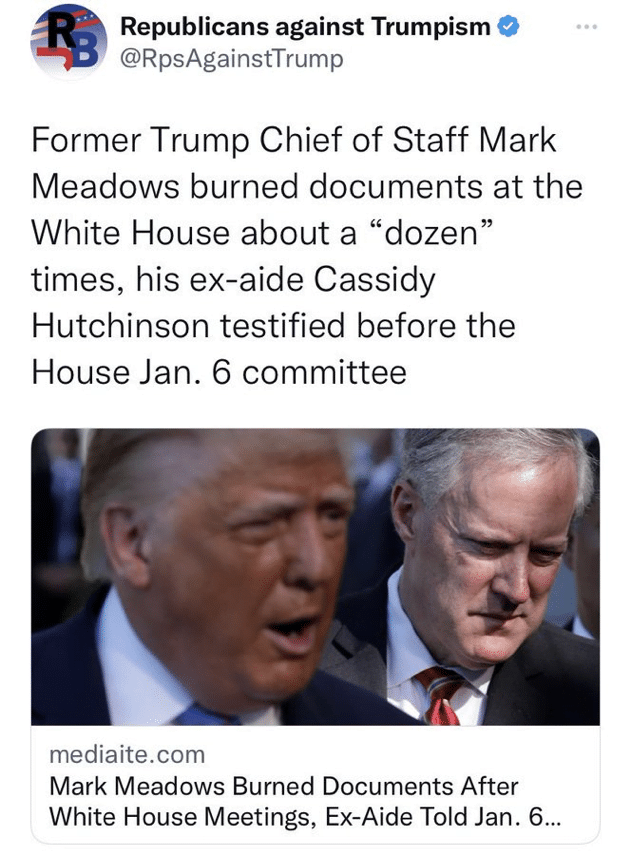 (This week, Meadows was rumored to have reached a deal with prosecutors in which he received limited immunity in exchange for his testimony in a criminal probe involving Trump's alleged mishandling of sensitive documents.)
Farris also has close ties to former Trump attorney Jenna Ellis with whom he co-wrote a book titled "The Legal Basis for a Moral Constitution: A Guide for Christians to Understand… ."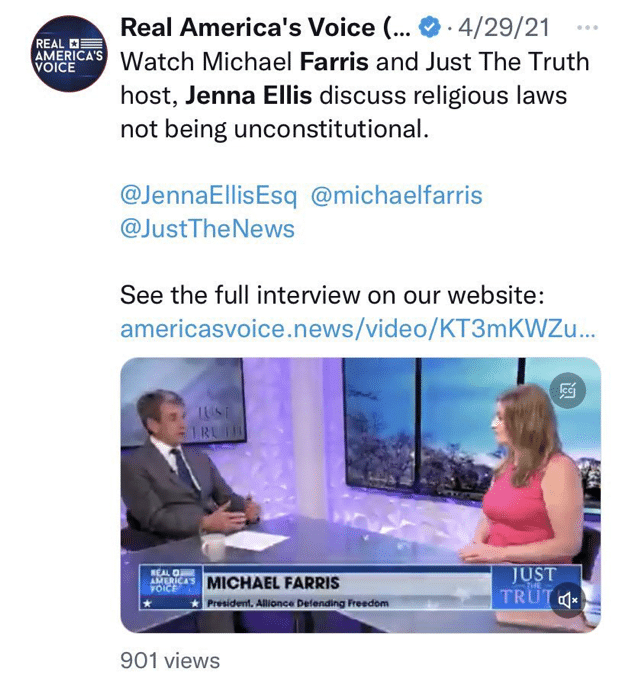 Ellis, a product of Christian homeschooling herself, has since been censored for spreading falsehoods about the 2020 election. (FN1)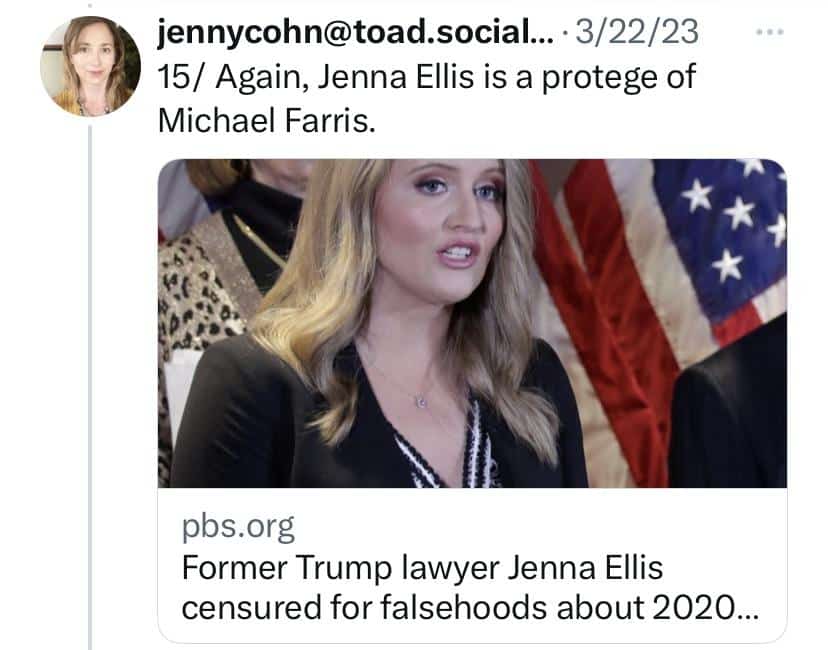 Farris also has ties to Supreme Court Justice Amy Coney Barrett through the Alliance Defending Freedom (ADF), where Farris served as the CEO and President from 2017 until October last year. According to a 2020 report by the Washington Post, Coney Barrett had accepted five speaking engagements since 2011 with the Blackstone Legal Fellowship, a program run by the ADF.
The ADF (with Farris at the helm) subsequently led the successful effort to overturn Roe v Wade, with Coney Barrett siding with the majority.
Erin Hawley, wife of Senator Josh Hawley (R-MO), works for the ADF as a lawyer. She was part of the team that did the deed.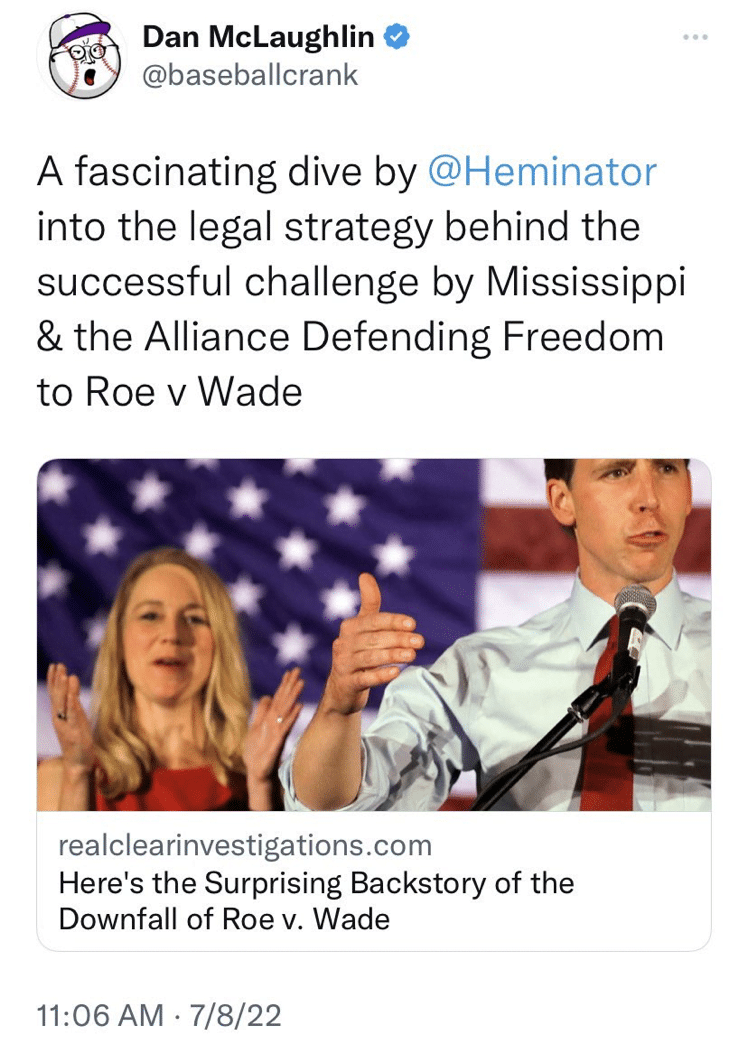 The ADF also opposes the Supreme Court's decisions in Lawrence v. Texas (the Supreme Court case that banned state laws criminalizing homosexuality) and Obergefell v. Hodges (the Supreme Court case that legalized same-sex marriage).
The ADF literally "argued in court for the criminalization of homosexuality in amicus briefs for the U.S. Supreme Court case Lawrence v. Texas," as reported by GLAAD. (Emphasis added.) As you might expect, the ADF opposes trans rights too.
During her confirmation hearing, Coney Barrett refused to say whether she believed Lawrence and Obergefell were correctly decided. Farris attended her confirmation ceremony in the Rose Garden.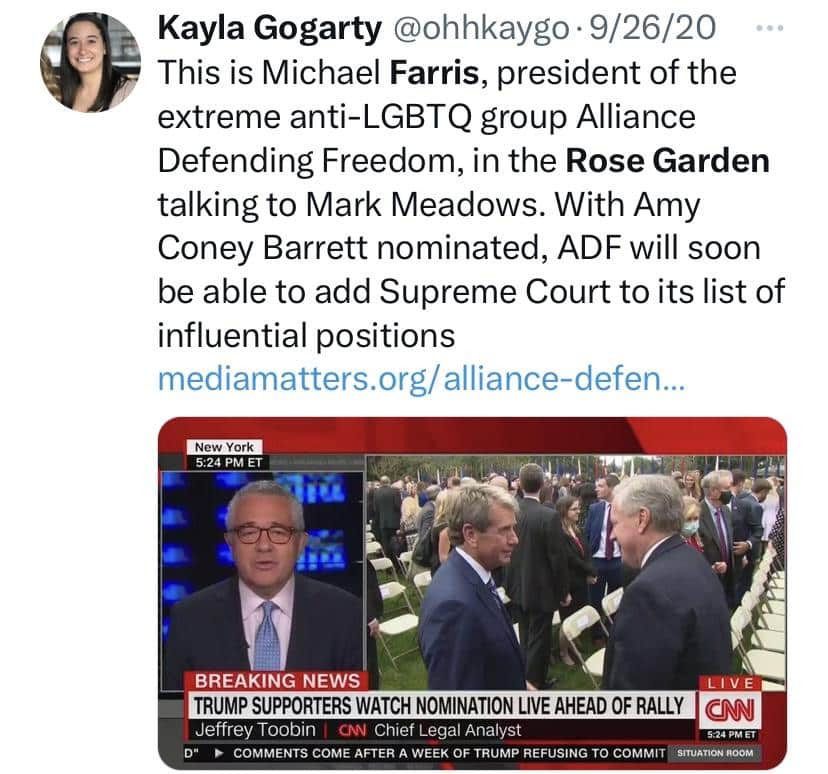 Trump later named Farris to his advisory 1776 Commission, which he established (after losing the election) to support so-called "patriotic education." Trump's inclusion of Farris on the commission demonstrates his courtship of the Christian fundamentalist fringe and what we might expect from a second Trump presidency.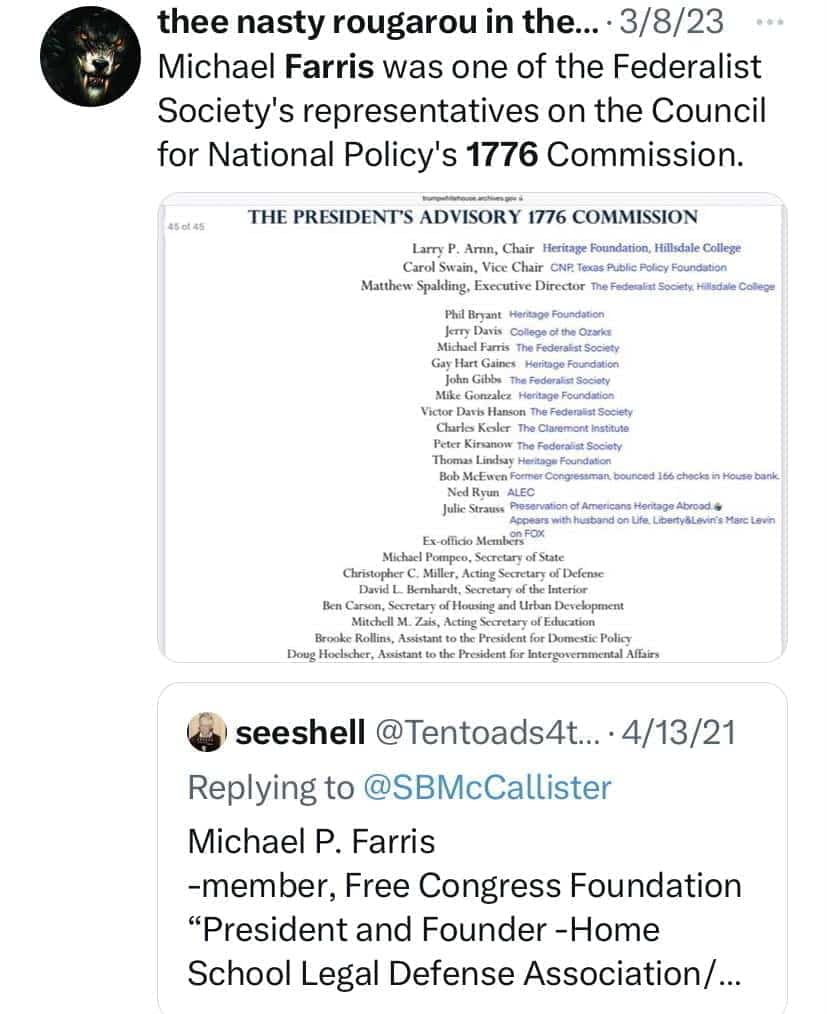 The prospect is alarming. Farris has done more than ghostwrite an election challenge, advise Trump, and undermine womens' reproductive rights and LGBTQ+ rights. Farris is also a prolific Christian homeschooling proponent who founded a nonprofit called ParentalRights.org, a 501(c)(4) advocacy group, which has a "sister" 501(c)(3) nonprofit called the Parental Rights Foundation.
READ: Christian Leaders 'Horrified' About The Ongoing ReAwaken America Tour
As explained by religious extremism writer Ryan Stollar (a former Christian homeschooler and co-founder of Homeschoolers Anonymous), the "increasingly common rhetoric about 'parental rights' has a very specific origin: evangelical homeschoolers. And to evangelical homeschoolers, parental rights are grounded in a property paradigm—where children are denied any rights of their own."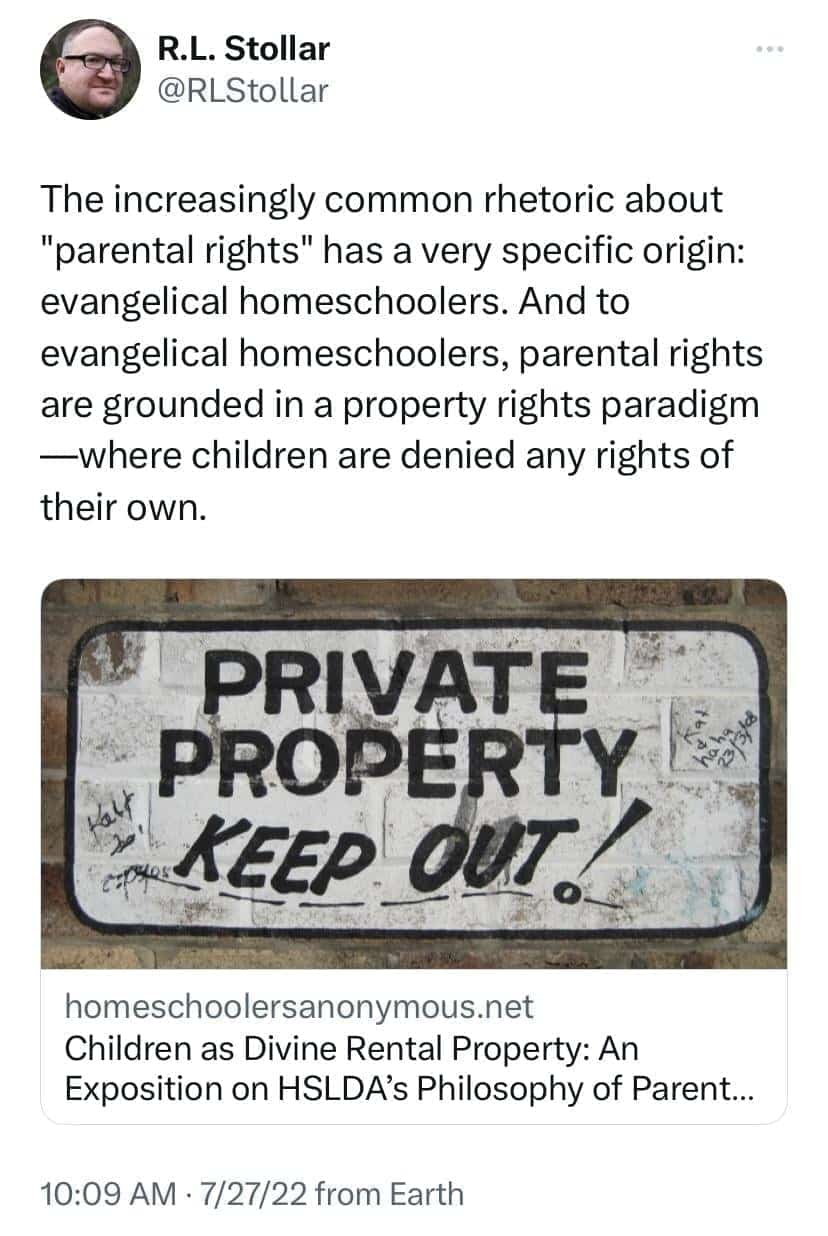 As if to prove the point, Farris has used his nonprofits to successfully oppose the United Nations Convention on the Rights of the Child, which has now been ratified by every country in the U.N. – other than the United States. The ParentalRights.org website expressed concern that under the convention, "Parents would no longer be able to administer reasonable spankings to their children," as reported by Politico.
Since 2021, the president of both ParentalRights.org and the Parental Rights Foundation has been Will Estrada of Loudoun County, Virginia, who comes from a Christian home-schooling family himself, per the Washington Post. The organization seems to have maintained a cozy relationship with Farris. In March this year, Estrada tweeted that, "Our state leaders heard a compelling speech from Mike Farris, a constitutional litigator who has devoted his life to the cause of parental rights. He also founded our organization 16 years ago! Next stop: Washington DC, for meetings with allies and members of Congress."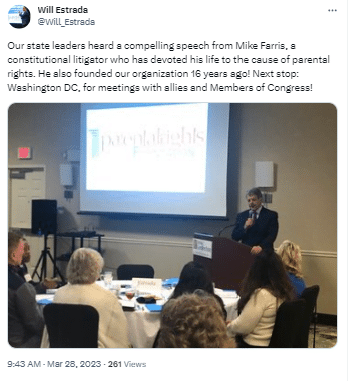 Farris also founded the Home School Legal Defense Association (HSLDA), where he still serves as board chairman, per HSLDA's website. (Estrada got his start at HSLDA as well.) According to a 2015 report in Slate, Farris has said that he "can't think of an occasion where we went backwards [in our goal]," and that "the HSLDA has been involved in 'virtually all' legislative efforts involving home schooling in the past two decades."
In addition to opposing the U.N. Convention on the Rights of the Child, the HSLDA says that its "mission" includes defending parents who are under investigation by Child Protective Services.
The HSLDA also opposes mandatory reporting laws for child abuse, as detailed in a report by Homeschoolers Anonymous, which Stollar co-founded. (Link to tweet: archived version.)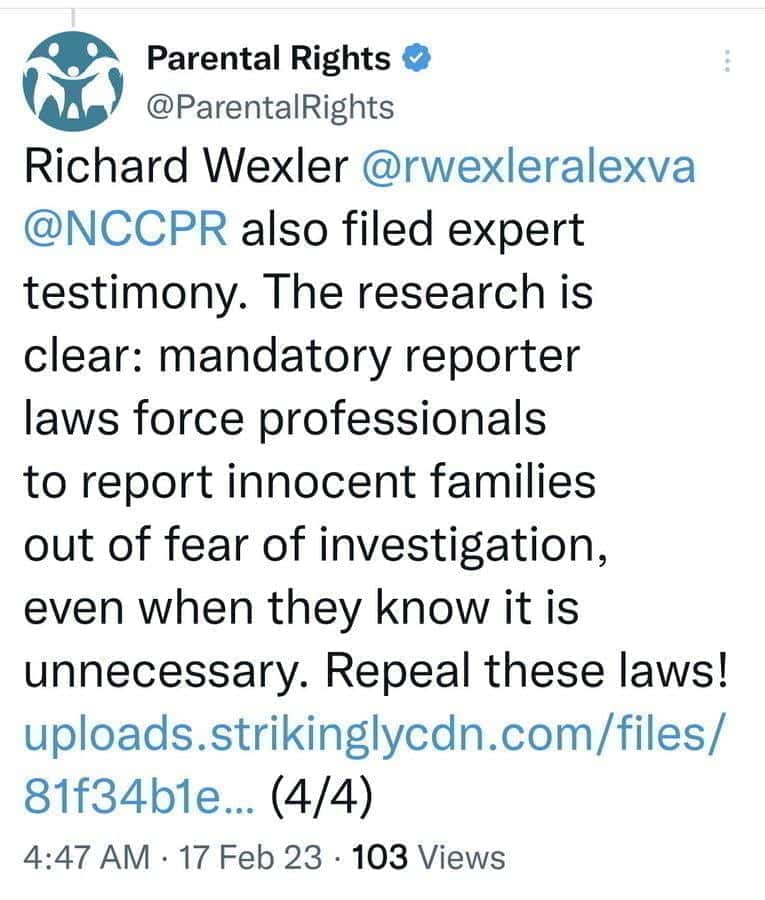 The desire to dismantle Child Protective Services is pervasive among evangelical homeschooling leaders, per Stollar. "We understand that the core problem with Child Protective Services is its existence," former HSLDA attorney Doug Phillips proclaimed in 2009, as reported by Stollar. "At the end of the day, the problem isn't simply Child Protective Services to get better; it is eliminating it altogether," Philips added. (Phillips did not work for HSLDA at the time.)
Meanwhile, Farris's HSLDA has "led efforts to strip away basic legal protections for homeschooled children in every state. Today, it is legal in 48 states for a person convicted of crimes against children to homeschool their own children without any restrictions," per the Coalition for Responsible Home Education.
At the same time, sexual abuse has been pervasive among prominent Christian homeschooling proponents. Recent examples include Josh Duggar, Bill Gothard, and Doug Phillips, the home-schooling advocate who called for the elimination of Child Protective Services. (Links to tweets 1, 2, 3, 4, and 5.)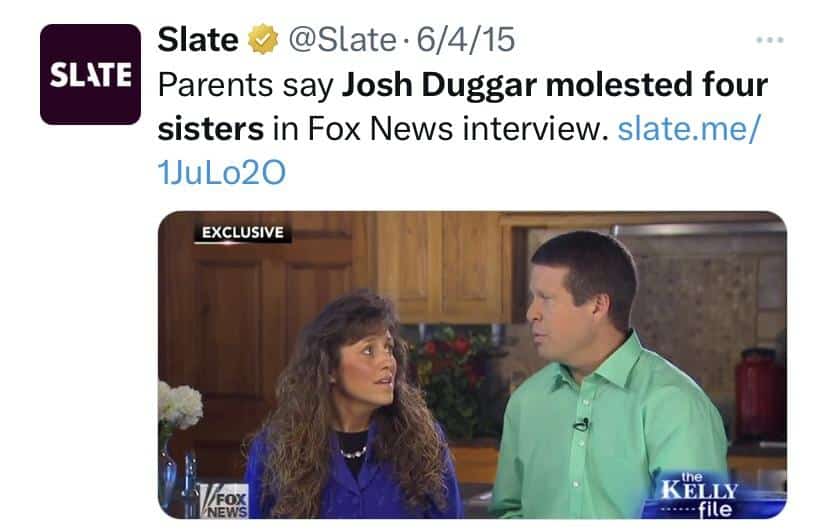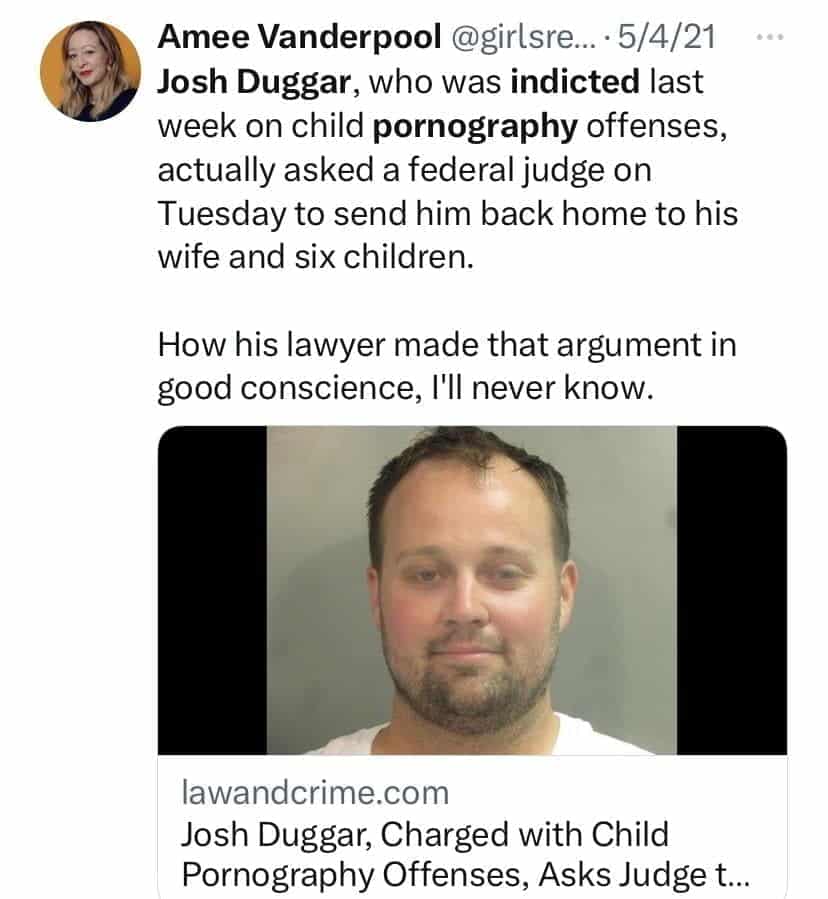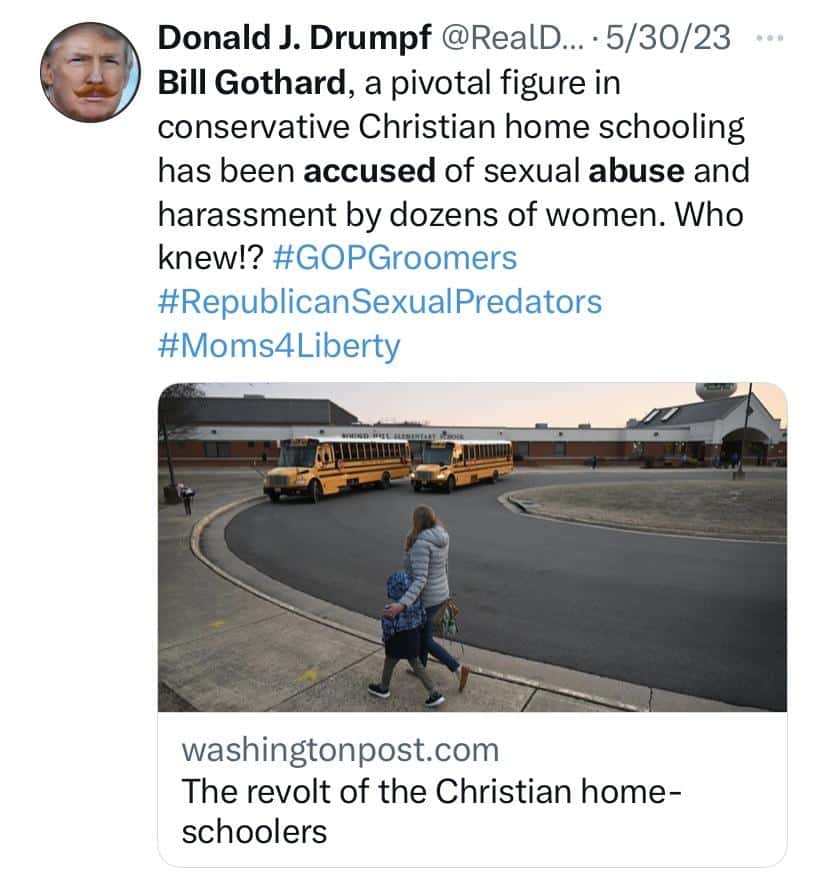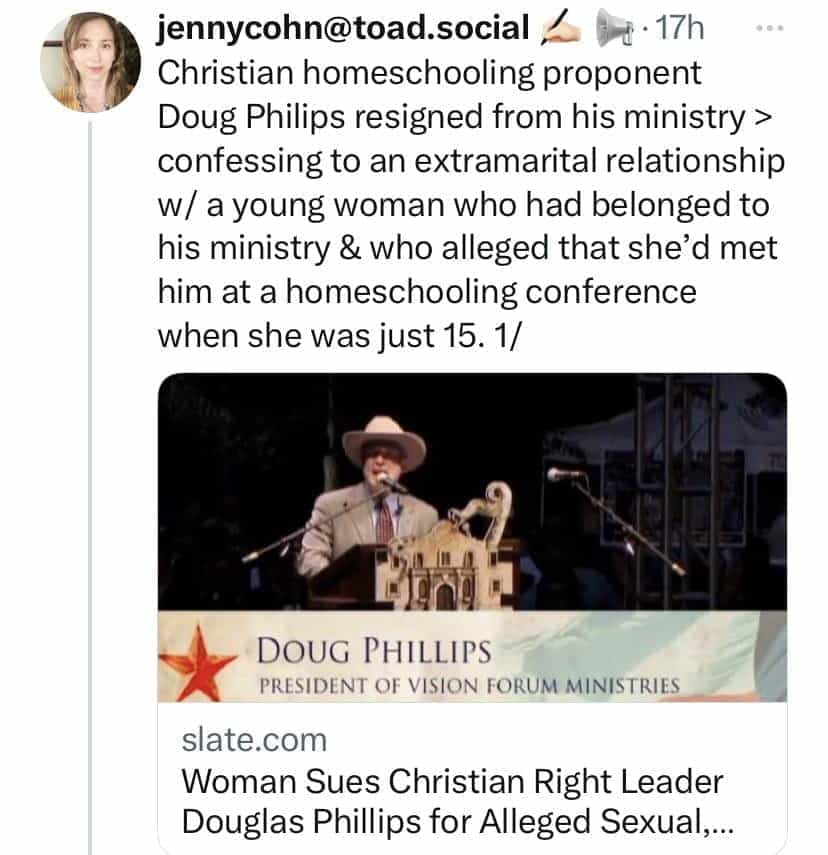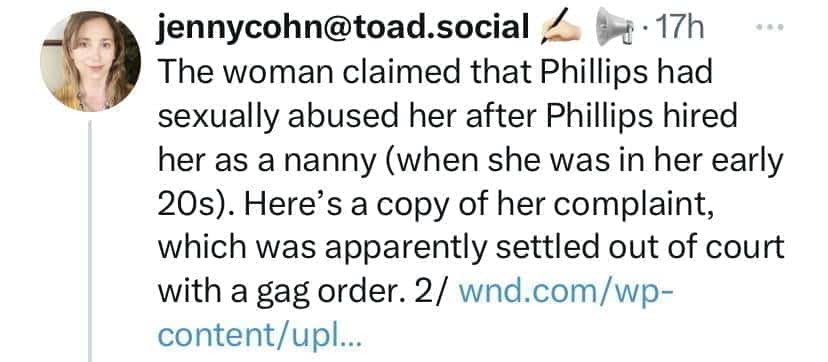 Farris is undoubtedly aware of this concerning trend, as he runs in the same circles as these Christo-fascist sexual predators. Farris and Gothard co-founded an unaccredited study-at-home Christian law school, Oak Brook College of Law and Government Policy, where Gothard has served as Chancellor and President, while Farris has served on the Board of Trustees.
Farris also has close ties to Doug Phillips, who worked at Farris's HSLDA for six years. Below is a photo of Farris with the Duggars at a home-schooling convention in 2013. (The author of the tweet seems to have recently deleted it.)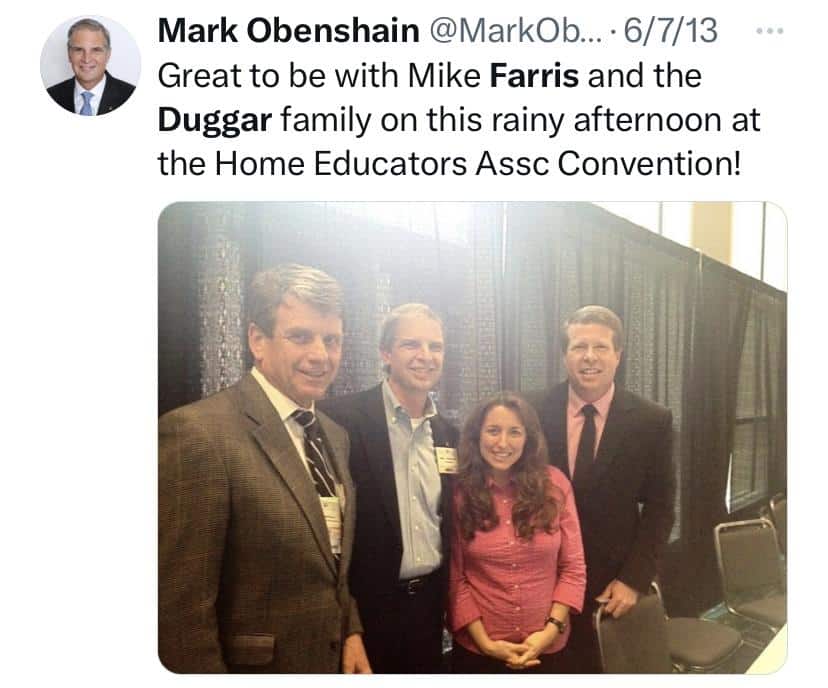 But sexual abuse isn't the only problem plaguing the Christian home-schooling movement. Child physical abuse is another under-appreciated occurrence in these families. "[T]here are almost 200 known cases of child abuse and neglect fatalities in homeschool settings since 1986. And that's just fatalities," Stollar recently warned. (Emphasis added.)
"Over half of homeschool alumni surveyed in a 2014 study say they experienced abuse and an additional quarter report knowing another homeschooler who was abused," per Stollar.
For evangelical homeschooling proponents, however, stripping away children's rights under the guise of "parental rights" has a justifiable end game: indoctrinating an army of young fundamentalist Christians to seize nations (including ours) for their hateful version of Jesus.
Remember Farris's "Joshua Generation" quote? "[We] will succeed when our children … engage wholeheartedly in the battle to take the land."
The Parental Rights Foundation (the sister organization of ParentalRights.org, which Farris founded) has brought this "battle to take the land" to the Keystone state. Last year, it collaborated with the so-called "Moms for Liberty" organization in Bucks County, Pennsylvania, in an attempt to pass a "parental rights" state law (SB 996). (Link tweet 1; tweet 2.)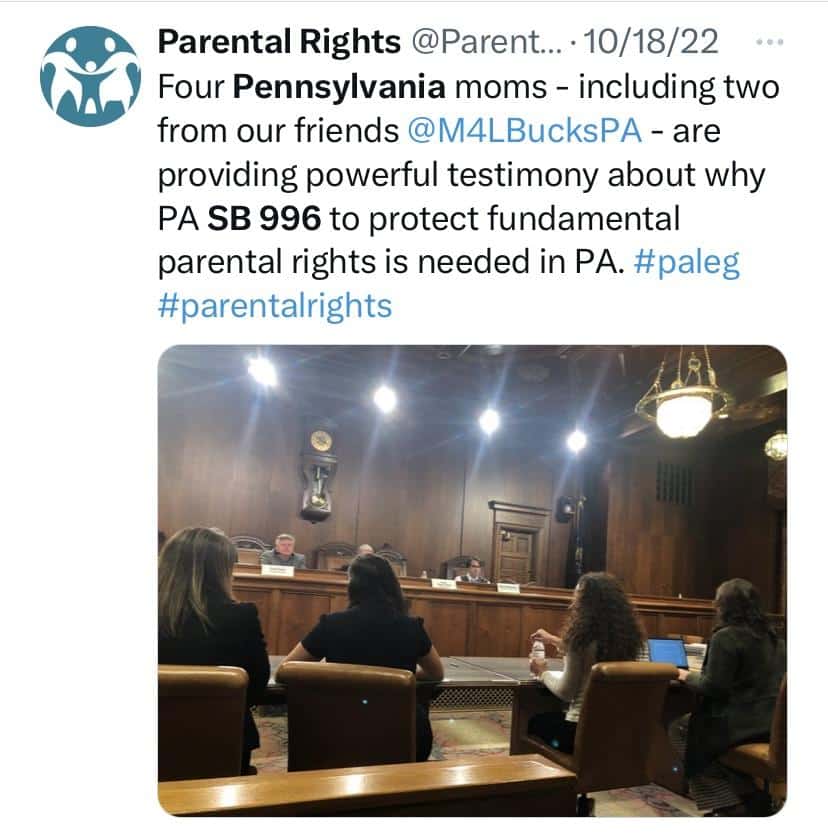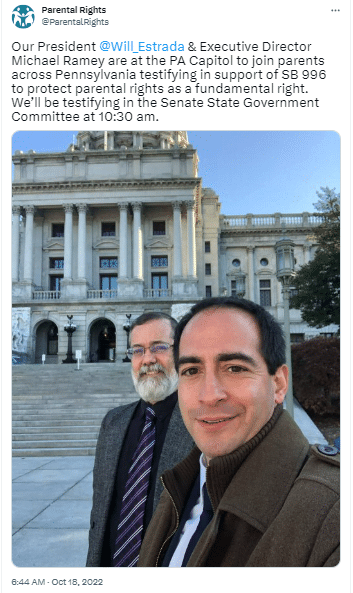 State Senator Doug Mastriano, a Christian zealot who supported this parental-rights bill, has vowed to continue promoting the bill this year. The Pennsylvania Senate bill tracker, however, shows no action since October last year.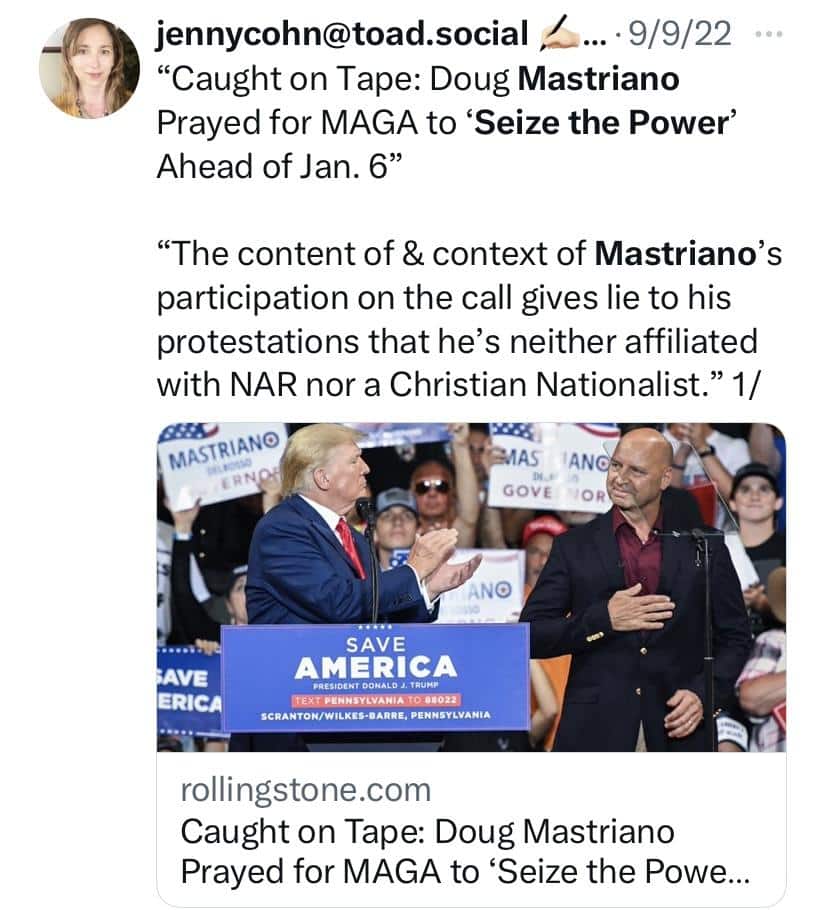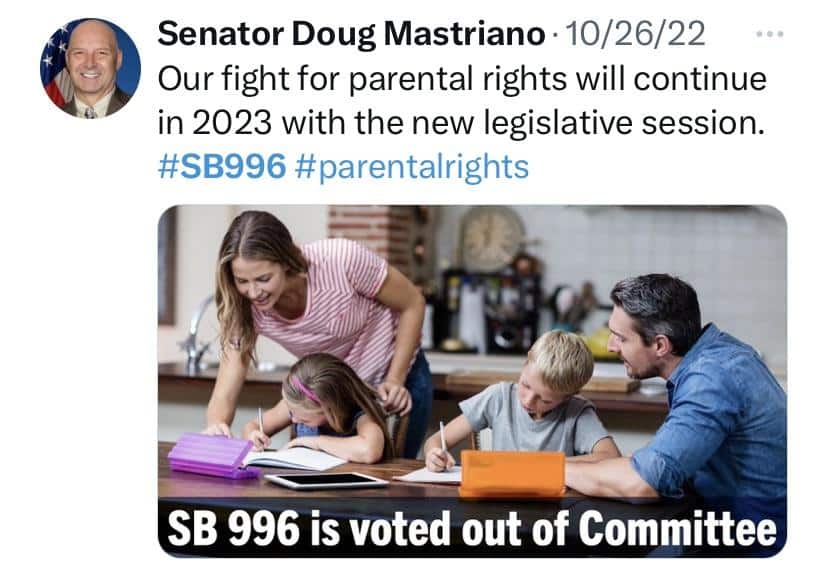 According to a July 2022 report in the Washington Post, Estrada has said that, "Fifteen states currently have something about 'parental rights' encoded in their state laws," and Estrada has "been involved in related legislation in Delaware, Georgia, Hawaii, Minnesota, Pennsylvania and Rhode Island."
READ: To Understand Groups Like Moms For Liberty And The Republican Party's MAGA Base, Look To The John Birch Society
The Moms for Liberty national organization, which will hold its annual summit in Philadelphia at the end of this month, collaborates with the Parental Rights Foundation on this type of legislation, while using the "parental rights" rubric as a weapon against public (secular) schools without mentioning its Christian fundamentalist foundation. (Link tweet 1 [@Moms4Liberty tagging @ParentalRights]; tweet 2 [vice versa]; tweet 3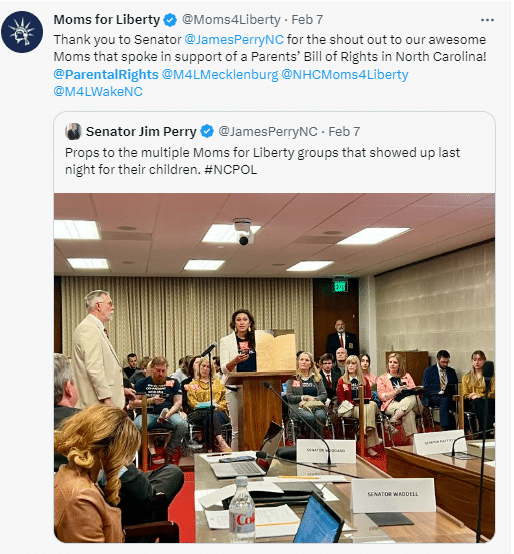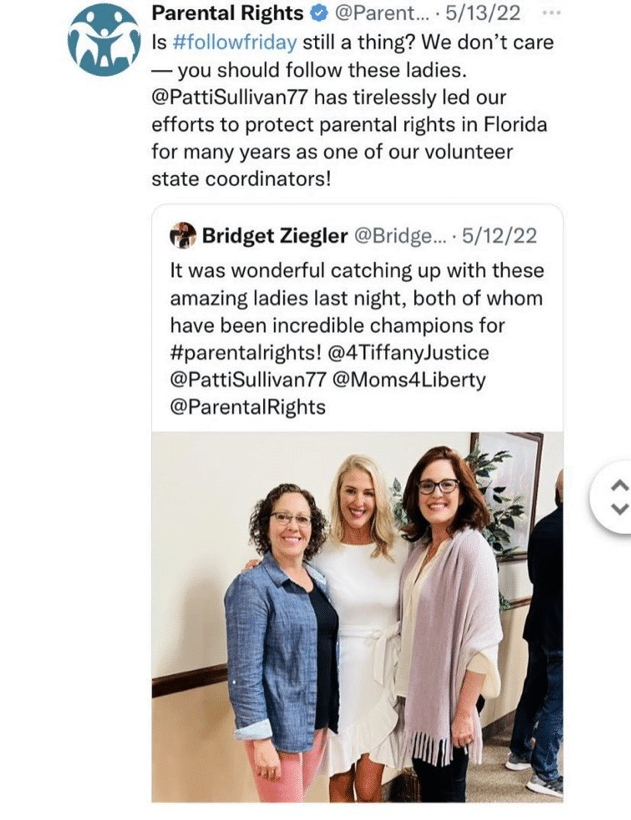 Moms for Liberty and the Parental Rights Foundation also collaborate with the Leadership Institute, which was founded by Morton Blackwell, a longtime CNP member (like Farris) who has taught legions of young right wing operatives that "moral outrage is the most powerful motivating force in politics." Moms for Liberty co-founder Bridget Ziegler is employed by the Institute, which recently hosted Will Estrada, president of the Parental Rights Foundation and ParentalRights.org.
READ: Moms For Liberty Bucks County Leaders Think Public Schools Are Trying To Bring Pedophilia Into The Classrooms
The public deserves to know that the people banning books and harassing public (secular) schools under the guise of "parental rights" (telling them what they must and must not teach) are in cahoots with the same Christo-fascist cabal that has long used the "parental rights" framework to thwart attempted oversight of Christian homeschooling. They deserve to know that the so-called "parental rights" crowd has undermined children's rights.
The apparent intent of these zealots is to destroy public education so that it can be replaced with Christian homeschooling and Christian academies. Earlier this month, Oklahoma approved the first taxpayer funded religious school in the country. You can be sure that other GOP-led states hope to soon follow their lead.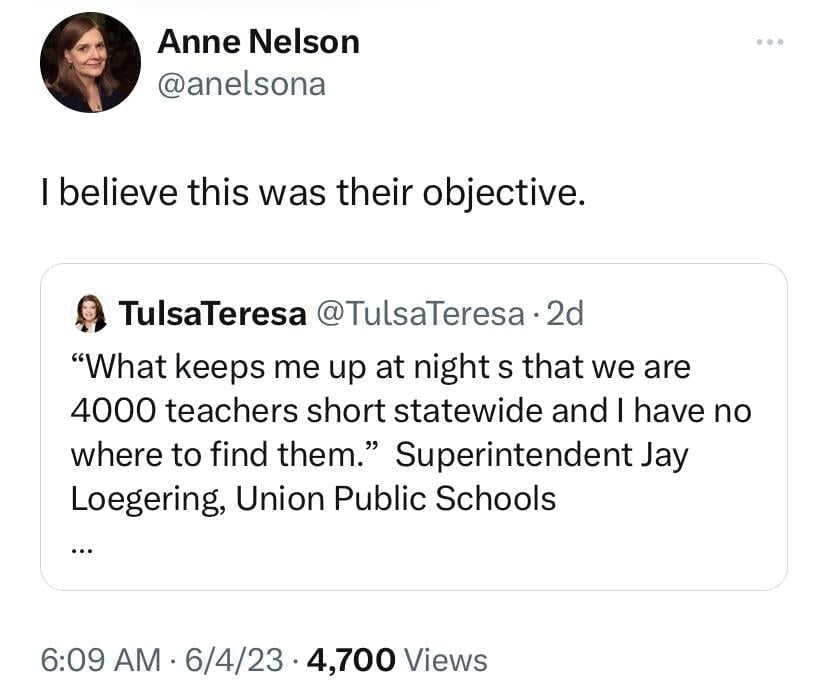 Meanwhile, Moms for Liberty seems to have no qualms about joining forces with Christian Nationalists. The organization has collaborated with the nonprofit Wallbuilders, which was founded by David Barton, a pseudo-historian who crusades against the separation between church and state and offers a course in so-called "biblical citizenship."
Farris himself has collaborated with Barton via the Convention of States project, which seeks to assemble enough state legislatures to rewrite the U.S. Constitution.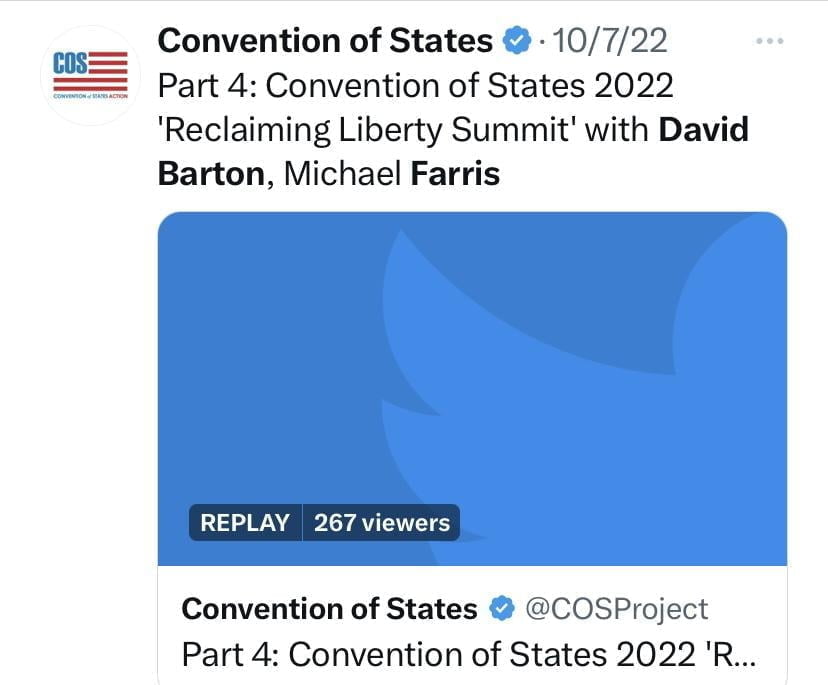 Farris also collaborates with Doug Wilson, a controversial Idaho pastor who founded the Association of Classical Christian Schools (ACCS), which bestowed its Boniface award on Farris in 2021.
Farris attended Wilson's annual Repairing the Ruins conference that same year. The event was co-sponsored by the Alliance Defending Freedom (ADF) where Farris served as CEO and President until last year. Both Farris and Wilson were slated to speak at a God-centered homeschooling conference a few months ago.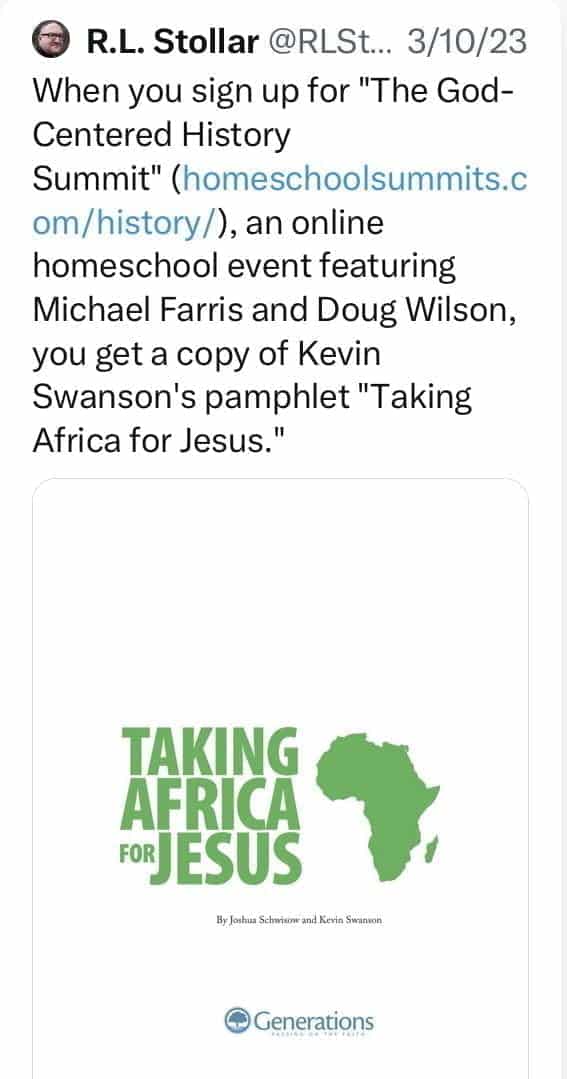 Wilson is a highly contentious figure whose ministry, Christ Church, is infamous for punishing women with "church discipline" if they object to marital rape or other spousal abuse. He's a proponent of biblical patriarchy (also known as Christian patriarchy), which teaches that God expects women to submit to men.
Wilson's family also co-owns a publishing company, Canon Press, which published a book that "maintains, among other things, that the antebellum south was literally a holy land and that slavery bred mutual respect between races," per the Heidelblog.
You can read about the history of Canon Press and its ties to the Wilson family here. The company began as a "literature ministry" of Wilson's church, but was sold to N.D. Wilson (Doug Wilson's son) and Aaron Rench in 2012.
Canon Press published a book last year titled "The Case for Christian Nationalism" by Stephen Wolfe, which sparked controversy for myriad reasons, including the author's remarks about interracial marriage. (Link to tweet.)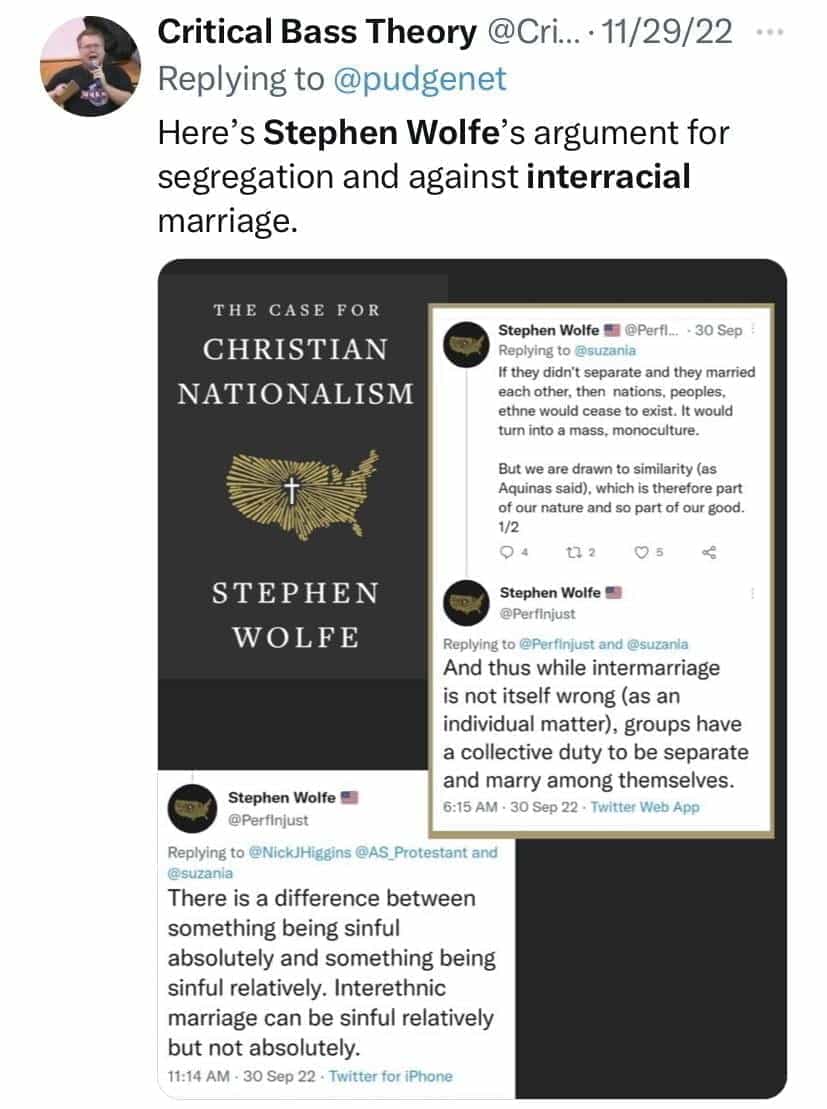 Canon has recently re-published an ebook version of Wilson's own book, "The Case for Classical Christian Education." According to ACCS (Wilson's organization), "Classical Christian education (CCE) is a time-tested educational system which establishes a biblical worldview."
Wilson has even helped produce a classical Christian education curriculum used by evangelical homeschoolers and classical Christian educators, as reported by Stollar.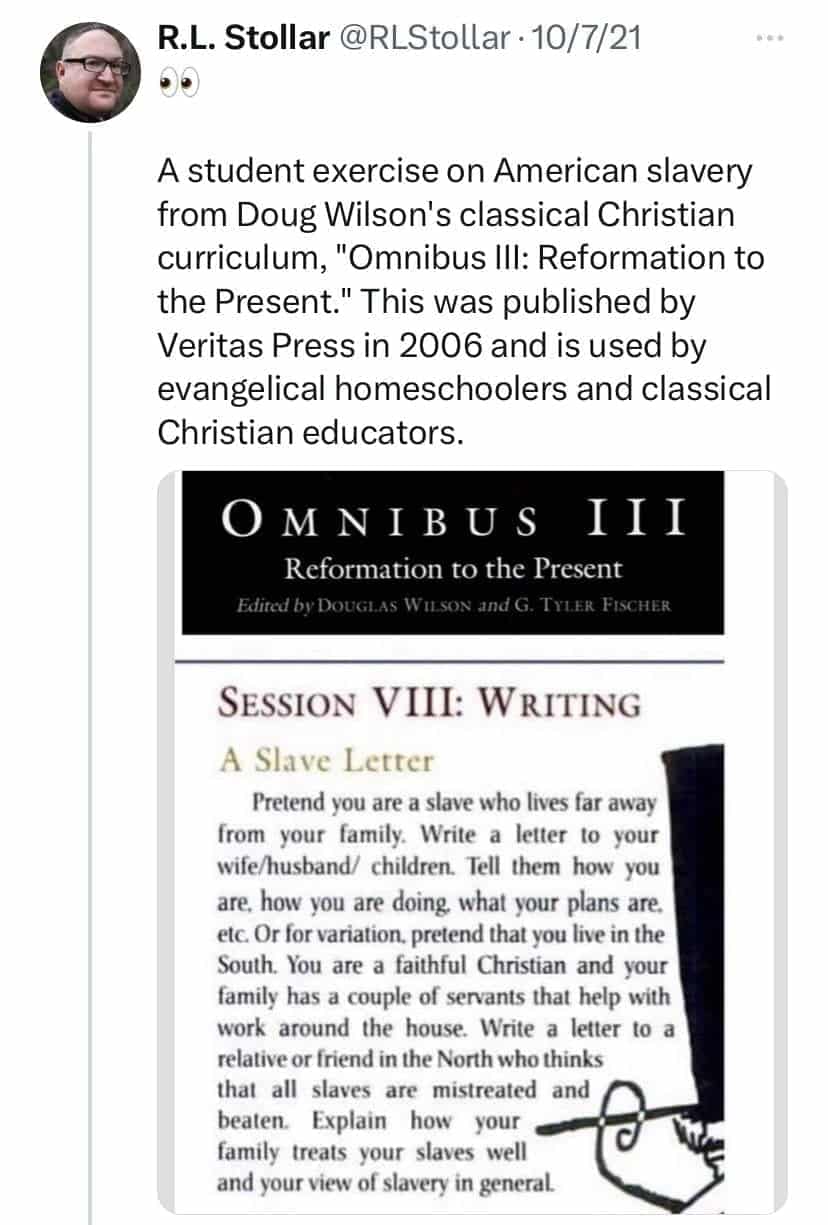 The curriculum is as offensive as you might expect from Wilson. One of the chapters soft-soaps the horrors of slavery with cherry picked testimonials from former slaves, such as this: "We worked from 7 o'clock in the mawnin' till 6 o'clock at night. I sure liked tuh work for Mistah Davis. I tended fuahnaces some, too. I sure was sorry wen Mistah Davis died." (The top of the screenshot in the tweet below has a link to Veritas Press, which shows that the excerpt comes from Omnibus III, which was edited by Doug Wilson.)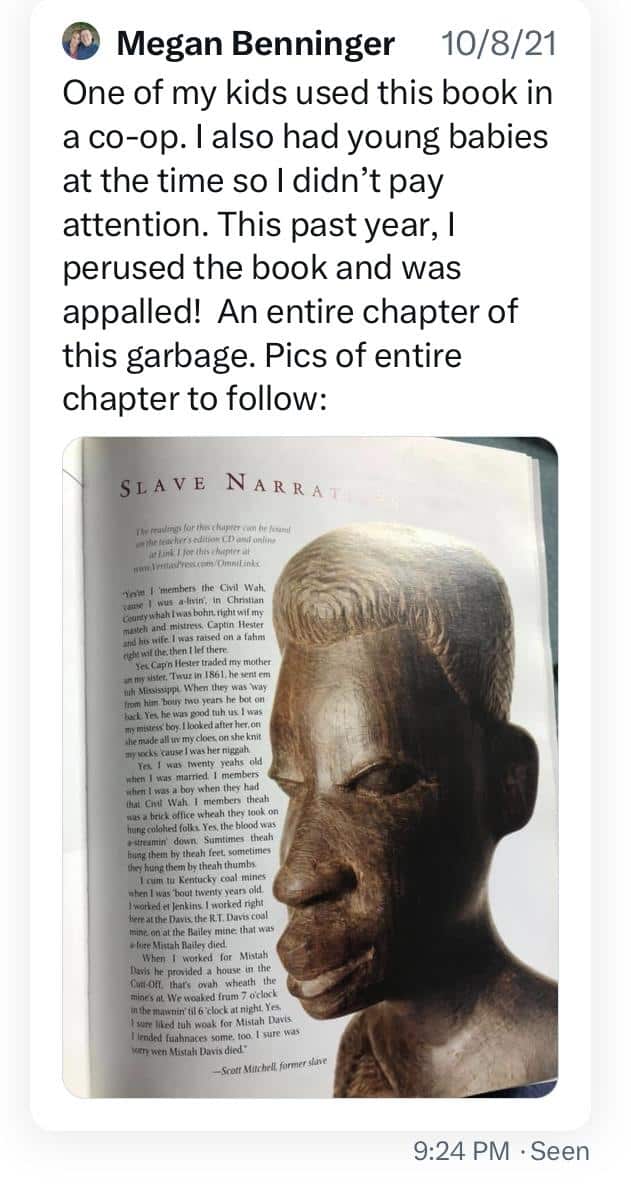 This is the kind of material that passes for "education" in Christian homeschooling circles. "Most states lack even the most basic safeguards to ensure children who are homeschooled receive an education that is at least comparable to that offered by our nation's public school system," according to the Coalition for Responsible Home Education. "There is no educational safety net, or even a pretense of one."
The classical Christian education movement has gained traction in Florida due to the efforts of Governor Ron DeSantis whose spokesperson declared in January that they hope New College of Florida, a public college, will eventually resemble Hillsdale, a private Christian college, which promotes a classical education curriculum.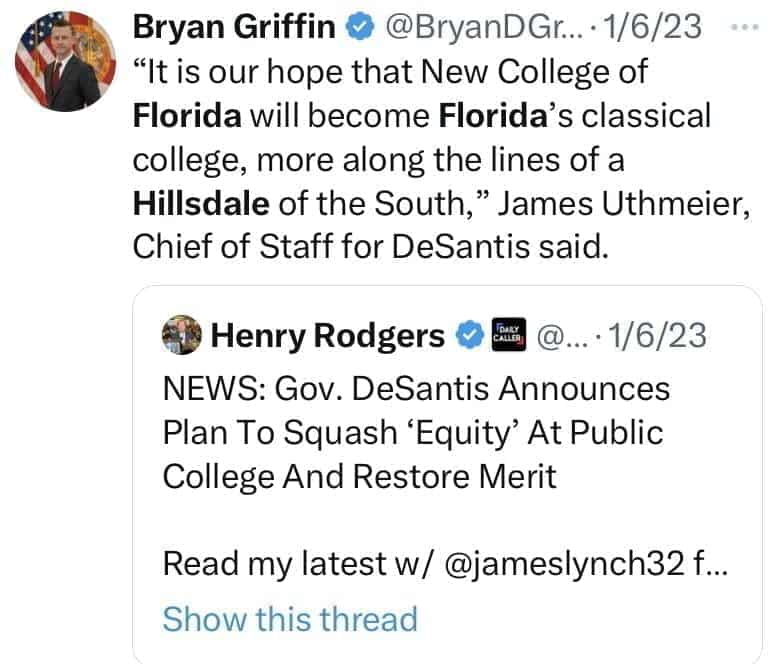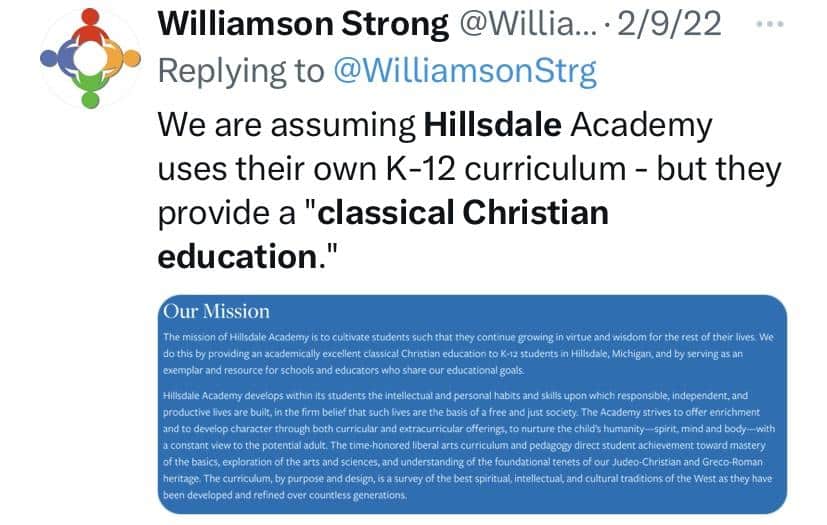 Hillsdale's K-12 Academy, which sits on the college campus, provides a "classical Christian education" as well, per its website. Hillsdale has extended its influence into multiple states with what it calls "member schools" for K-12, including seven such schools in Florida.
Farris himself promotes classical Christian education through Patrick Henry College, a private Christian college that he founded in 2000 after home-school parents asked him where they should send their kids to college. The college's "esteemed" former students include disgraced former Representative Madison Cawthorn who voted against federal protection for same-sex marriage, but was captured on video dry humping another man's face while naked.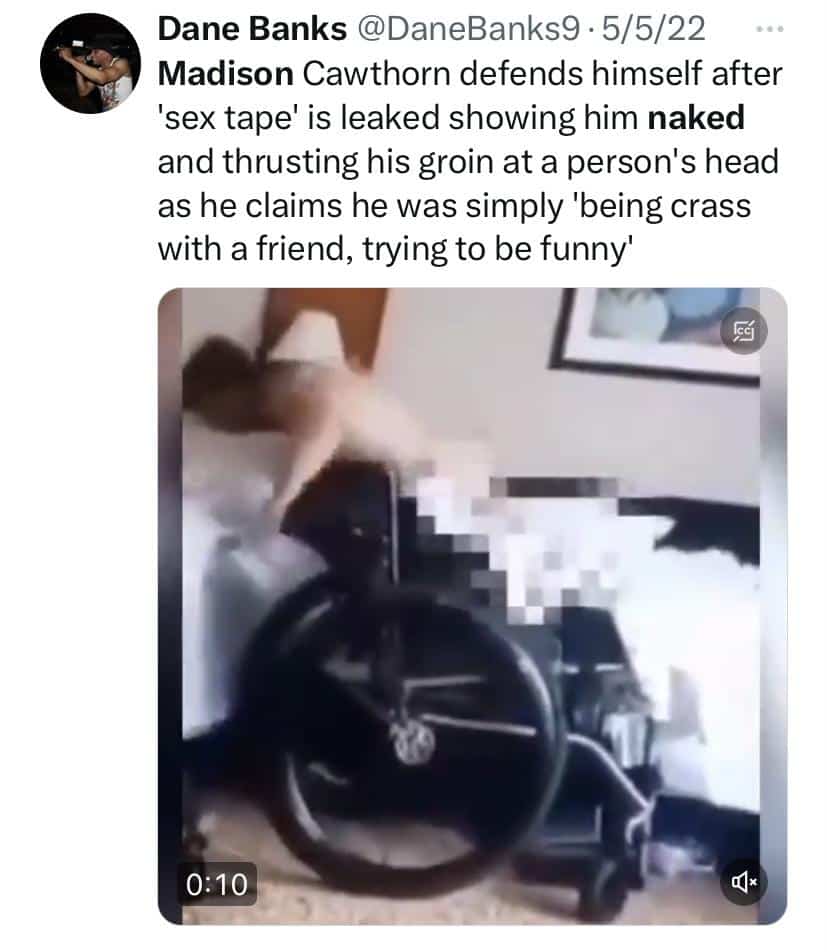 It should surprise no one that the Farris-endorsed Mark Meadows was Cawthorn's mentor and homeschool debate coach. Meadows has also been photographed wearing a Patrick Henry jacket.
Cawthorn and Meadows aren't Patrick Henry's only eyebrow-raising connections. The college has also hosted Alexey Komov, the right hand man of indicted Russian oligarch Konstantin Malofeev (aka Malofeyev). Komov featured his Patrick Henry College visit in a 2017 YouTube video called Lessons of Standardization, which included an interview of Farris himself.
Komov has long served as the official Moscow representative of the World Congress of Families (WCF), a powerful international organization that ThinkProgress once called "the main bridge between sanctioned Russian officials and American Christian fundamentalists." Multiple Christian Right operatives involved with the WCF were also involved with efforts to overturn the U.S. presidential election in 2020, as we detailed here and here. An HSLDA representative, Michael Donnelly, hobnobbed with WCF leaders in Moscow in 2014, as detailed in a report by Homeschoolers Anonymous.
In addition to hosting Komov, Farris's college hosted the first "commissioning" of the Black Robe Regiment of Virginia ("Regiment") in 2012. The Regiment is a militant pastor's group with ties to the Oath Keepers and disgraced retired Lieutenant General Mike Flynn, as we previously reported. The group is led by Pastor William Cooke who wore an Oath Keepers shirt when he shared the stage with Flynn, convicted former Oath Keepers leader Stewart Rhodes, and other Christian extremist leaders during the pro-Trump Jericho March ("Hear the Church Roar") rally on Dec 12, 2020,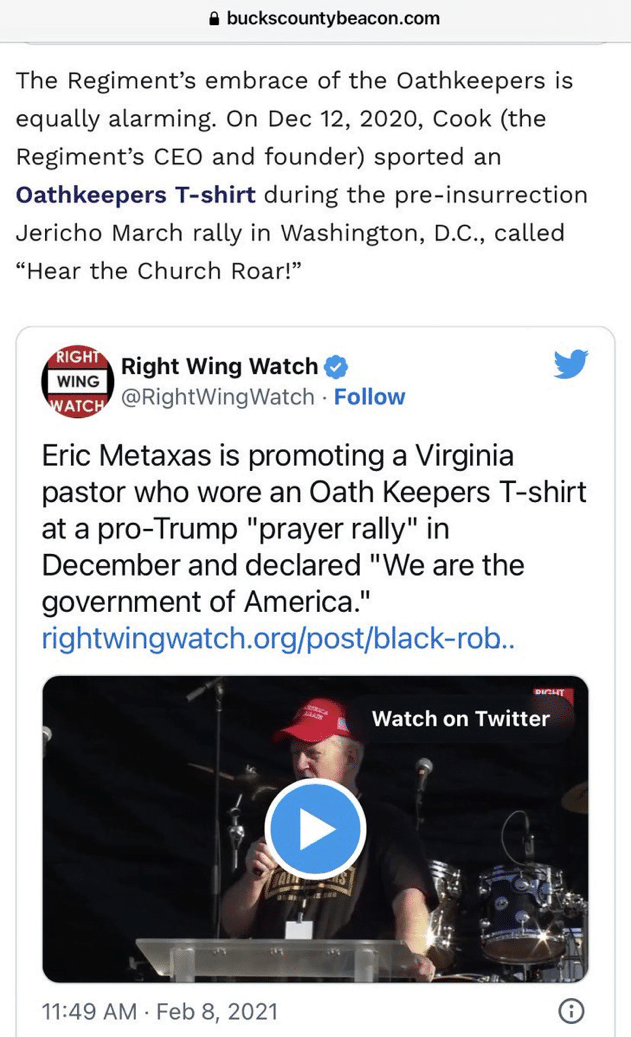 But there's more. Farris also sits on the Board of Directors of the Free Congress Foundation, according to SourceWatch. In 2000, FCF produced a training manual, which stated ominously as follows:
"We will not try to reform the existing institutions. We only intend to weaken them, and…destroy them.***
We will attack the very legitimacy of the Left. ***We will use guerrilla tactics to undermine the legitimacy of the dominant regime."
This decades-long, stealth attack has finally begun to produce results. We cannot hope to survive the assault without identifying the people behind it.
"I would argue that Michael Farris has done more to influence the shape and rhetoric of the Christian Right than just about any other leader from that world," Stollar recently told me. "On a Venn Diagram of the Christian Right's many and diverse projects, you will continually find Farris at the center."
Footnote 1
Ellis had, for example, used a chopped up video to falsely suggest that election workers in Georgia had told observers to go home so that they could retrieve fake ballots from under a table. The edited video had deceptively omitted footage, which showed that the election workers had themselves put unscanned ballots into the containers under the table (which Ellis misleadingly called "suitcases") as they prepared to go home. They retrieved them after a representative from the Secretary of State's office called and told them to keep working.
Acknowledgments
Thank you to Ryan Stollar for his many articles about Christian homeschooling and Michael Farris. His work substantially informed this piece.
Thank you to @ExaminingMoscow for their research on Doug Wilson and Canon Press.
Thank you to Anne Nelson for helping me with the connection between Michael Farris and Mark Meadows.
Thank you to my anonymous friend (she knows who she is) for helping me research Farris and his connections.