Even Fox News has admitted it.
Pennsylvania voters, by a huge majority, clearly declared that Christian Nationalist and 2020 election denialist Republican Doug Mastriano was too extreme to serve as governor of the Keystone state.
According to the New York Times, as of 12:05 a.m. EST, Democrat Josh Shapiro has an 11 point lead.

Here are the latest Bucks County results: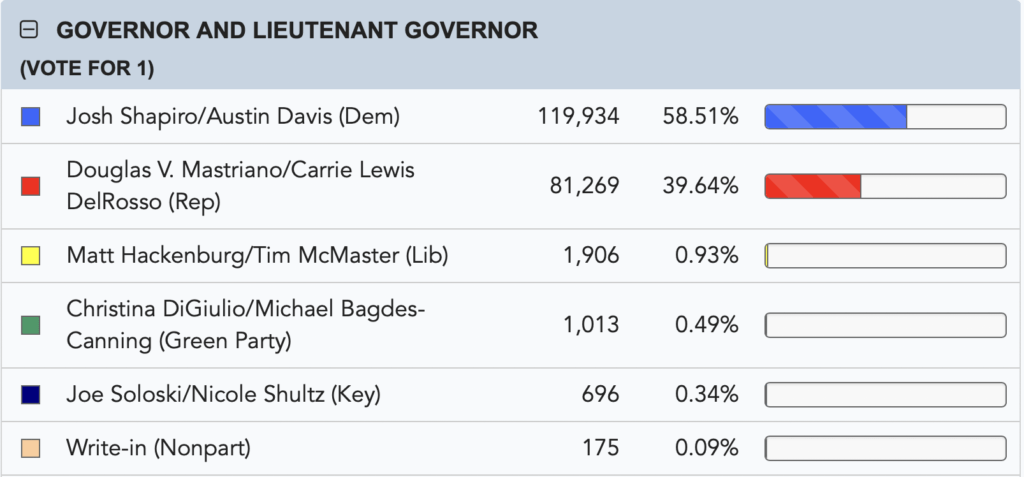 Read our coverage of Doug Mastriano:
Doug Mastriano Is a Clear and Present Danger to Democracy
The Christian Right and Its Top Crusader Seek to Conquer Pennsylvania
With God on Their Side? White Christian Nationalists' Crusade Against Multiracial Democracy
Pastors for Doug Mastriano? Somebody Call the IRS
Mastriano Tries to Escape 'Extremist' Label While Calling Attack on the Capitol 'Distant,' Suing Jan. 6 Committee
Dominionism Is on the Ballot in November, but Most Voters Have Never Heard of It
Mastriano Accuses Elementary School Teachers of Showing Students Porn, Pushing Them to Be Transgender
Doug Mastriano's education plan would gut Bucks County's public schools
Radicalized: The Grooming of Doug Mastriano
The Future of Public Education in Pennsylvania Rests on the Governor's Race
Doug Mastriano's Disdain for the Press Is a Threat to Democracy
Doug Mastriano Would Be A Disaster for Public Education
Ron DeSantis and Doug Mastriano: For Fans Only
DJOP Calls Out Mastriano for Trying to Walk Back Extremist Anti-Abortion Stance
Doug Mastriano and the Cult of the Gun\
Democrats: Mastriano's pursuit of extremist voters makes him unfit to serve as governor
Doug Mastriano Refuses to Answer Tough Question from Conservative Media Outlet: Why Are You Running?
Producer of Mastriano Film Tied to Charles Bausman, Lancaster Man Who Fled To Moscow After the Insurrection
What Happens If Election Deniers Win in Pennsylvania?
Opinion: Pennsylvania Must Vote Against Antisemitism in November
Christo-fascist salutes displayed during recent Mastriano and Trump rallies