If "Democracy Dies in Darkness," as the Washington Post's masthead reads, the Bucks County Beacon has not only been shining a light on the extremism that has been trying to kill it, but we also have been illuminating the local people, ideas, and policies that seek to not only defend it, but strengthen it.
As our well-documented slide towards authoritarianism, if not a Christian nationalist embodiment of Gilead, accelerates, having robust local media is essential if we are going to turn the tide.
That requires community investment and support of local media.
The United States, on average, loses about two newspapers per week, with more and more communities across the country becoming news deserts. In Bucks County, the Gannet-owned dailies, the Bucks County Courier Times and The Intelligencer, often seem more like mirages, their staff has been gutted, their scope (and depth) of coverage, especially political coverage decimated (not that it was ever particularly good in the last two decades), and their opinion page now basically non-existent.
The Bucks County Beacon, on the other hand, is growing on multiple levels. Our "family" of journalists and community voices keeps expanding.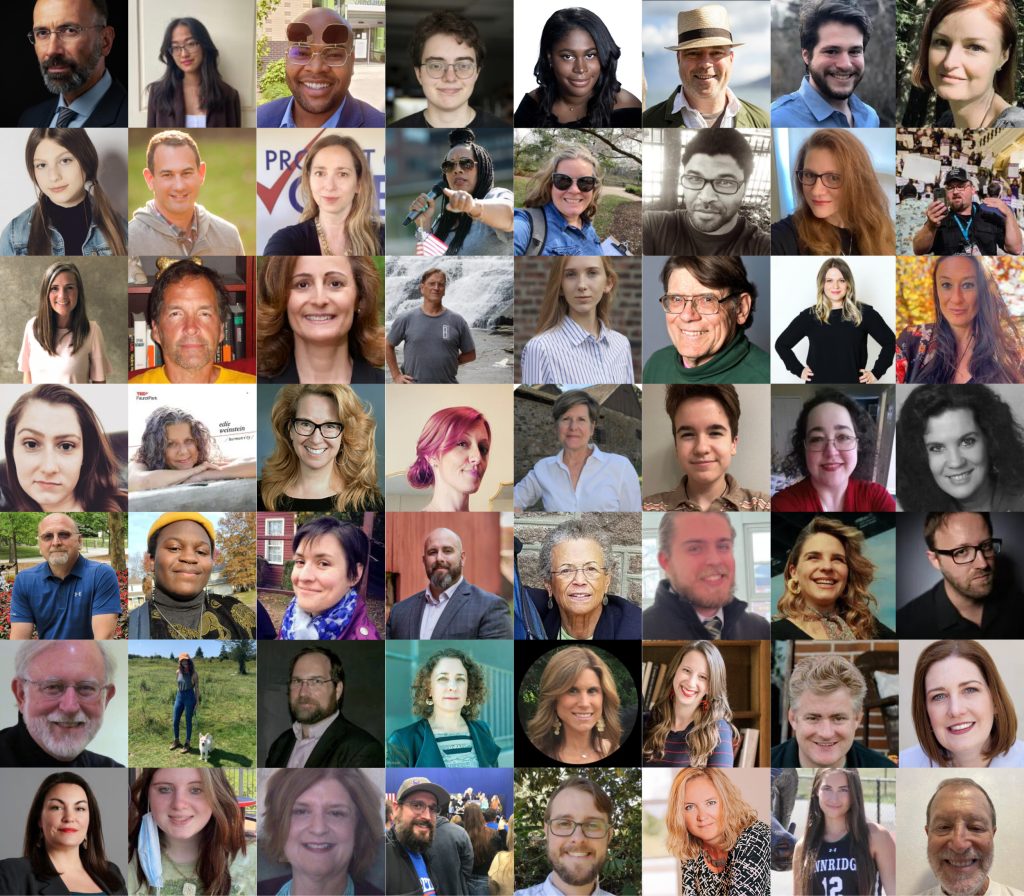 Equally as important, so has our coverage – on the issues that directly impact your families, schools, communities, and our country.
Locally, we continue to maintain laser focus on school boards with our reporting and social media. Jenny Stephens' dogged reporting on Pennridge is second to none – not to mention her other news coverage. Darren Laustsen broke the news about how the far-right Pennridge School Board has been secretly banning books under the pretense of "weeding out old, obsolete titles" that just happen to be included on the Moms for Liberty hit list. Other Pennridge voices you can find on our pages include David O'Donnell, Lauren Bradley, recent Pennridge High School graduate Robin Reid, dissenting school board member Ron Wurz, and others.
Lela Casey has been a huge part of our ongoing coverage of Central Bucks School District, along with other contributors such as Anusha Viswanathan, Mindy Freeman, student Leo Burchell, Diana Leygermen, and others.
Catherine Caruso has covered important stories such as far-right attacks on the Rainbow Room and other anti-LGBTQ hate and bigotry, a Christian nationalist youth camp in Pennsylvania, how pregnant people in neighboring states with little-to-no abortion access look to Pennsylvania as a refuge, and much more.

Edie Weinstein writes a monthly Q&A series showcasing Bucks County progressive changemakers. Kevin Leven writes regularly about racism and racial justice advocates in the county. Kutztown University Professor Michael Gambone reviews books examining the Republican Party's descent into extremist and conspiratorial rabbit holes. New reporter Erin Flynn Jay recently reported about the Bucks GOP's civil war, as well as Democratic Bucks County Commissioner re-election campaign. Kierstyn Zolfo consistently documents and analyzes all of Rep. Brian Fitzpatrick's MAGA and extremist votes because quite frankly, outlets like the Courier, the Intelligencer, and the Bucks County Herald do not. Meanwhile, Kadida Kennner, Molly Parzen, Barbara Simmons, Steve Nolan, Steve Cickay, and Alisa Shargorodsky are among the regular local and unabashed progressive voices on our opinion page. We also curate essential news, opinion, and analysis from media partners such as The Progressive, Waging Nonviolence, Other Words, Baptist Global News, The Conversation, Vote Beat, and others.
Pat LaMarche's reporting on Bucks County and Pennsylvania has added depth and breadth to our coverage. She has written about homeless school children in Bucks, how Bucks families will suffer from the loss of SNAP benefits, as well as state Democratic lawmakers' efforts to empower workers and improve their lives in Pennsylvania.
And when the extremist group Moms for Liberty had their summit in Philadelphia, we actually sent Pat there into the heart of darkness, where her reporting so upset these far-right, anti-public education crusaders that she was booted from the event. But not before filing multiple great stories with us, to complement our other reporting, from folks like Maurice Cunningham, and our amazing education columnist Peter Greene. We even published a leaked presentation from the event by Vermilion Education's Jordan Adams, who was brought into Pennridge to give the curriculum a Hillsdale 1776 makeover. Our coverage was second to none.
We also sent Zach Roberts undercover to a far-right picnic in Quakertown where he walked and reported amongst Proud Boys, Birchers, Moms for Liberty members, constitutional sheriffs, and other extremists – coverage you couldn't find elsewhere.
Then Jenny Cohn has often been a step ahead of the national media in her dogged investigative reporting on Christian fascism and MAGA extremism, from her profiles of PA prayer warrior Abby Abildness and national MAGA extremist Scott Pressler who organizes with Bucks County Republicans, to her exposés on the New Apostolic Reformation and Dominionism, and other figures like Michael Flynn, Roger Stone, Michael Farris, and others.
Today we launched a youth-led Gen Z podcast The Civic Circle, hosted by Sarah Zhang, CB East grad and sophomore at UNC Chapel Hill, Mallorie Marsin, a Council Rock South grad and freshman at Temple University, and Alexandra Coffey, a senior at CB West.
Then my own podcast The Signal takes you beyond the headlines and our most important stories to dig deeper. I speak with a combination of local, national, and even international voices, such as the ACLU's Witold "Vic" Walczak, Brett Freeman on raising a transgender child, New York Times bestselling author Jeff Sharlet about the growing threat of fascism, Frederick Clarkson about far-right Christian theocratic movement the NAR, Melissa Deckman and Jennifer Berkshire about school board wars, Sue-Ann DiVito on immigrant solidarity, and more voices that you won't find on local media.
The Bucks County Beacon has not only been instrumental in keeping the area from completely falling into a state of news poverty, but has enriched it with news coverage, analysis and opinion actually cited in publications such as The Philadelphia Inquirer, WHYY, Time, Slate, etc.
Inclusive, multiracial democracy is in peril. This is not hyperbole, it's a fact. We see it in school boards, by local and state election deniers, Christian extremists, and by MAGA millionaires who want to purchase the worst democracy their money can buy. And the fact that other publications either have ignored our local slide toward extremism, or actually platformed the extremists, explains why we are here and why a publication like the Bucks County Beacon is so critical – and so in need of your support.
The Bucks County Beacon is truly a community newspaper reporting without fear or favor. However, if we're going to be here for the long haul, and save Bucks County from becoming a news desert where extremism and authoritarianism flourishes, we need the community to invest in this independent media project.